Best Ant Traps in 2023
June 17th 2023, by Dan Crosfield
Any links on this page that lead to products on Amazon are affiliate links and we earn a commission if you make a purchase. Thanks in advance for your support! Learn more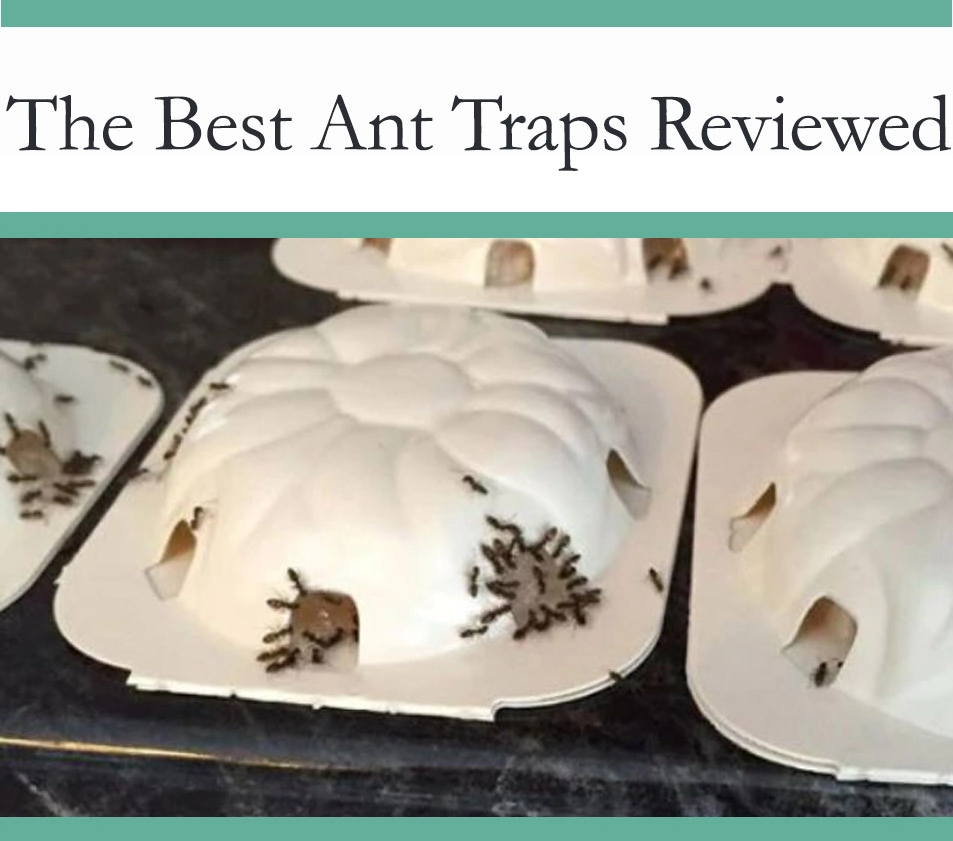 If you've been looking for a way to eliminate ants in your home, you may have come across the devices known as ant traps or bait stations.

In most cases, trapping is the most effective way to get rid of entire ant colonies in your home. In this post we review several ant traps and we tell you which one works best and why.
Before you purchase an ant trap it is important that you understand how they work: The thing to remember about ant traps is that they don't actually trap ants.
Ant traps are better described as feeding stations for ants that are filled with bait; either a sweet or protein-based mixture. The main difference is that the 'food' is a bait that contains poison as one of the ingredients.
Ant traps and Bait stations don't actually trap ants
Ant traps will not catch the foraging worker ants that you see in your kitchen searching for food. These foraging worker ants make up only around 5 to 10% of the entire colony. You could catch or kill as many of these foragers as you want, and never come close to solving your ant problem. To get rid of these critters, you need to take a more aggressive approach.
Ant Traps and Bait Stations Reviewed
We purchased, tested and reviewed several well-known bait stations and ant traps for indoor and outdoor use in real-world conditions. Read along to learn which product is the most effective trap for ants and why it works best.
So what's the Best Ant Trap?
Got no time to read the whole post? Pick our recommended product:
Recommended Product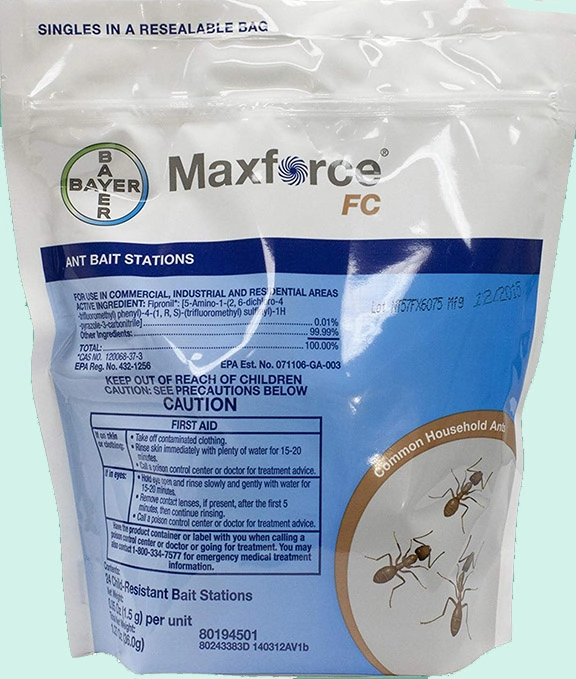 This is hands down the Best Ant trap money can buy if you are looking to get rid of ants quickly and effectively. Maxforce Ant Bait Stations will eliminate the entire colony in a short time.
This package contains 24 pre-filled, easy to use ant bait stations with a child-resistant design and is safe for pets.
You will be happy with the results
How Trapping Works
So, if traps don't catch ants, how to they work? Essentially, ant traps contain a poison mixed with an attractive food substance designed to get the ants to consume it. The foraging worker ants will carry the substance back to the nest and feed it to the queen and the juveniles. In this way, the poison spreads throughout the entire colony and kills it.
With this in mind, it's understandable that you want ants to be able to leave the so-called ant trap. If these creatures were actually stuck inside, they wouldn't be able to bring the food back to the nest, and these devices would have a minimal effect on the ant population. So if you're trying to get rid of them using ant traps, remember not to interfere with them if they have located and started to consume the poison. Let them return to the nest. Let them communicate the location of the device to other ants. It's all part of the process.
In the professional pest control industry, ant traps are more correctly referred to as bait stations. These are a very useful weapon in the fight against almost any ant species. Because the insects do most of the work for you, you may be able to destroy a colony without ever even knowing where it is. Also, the poison is targeted to ants, and sometimes even to specific species. This means that, unlike more aggressive spray treatments, these baits will not affect other insects like bees etc. For that matter, they are safer to use for your family as well, since the chemicals are generally non-toxic to humans and other mammals.
Ease Of Use
Bait stations are incredibly easy to use. There's no mixing or spraying, and no special equipment required. You simply place the traps in areas where you've seen the bugs foraging for food and let their instincts do the rest.
So now that you know what an ant trap actually is, it's time to discover the best ant trap on the market.
Product Comparison Table
Select a product from the list below, or scroll down to read our detailed ant trap reviews below.
Products
Best Feature
Worst Feature
Grade
Buy It Now
Maxforce FC
Highly attractive to
most species
Can be hard to find
A

Buy Now

Advion Ant Bait
Proven active
ingredient
Not attractive to all
types
B+

Buy Now

Terro Bait
Liquid lure is attractive
to common house ants
Works slower than
other products
B

Buy Now

Prescription Advance 360A
Dual lure helps to
attract picky bugs
Expensive
B+

Buy Now
Any ant trap or bait station is ultimately going to be judged by how well it kills ants. No matter how attractive it may be to these insects if it doesn't kill them, it's useless. But also, the lure needs to attract its targets to work at all.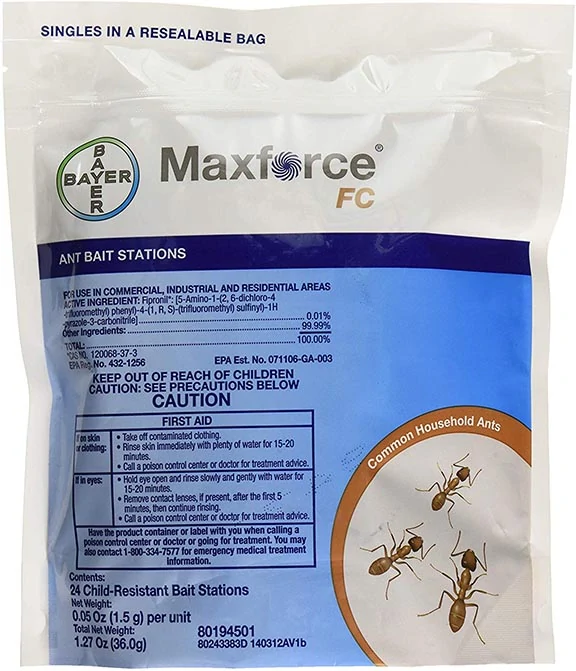 Professionals in the pest control field often use this offering from Bayer Maxforce. That's because it is known to work. The active ingredient in the discs, fipronil, has been proven to be an effective insecticide. It is especially good at reaching and killing the queen. And for long-term control of these troublesome pests, that's the key. Take out the queen, and you remove the colony's ability to produce new bugs.
Maxforce FC ant traps come ready to use. You simply remove them from the bag and place them in areas where you have seen foraging workers. The insects will do the rest. The sugar-based concoction inside the discs is attractive to most types of ant, and it spreads easily through the whole colony once the bugs have started to accept it. Also, the poison stays completely contained inside the device, so you don't need to worry about your children, pets or spilling it.
Bayer, the manufacturer claims their product will stay effective for up to one year. While that may be a little ambitious, you can be confident that you'll get at least 6 to 9 months use out of the stations. But chances are, you won't need them for that long. Once the ants start taking this stuff back to the nest, your problem should be over in a matter of weeks. As with all bait products, it's important to be patient and let the chemical do its job. While baiting is a very effective way to treat these critters, it's not designed to be quick. You need to give the poison time to spread throughout the entire population.
Ultimately, it's difficult to find anything bad to say about this item. They aren't designed for outdoor use, but they will quickly solve most indoor problems. Perhaps the worst thing about this stuff is that it can be tricky to get hold of if you're not a professional in the field.
This is another professional-grade product that you will often see in the hands of licensed exterminators. That's because the active ingredient, indoxacarb, is a potent stomach poison for insects. Also, like Maxforce, these Advion traps are easy to use. Simply remove them from the bag and place them where you've seen foraging workers.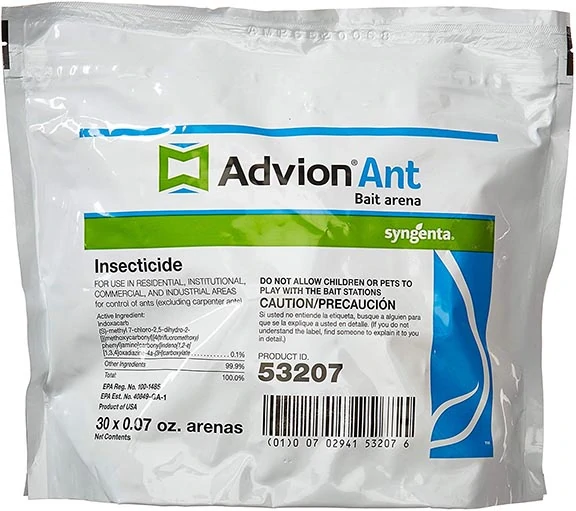 Advion doesn't work fast, but that's intentional. The idea is to let the poison spread throughout the entire colony so that every stage of the insect's lifecycle will be affected. Advion Ant traps offer slow but thorough action that makes the chemical such a good ant killer.
Similar to Maxforce, Advion traps come already loaded with bait. If you can't get your hands on any of the Maxforce, this could be a worthy alternative. However, there are a couple of factors that pushed this selection to number two on our list.
One is that it's impossible to see inside the discs, so it's hard to know if all the poison has been consumed. It ultimately becomes a guessing game, based on how long you've had the discs out for.
But more importantly, Advion stations aren't as attractive to ants as the Maxforce variety. Food preferences vary between different species and can even change with the seasons. But this lure sometimes struggles to attract some ant species, particularly sugar ants that crave sweet food. Depending on what type of ants you have in your home, this may not matter. But it's something you need to be aware of.
There's a reason why Terro is one of the leading brands in the pest-control market. This company has been producing solid and reliable ant killers for years now. Also, their products are aimed squarely at the homeowner, rather than being intended for professional users. This generally results in products that are easy to use with clear instructions to follow.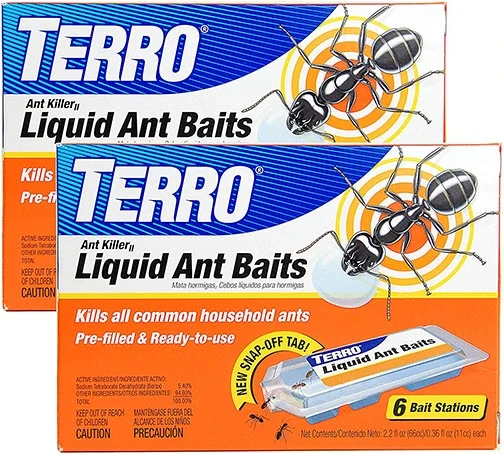 What's nice about this option is that it uses an organic liquid attractant. Adult ants are incapable of eating solid food, so liquids are very enticing to them. Especially sweet liquids, like the one used in these traps. Like all traps, this product is easy to use. The sealed station keeps liquid bait fresh until opened. All you need to do is twist off the tab so that the ants can access the liquid inside, then place the discs down where you've seen foragers. The plastic station keeps the liquid lure safe from interference by kids or pets. And the clear plastic means you can see when the bait is running low so that you know when to replace it with a fresh one.
The active ingredient in these stations has been used for generations, and study after study has proven its efficacy. These discs use borax, a naturally occurring mineral that has many uses around the house, including as a stomach poison for bugs. Unlike the other items on this list, borax is something you can buy yourself, without any special license. So really, it would be possible to make a DIY version of these traps by mixing borax with a sweet substance such as sugar.
Still, not everyone wants to go to that kind of trouble. If you just want something quick and easy that will solve most indoor ant problems, Terro stations are a good choice.
Insects can be surprisingly picky eaters. There are hundreds of different ant species, and many of them have very specialized tastes. And these tastes can change throughout the year as the needs of the colony change. This is part of what makes baiting so tricky. An attractant that worked on the bugs yesterday may not work tomorrow.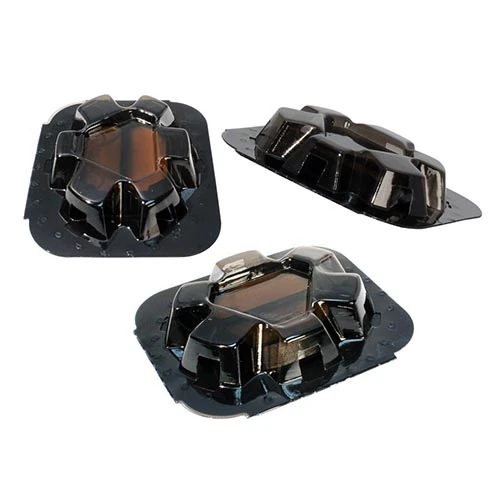 To combat this, these Prescription stations contain two different lures. The idea is that even if the bugs go off one type of food, they'll still be attracted to the other. It also helps this product to be effective against different species of ant with varying food preferences.
Like other traps, this product is extremely easy to use. All you need to do is put it down on the floor where you've seen bugs. You can also use double-sided tape to stick these discs on walls, in kitchen cabinets, and anywhere else you have seen foraging workers. The active ingredient in these stations, abamectin, is a proven insecticide capable of killing both ants and cockroaches. Because of this and the multiple food types, these stations work on a broader range of ants than any other product on the market.
The idea of using two different lures is a good one. However, the manufacturers chose to use one protein-based lure and one carbohydrate. While it's true that many species are attracted to either or both of these substances, it's a shame they didn't include a sugar-based substance. Most species are attracted to sugar, at least some of the time. As a result, the stations aren't as attractive to ants as they could be. And as with all baits, it only works if the insects want to eat it.
Ant Traps – A Buyer's Guide
Now that you know an ant trap doesn't really trap these creatures at all, you're almost ready to make a purchase decision. But before you reach for that credit card, there are a couple of factors you need to think about that may influence your choice. Factors such as:
Effectiveness
Since ant traps work with bait, initially you will see more ants. Does the bait work? That's the first question you need to answer before buying. Unfortunately, it's tough to know for sure until you try it for yourself. What worked for one person may not work for another. In the case of stations, the issue is complicated by the fact that the ants need to be attracted to the product, and it also needs to be effective at killing them. The best pesticide in the world won't kill any bugs if they don't want to eat it. And by the same token, incredibly attractive bait is useless if it doesn't kill the bugs. You may need to experiment with a couple of different products to find which works best for you.
Price
Ant traps offer the best value for money if you are looking to get rid of ants. Repellents don't kill the colony and other products at the lower end of the market are a false economy.

When baiting the ants, it's better to use multiple ant traps in many different places. Ants can often change their foraging trails from day-to-day, and the more stations you have set up, the higher the chances of the foragers finding them and bringing the poison back to the nest.
Safety
Besides their effectiveness, one of the best things about ant traps is their safety for children and pets. The ingredients inside are generally not harmful to anything other than insects. Also the way these products are built helps to keep the active ingredient away from anything other than the critters you're trying to kill. All the products that we tested have a child-resistant design and are safe for pets as well.
But if you have pets, especially the kind that like to eat things they shouldn't, you may want to consider the size of the station you're buying. Some of the smaller products may look tempting to a dog in a way the bigger ones don't.
Conclusion – The Best Ant Trap
There's no doubt that baiting with ant traps is one of the most effective ways to deal with a household ant problem. By getting the insects to transport the products themselves, it will kill an entire colony without you having to locate and attack the nest yourself. Also, trapping is effective for almost all ant species, such as Pharaoh ants, Ghost ants, Odorous Houde ants, Crazy ants and even some species of Sugar ants that are made worse by spraying. For these species, trapping them with bait stations is the only way to treat them.
Like any product, not all baits are created equal. Choose your product carefully to make sure you're spending your money wisely. For most situations, Maxforce FC is the most attractive and most effective ant trap out there. Your results may vary, but Maxforce is the best choice for most people.