Any links on this page that lead to products on Amazon are affiliate links and we earn a commission if you make a purchase. Thanks in advance for your support! Learn more
Pest Product Review:
Best Bait for Ants
October 19th 2019, by Dan Crosfield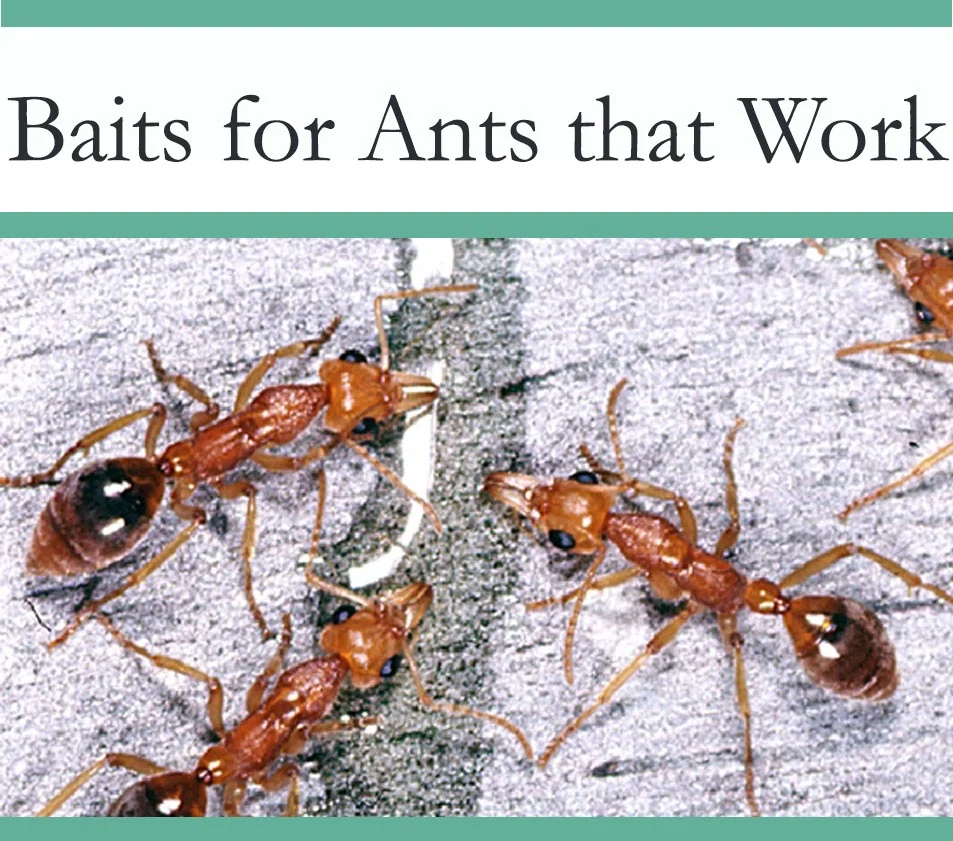 When it comes to getting rid of ants, there are a number of solutions available to you. But few of those solutions are as appealing as bait.
Essentially, bait is an enticing substance that ants will want to eat. But hidden inside the food, there is a poison that will kill them The idea is that the workers take the food back to their nest and feed it to the queen and the juveniles. This is the secret to all ant control. Generally, the foraging workers make up as little as 5 to 10% of the ant colony. The rest of these creatures are hidden inside their home, taking care of it, the queen and the brood, or young ants. This is part of what makes them so difficult to control. You can kill all the foraging workers you want and still have no significant effect on the population as a whole.
Our Recommended Product

A tried and tested product from a respected manufacturer, this product is attractive to a wide variety of species and will quickly get most problems under control.
These products get around this problem by using the colony's own mechanism of food distribution against them. As social creatures, ants depend on one another for their existence. All the food a worker finds is shared with the colony. So if that food is poison, the whole colony will be poisoned.
This is just one of the reasons why bait is such a popular method of pest control. Another is that the poison is extremely targeted. While the active ingredients vary, they are generally harmless to mammals and other non target organisms. They are designed to target ants alone. So you don't need to worry about the health of your family, or even other animals getting into the stuff. The bees and butterflies will be entirely safe while you treat for ants.
Types of Bait
Bait can come in several different forms. Each one has its strengths and weaknesses. Here are the major formulations available.
Liquid
Did you know that ants can't eat solid food? It's true. At least, the adults can't. Instead, they carry it back to the nest and feed it to the larvae. The larvae can eat solid food, and when they do, they secrete liquid the adults then feed on. It's a complicated way for an animal to eat, but it ensures that every member of the colony is dependent on the others.
Due to this quirk of behavior, liquids are irresistible to adults. They will both consume the substance themselves and bring some back to the nest to feed to others. So poison often comes in the form of a liquid. But while this liquid is highly attractive to these creatures, it can be prone to spilling and somewhat difficult to apply.
Gel
Like liquids, gels are very enticing to foraging workers. But the thicker consistency makes them easier to apply, especially in cracks and crevices or in locations such as kitchen cabinets. Gels often come inside plastic syringes that make them ideal for using in these hard-to-reach areas.
However, over time, gel can dry out and harden, losing its attractiveness to the bugs. When this happens, the bait can also be hard to remove from wherever you've applied it.
Granules
Some bait comes in the form of granules. These granules are designed to be small enough for insects to carry back to the nest. The big advantage of granules is that they are very easy to apply, and don't make much of a mess. You can simply shake them out wherever you want to apply them. For this reason, granules are often used outdoors, where liquids and gels would get washed away by rain.
Granules are an excellent choice. But be aware that they lack the attractiveness of gels and liquids. Some species are pickier than others, and may not go for the poison at all. Ultimately, any bait is only as good as its attractiveness to these creatures.
Dust
Dust is a less common but still useful form of product. Dust works a little differently than other products because it is designed for ants to come into contact with it. When the bugs get dust on their bodies, they will groom themselves, and each other. In this way, they ingest the poison.
Dust won't dry out and can be great to use in cracks and crevices where these creatures like to hide. They are extra safe for children and pets since they are not attractive to anything other than ants. However, they can be tricky to apply without getting them everywhere. Also, they tend to become ineffective if they get wet.
Indoor and Outdoor
Typically, these products are used inside. But there's no reason they can't be effective outside too. Granules, in particular, are often used outdoors, since they stand up to weather better than liquid gels.
Are they Safe for Pets?
Baits are generally very targeted chemicals designed to harm only the creature they are intended for. A substance that lures plenty of ants will often be ignored by anything else. However, many products rely on a sugary mixture that can attract pets, especially dogs.
Since the poison is aimed at insects, they are generally harmless to mammals, especially in the amounts provided by bait stations. Still, if you're worried about accidental exposure, gel and dust can be applied in cracks and crevices where no dog will reach. Also, it's possible to get liquid poison inside plastic stations that keep any curious pets away.
Homemade Baits
If you're the DIY type, you may be interested to know that it's possible to make your own ant traps. All you need is Borax, a readily available mineral often used as a detergent, and some powdered sugar or another sweet attractant. You can mix the sugar and the Borax together at a ratio of three parts sugar to one part borax. You can then scatter this powder wherever you've seen foraging workers. Or, for a neater approach, you could use small containers such as bottle caps to hold the powder until the foragers find it. You can also dissolve this mixture in water and then absorb it with cotton balls. Place the cotton balls where you have seen insects, and they will suck the mixture right out of the cotton. This can be especially useful if you have kids who are prone to knocking the powder over.
But if this sounds like too much trouble and you'd rather go with an easier and more professional product, you're in luck. There are plenty of good ones available.
Product Comparison Table
Products
Best Feature
Worst Feature
Grade
Buy Now
Maxforce Quantum
Highly effective at
killing ants
Can be messy to
apply
A

Buy Now

Advion Gel
More affordable
alternative
May require
multiple treatments
B

Buy Now

Terro Stations
Extremely easy to
use
Works slower than
other products
B

Buy Now

Maxforce Complete Granules
Can be used indoors
and outdoors
Not as effective as
competitors
B+

Buy Now
Ant Bait Products
Ant bait only works if the creatures actually eat it. Maxforce Quantum, with its sugary liquid attractant, is irresistible to most species. That alone puts it near the top of any list of these products.


But attraction is only half of the battle. Once the attractant has lured the insects, it still needs to kill them. Luckily, Maxforce Quantum excels at this too. The active ingredient in Maxforce Quantum is imidacloprid, a widely used pesticide known to be highly effective against ants. It also works quicker than many other popular active ingredients.
When it comes to these treatments, speed is a tricky subject. One of the biggest complaints people generally have about this stuff is that it takes a long time to work. But this is by design. It takes time for the poison to spread through the colony, and if the product kills foraging workers too fast, they won't be able to bring enough back to the nest to achieve sufficient mortality. However, if it works too slowly, the creatures may switch to another food source entirely. And that's without even mentioning the frustration of having to wait for the poison take effect.
Maxforce Quantum manages the difficult trick of killing bugs slowly enough to get the whole colony, but quickly enough that you will start to notice a difference, often within a few days. Also, this liquid is colorless and odorless, which makes it quite inconspicuous when applied. It also has the benefit of taking a long time to dry out. In a typical household environment, it should keep its liquid form for 2 to 3 months, which is more than enough time to tell whether it's working or not.
To make application easier, this liquid also comes with some plastic stations which you can use if you want to prevent the product from sticking to your kitchen surfaces.
If it's legal in your jurisdiction – imidacloprid is on the verge of being banned in the EU – Maxforce Quantum is about the best product money can buy. However, that doesn't mean it's perfect. Liquids can be extremely messy to apply, and it's recommended you use gloves and keep a good supply of kitchen towels handy when applying this stuff. Also, it can be quite runny, which makes it tricky to apply in areas such as kitchen cabinets. In those cases, it might be best to use one of the supplied stations. Also, since this stuff is highly attractive to the bugs, you may find you need to apply it multiple times. The creatures will happily eat all of this stuff they can get, and before it starts to kill them off, you may find that they go through it quite quickly.
If you can't get your hands on Maxforce Quantum, there are other options. One of the best is this product from Advion. Often used by professionals in the pest control field, this product is known to have a devastating effect on bugs. The active ingredient, indoxacarb, is a highly effective stomach poison that spreads readily through the colony. And the sweet lure is highly attractive to most species, particularly sugar feeding ants.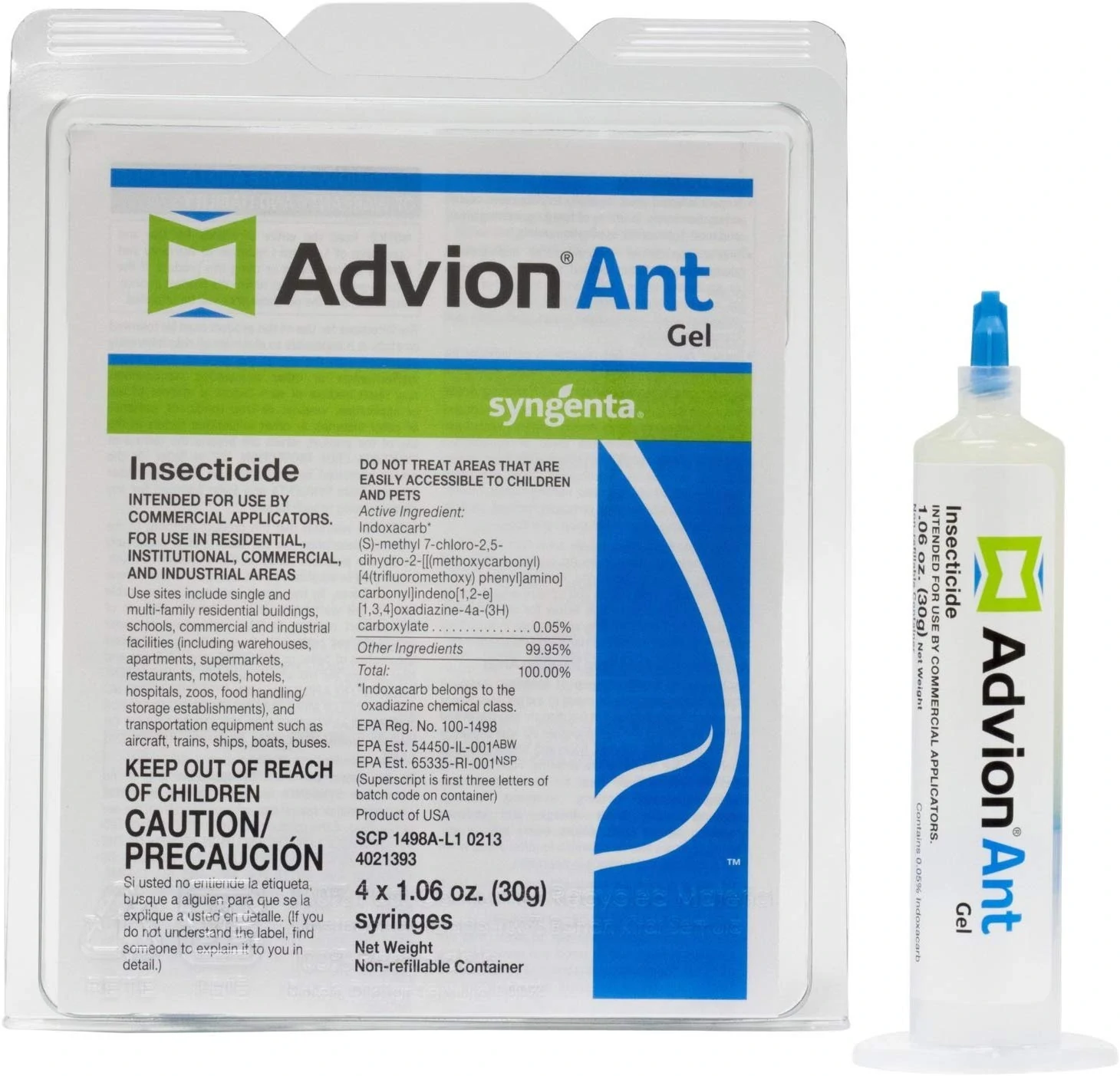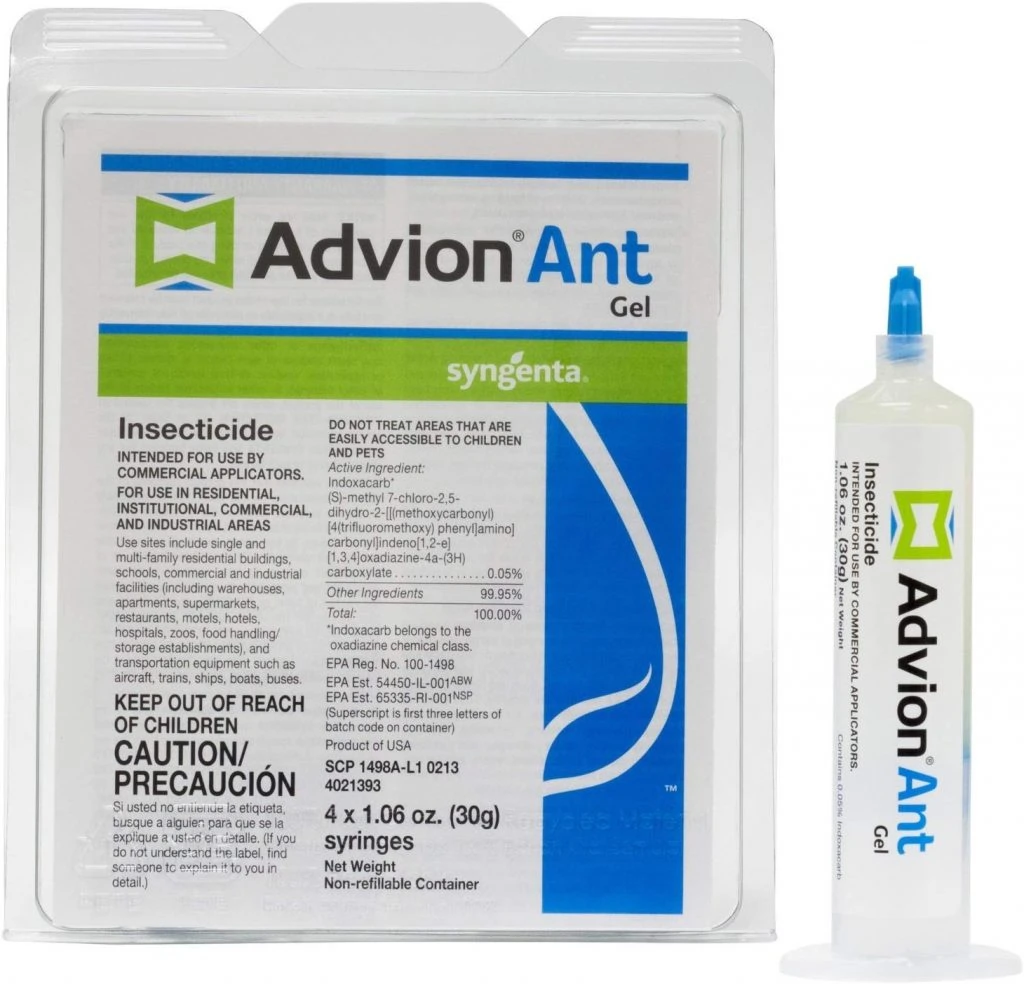 This product comes in a disposable plastic syringe that makes it perfect for applying in small cracks and crevices. The viscous gel stays where you put it, yet is moist enough to be highly attractive to foraging workers. It's a great product to use if you have pets or kids that you are anxious to keep away from the poison, since you can apply this stuff in inaccessible areas and let them find it. As a rule, it's better to apply this product in multiple small placements than a few large ones. This increases the chances of the foragers finding it and bringing it back to the nest.
Best of all, for a premium product, Advion is relatively affordable. The plastic syringes come with a plunger so that you don't need any special equipment to apply this product. However, the gel does tend to harden as it dries out, and if the ants don't eat it before this happens, you may find yourself struggling to chip hard lumps of the product from your surfaces.
Also, it seems that the manufacturer recently changed the formula of Avion. Don't worry; it still works very well. But if you can get a batch of the older formula, it might be even better.
Gels and liquids are all very well, but maybe you don't have the time to use them properly. If you need a quick and easy solution, it's hard to go wrong with one of the market leaders, Terro ant stations. These plastic containers hold a liquid that is very attractive to ants and can be set down almost anywhere you see foraging workers. Simply pull off the tab and place the stations wherever you want. Not only is this an extremely easy method of application, but it also serves to keep pets and any other nontarget animals out of the poison. Only tiny creatures are able to get inside and consume the product. Additionally, the plastic stations help to keep the liquid from drying out, so it will stay effective for weeks and months.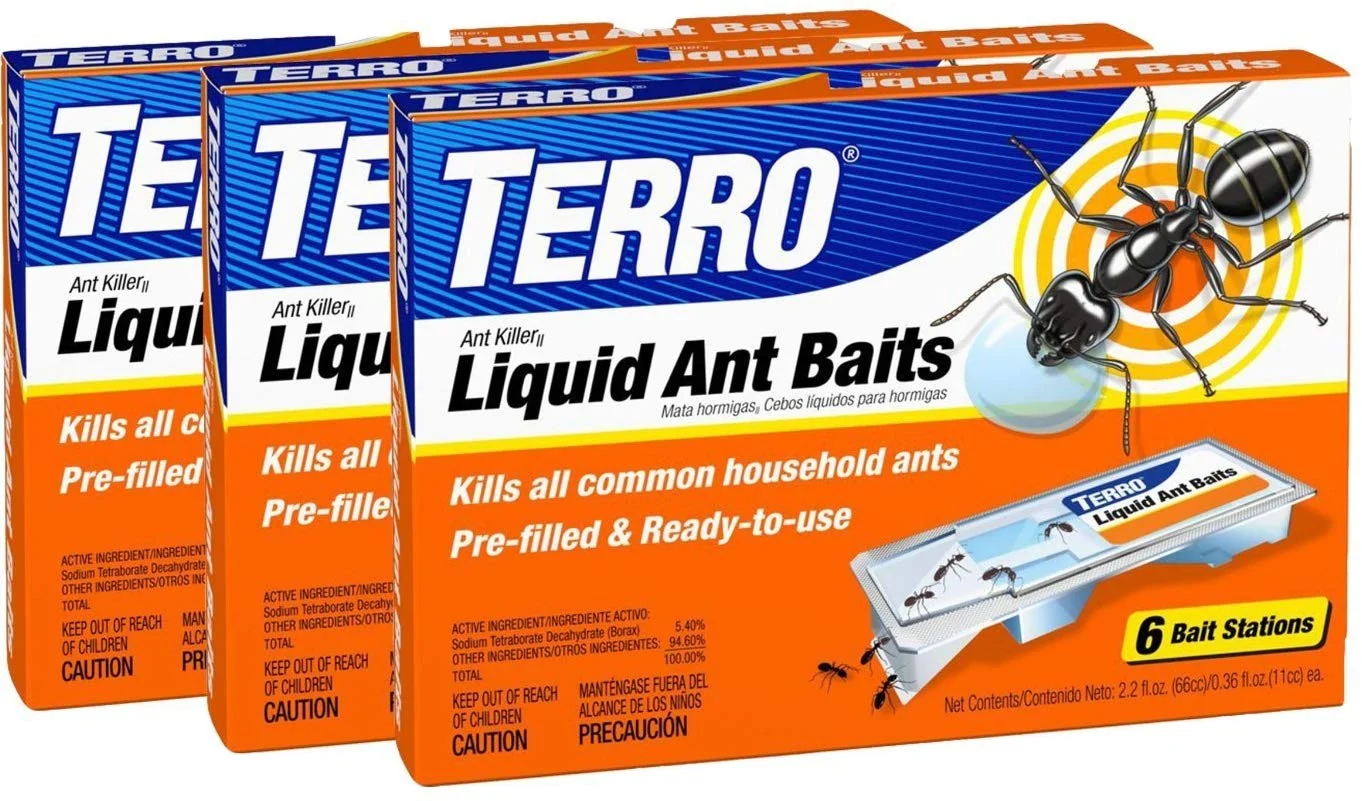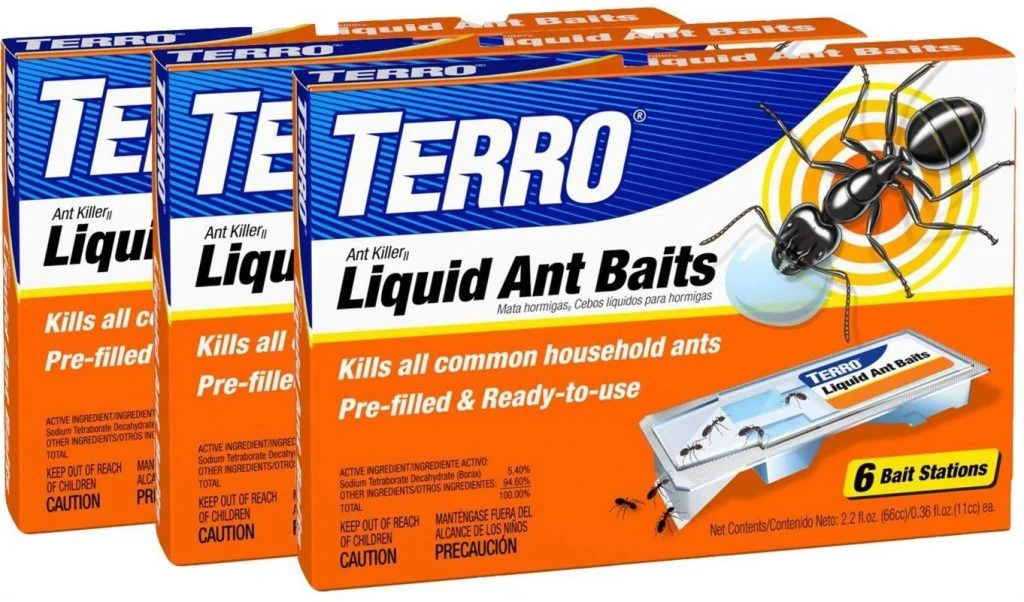 This stuff is highly attractive to ants. And it works. But a close look at the label will show you that the active ingredient is Borax. Borax definitely works to kill these bugs. But it's not as effective as some of the pesticides developed explicitly for that purpose.
Also, ease-of-use comes at a price. If you have a large problem, the amount of these stations you will need can get costly. And when you consider that you can make a similar mixture yourself from Borax and sugar, this product may not seem worth the cost. However, for ease-of-use, it's hard to beat.
What about outdoor insect populations? If you want to stop these creatures before they come inside, you'll need something that can stand up to the weather. That's where granules come in.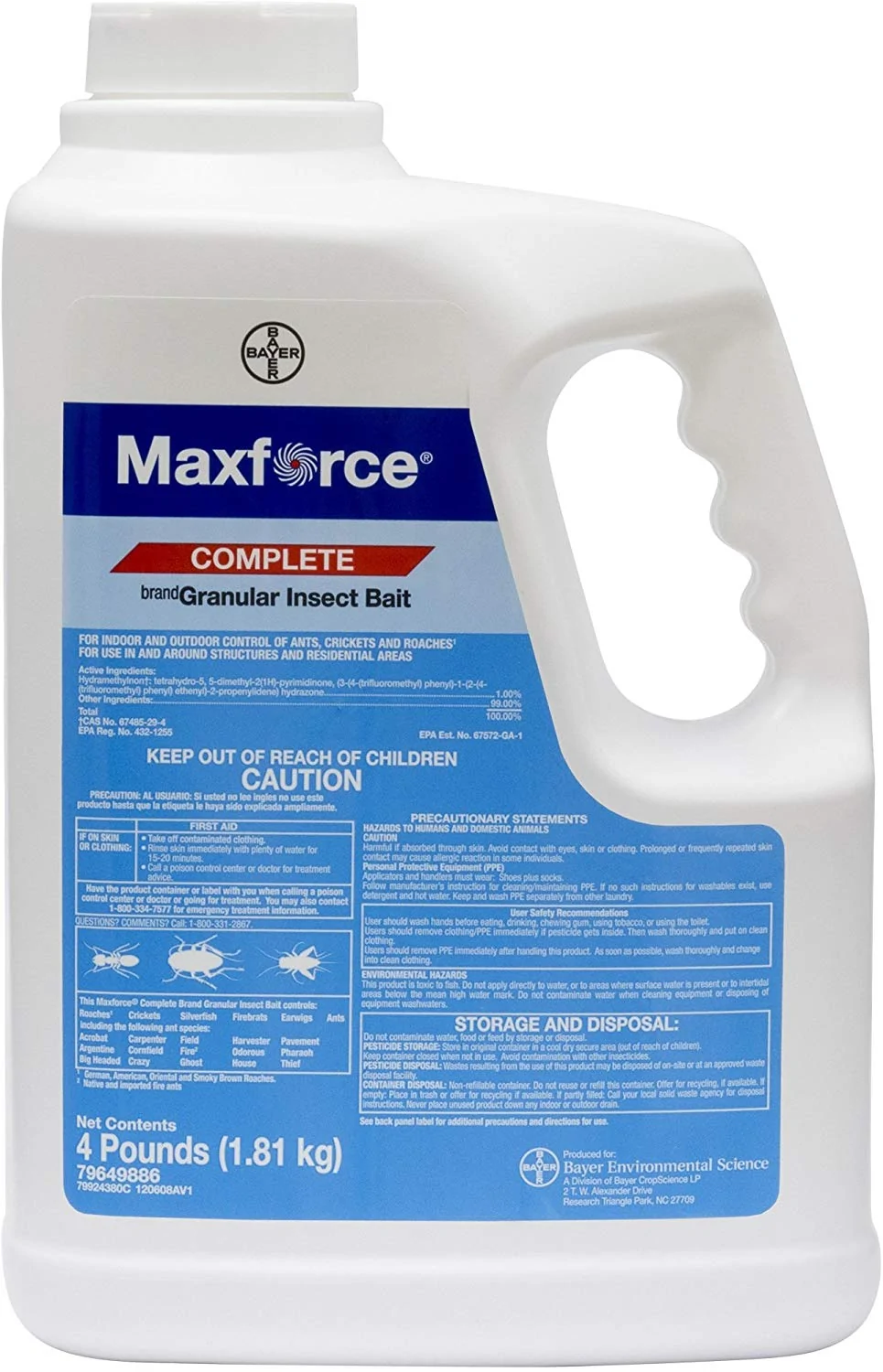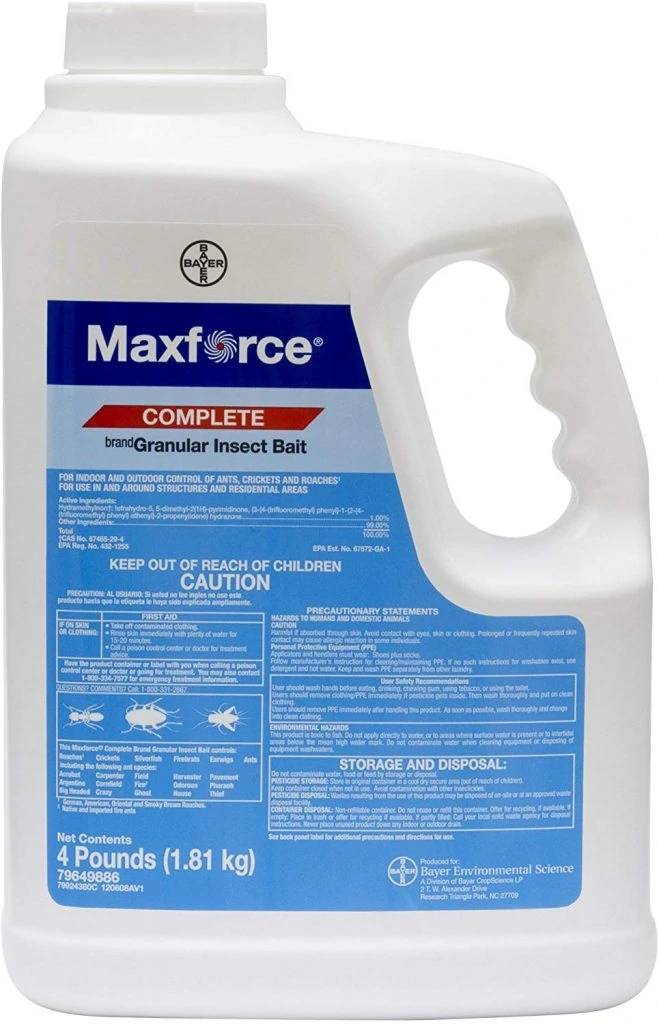 This product uses hydramethylnon as its active ingredient. This is a widely used and effective poison that kills not only ants, but also other bugs such as cockroaches, crickets, and silverfish. You can use this pesticide by sprinkling it around nests and areas where you've seen activity, or you can put it inside protective stations. It's easy to use, with none of the potential for spills that come with liquids and gels.
However, the granules are quite large. This is fine for getting rid of larger species such as carpenter ants but can be a challenge for small ants. Remember, you want the workers to carry the stuff back to the nest. Also, some species don't appear to be attracted to this product at all. It's really a matter of trial and error to find out if this product will be attractive to your bugs.
Ant Bait – A Buyer's Guide
Ant bait is a big market, and there are a lot of products out there all vying for your dollars. So which do you choose? Well, here are some things to consider:
Area of Application
Will you be applying the bait inside your home or outside? Not all products are suitable for all environments. As a general rule of thumb, liquids and gels work best indoors, whereas granules and dust work best outside.
Formula
Bait only works if the insects find it attractive. And different species have different food preferences. Broadly, these bugs can be divided into sugar ants and grease ants, according to the types of food they mainly prefer. Ants such as moisture and Pharaoh varieties fit squarely into the sugar category and will be most attracted by sweet liquids. Fire ants, meanwhile, are grease and protein feeders, and carpenters can also fit into this category. They will respond better to a protein-based attractant.
Type of Ant
For ants such as Pharaohs and Argentines, bait is the only appropriate treatment. Anything else will cause these creatures to scatter and spread throughout your home, and spraying can make the problem much worse. On the other hand, carpenters are notoriously tricky to deal with. While there are products on the market designed to deal with these large insects, they are often ineffective at completely eradicating a colony. Usually, a spray is the only way to treat these wood-destroying pests.
Conclusion
Ant baits need to be attractive to work. But they also need to be deadly. And these bugs can be fickle creatures, switching their food preferences throughout the season according to the needs of the colony. So the effectiveness of any baiting program will vary from one place to another. But it's hard to go wrong with a product like Maxforce Quantum. It attracts the widest variety of ants and kills them quicker than its competitors.
However, if you want something easy to use, Terro's product couldn't be simpler. And if you prefer to do your baiting outdoors, look to Maxforce Complete for granular bait.