How Can You Prevent Ants From Coming Into Your House?
October 9th 2019, by Dan Crosfield
Any links on this page that lead to products on Amazon are affiliate links and we earn a commission if you make a purchase. Thanks in advance for your support! Learn more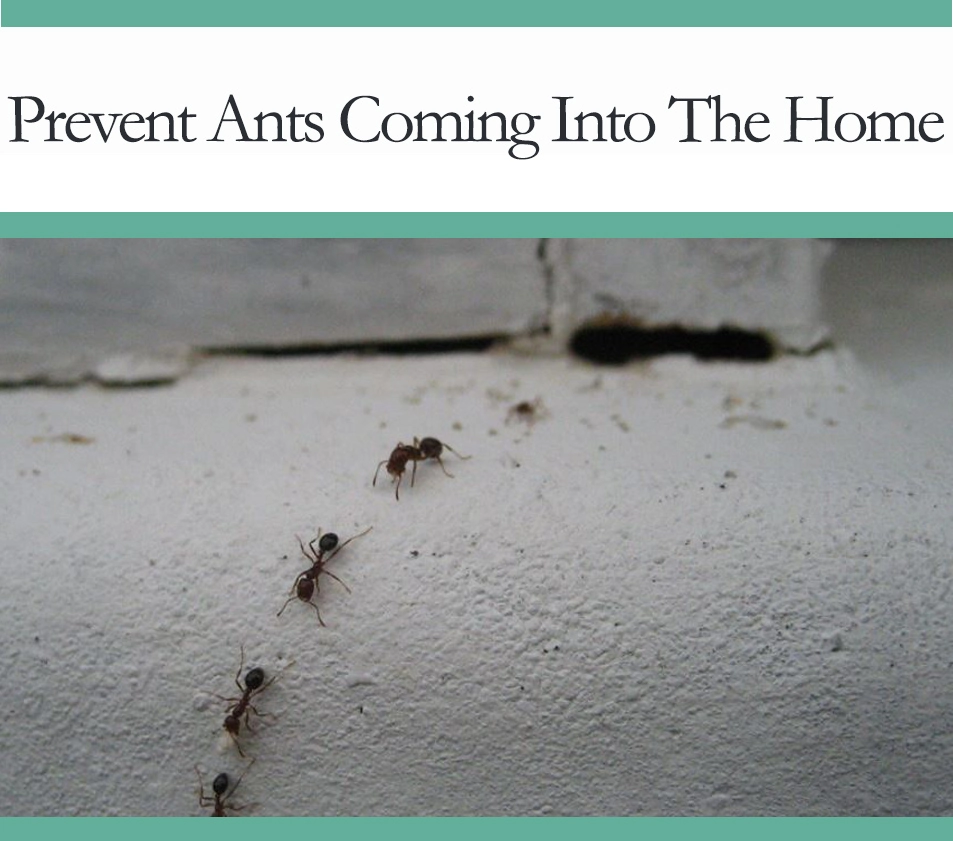 Ants, especially Carpenter ants are capabale of causing structural damage to your home. You can save you and your family a lot of headache by keeping the ants outside, preventing them to enter your home. Read along to learn what you can do to keep ants outside of your building.
Ants have been around for over 92 million years. This puts them well back into the era of the dinosaurs. But it wasn't until humans came along with water pipes and air conditioning and cozy houses to live in that these creatures realized just how sweet life could be. If you're seeing these creatures inside your home, or you just want to make sure that never happens, it is important to understand why they would come inside in the first place.
Ants are social insects, but that doesn't mean they come inside your home to make friends. Human houses provide the ants with their basic needs: Food, water, and shelter. These are the key ingredients that all animals, including ants, need to survive. And they can all be found to one degree or another inside your house.
Human houses provide ants with food, water and shelter
So if you're finding a nest of ants within the four walls of your home, get rid of them before they cause structural damage. In this post we focus on the things you can do to keep the ants outside of your home, preventing them to enter your house in the first place. Try the methods shown below to prevent bugs from entering your home.
All of these methods have their uses. But for the fastest and most effective results, it's a good idea to combine several of them to make your home a fortress against these invaders. Let's take a closer look at what you can do.
Remove Food Sources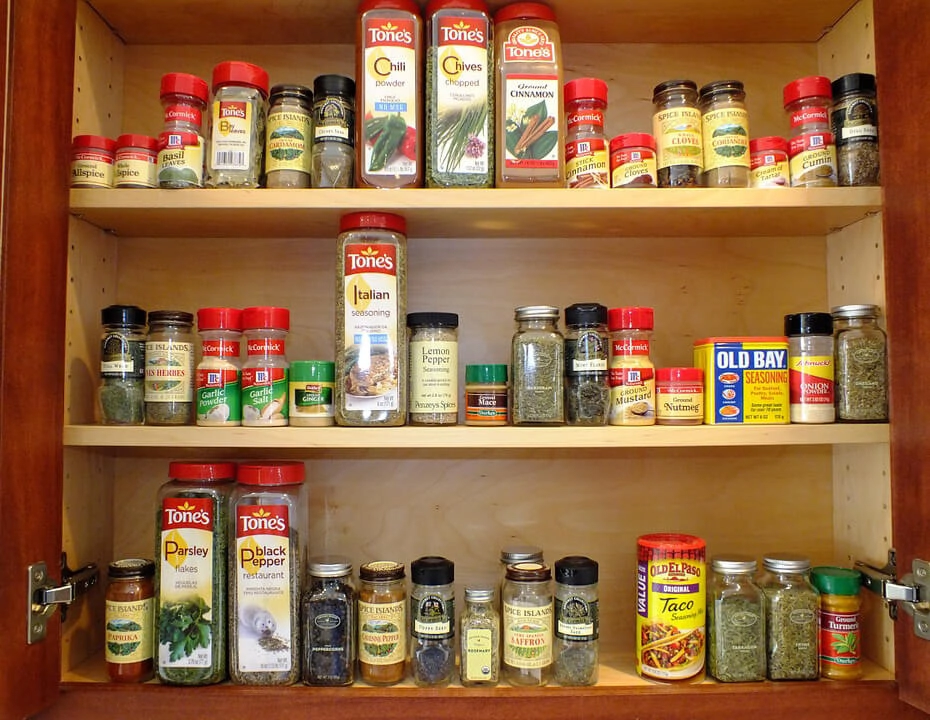 While food preferences vary from one species to another, most ants eat a broad range of foods. Sugar is a particular favorite, which is why there is a whole group of insects called the sugar ants. But most ants will also feed on protein and carbohydrates if given a chance.
In the wild, these ants feed on sweet substances such as honeydew secreted by aphids. Fruit also provides them with a ready source of sugar. For protein, they will eat other insects and scavenge meat from dead animals. Plants are their favored source of carbohydrates.
But this all-natural diet goes out of the window when these critters find their way into somebody's kitchen. Sugar and sugary substances are the major attractants, but they will eat virtually anything you or I would.
Sweet Liquids
However, ants don't eat like other creatures. Adult ants are incapable of swallowing solid food, and can only drink liquids. As a result, foraging workers leave the ant colony in search of food to bring back to the nest. There, they feed it to the juveniles, the larvae, which can eat solid food. In turn, the larvae secrete liquid that the adults then eat.
An ants lifecycle is a complicated and interesting arrangement. It's the key to the success of these creatures. Because the larvae function as the stomach of the colony, every ant is dependent for its existence on the survival of the colony. As a result, everything an individual does is to benefit the group.
Clean your house
Feed them, and they will come. Once a foraging worker discovers a food source in your house, it will take some and hurry back to the nest. Along the way, it will release a pheromone trail which lets its sisters ( all foragers are female) follow the trail to the food. In this way, one can quickly become many.
The best way to prevent this is to keep your kitchen and house ruthlessly clean. Be especially wary of spills of sugary substances such as soda, honey, syrup, or ice cream. These kind of spills are like magnets for these creatures. But be aware that ants will eat many things, and any food left exposed is fair game to them.
Worker ants will leave a pheromone trail so their sisters can follow the trail to the food right into your home.
Wipe down kitchen surfaces regularly. Also, think about what's inside your kitchen cabinets. Store food in solid plastic or glass containers to keep bugs away. If there's nothing to eat, the insects have far less reason to be inside your kitchen. Additionally, regular cleaning will break up the insect's pheromone trails, so that they can't follow one another into your home.
Remove Water Sources
Don't forget about water. Like all living things, ants need water to survive, and plenty of it. Your home can be an excellent source of moisture for them. Once you're done cleaning your kitchen, make sure to dry off your surfaces and wring out sponges and cloths used for cleaning. These can provide enough water for many creatures if left unattended. Also, pay attention to any dishes piled in your sink or leaking pipes in the kitchen or bathroom. All of these can provide small creatures with all the water they need.
When it comes to pest control, prevention really is better than cure. Make your property less attractive to insects, and you may never need to do anything more to enjoy a bug-free life.
Block Holes Temporarily
Okay, so you've tried cleaning. All of your food is stored in ant-proof containers, and your kitchen is sparkling. Yet you're still finding black ants roaming through your home at will.
The next step is to figure out where the ants are entering your house. Many – though not all – types of ant usually live outside. From there, they come into our buildings to forage for food and water, or even to get out of the weather. So if you can find where the bugs are coming in, you can stop them.
Check both the inside and outside of your home. Gaps around doors and windows are common places to find insects entering. But they are not the only possibility. Also check around dryer vents, air-conditioning returns, water pipes, gas pipes, and any other conduit that enters or exits your home. Even the smallest space around one of these areas can be enough for the bugs to establish a trail and invade your property.
Once you've found these points of entry, you'll want to block them up as soon as possible. Luckily, there are a few household items you can use to get immediate relief until you can come up with a more permanent solution.
For instance, Vaseline can work. Smear the substance all around the holes you see insects using. The slippery gel is impossible for the bugs to walk through. You can do the same with a dusting of talcum powder, which they also struggle to pass. Or, you can use double-sided tape to trap insects that try to cross it. Remember that over time, this tape will become clogged with stuck ants and lose its effectiveness. These creatures aren't above walking over their fallen comrades to get to your kitchen.
None of these quick fixes is intended for the long term, though. For that, you'll need to get a little bit more professional.
Seal Gaps and Cracks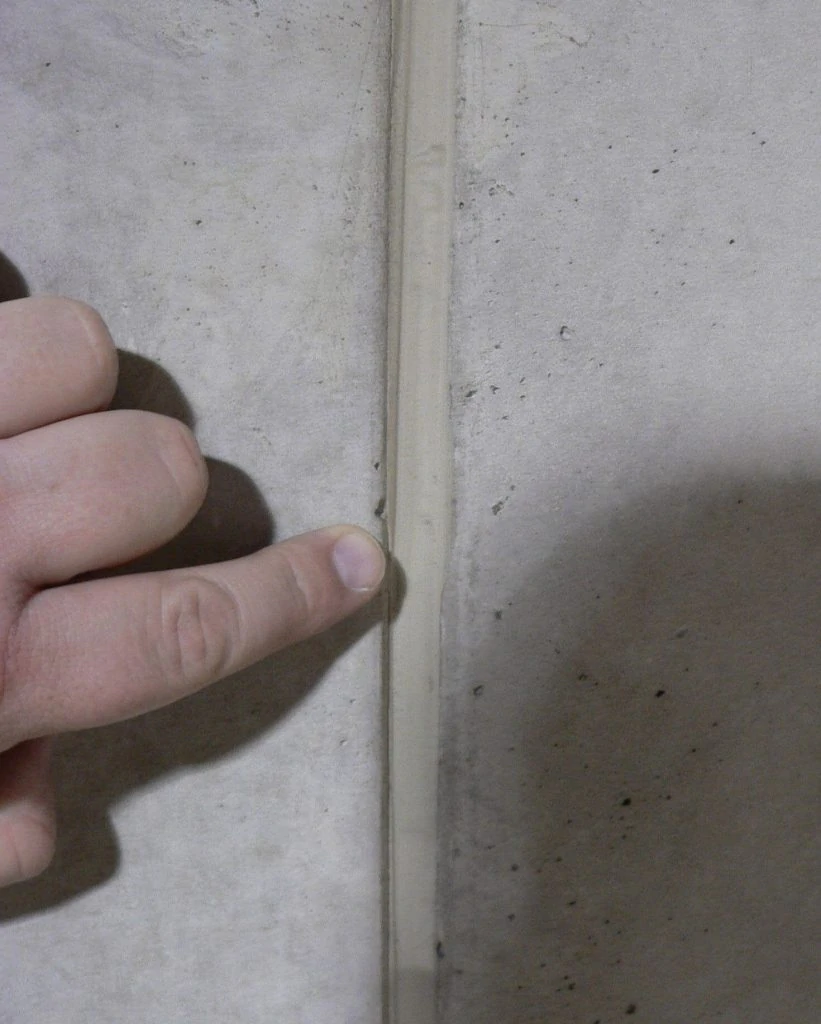 When dealing with bugs, a tube of silicone caulk can be your best friend. This weatherproof sealant is ideal for closing off the kind of gaps the bugs use to enter your home. Once it has cured, this caulk can last for years. So grab a tube and a pair of gloves and start sealing up any holes you find. Remember not to leave any gaps. These insects are tiny and don't need much space to come inside.
As well as any pipes and vents that come into your home, pay attention to the foundation of the building. Many insects like to nest in soil, and a crack in the concrete of your house can easily allow them to come inside. If you have a basement, don't forget to check in there too. For larger holes, a concrete patch might be more appropriate than silicone caulk.
Don't forget the possibility that the insects may be living inside your house. Carpenter ants, for instance, enter your home to build their nest inside wood in the walls of your home. If you find a nest of Carpenter ants inside one of your walls, you'll need to treat that nest directly with a spray. Don't just seal it up and try to pretend it's not happening, because the bugs will chew their way out and cause more structural damage as they do so.
It's also possible for other species to be nesting inside, at least partially. Some types that ordinarily nest in soil can create a colony that's half in and half out of your home. Sometimes, homeowners don't even realize that an ant nest has an exit point inside their property until it's time for the bugs to swarm. At this point, a house can fill up with flying ants that seem to have come from nowhere. But in reality, they are merging from an unnoticed crack in the foundation or hole in the wall.
When sealing up gaps and cracks to keep ants and bugs at bay, remember to be thorough. Ants have an amazing ability to find their way inside.
Repel Ants Naturally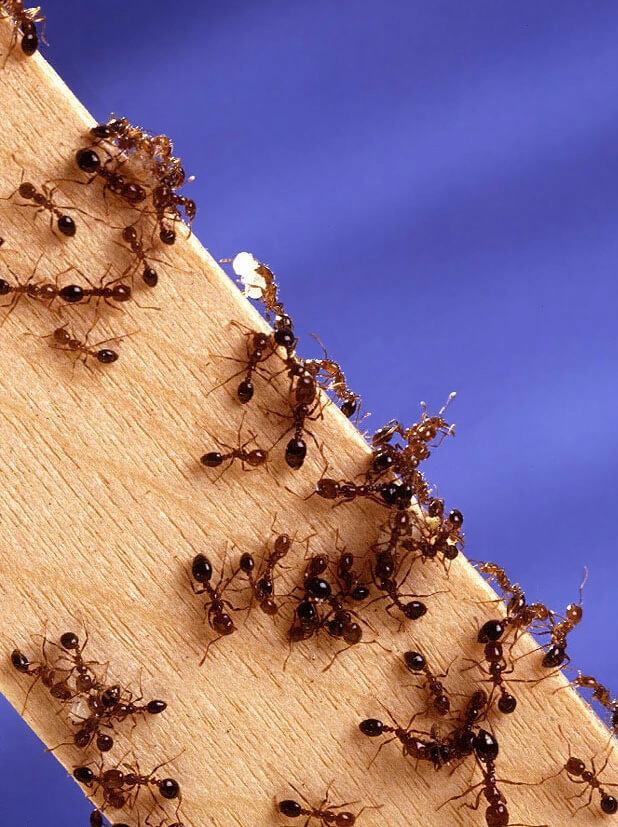 If you're wary of reaching for a chemical solution to a pest problem, you're not alone. These days, more and more people are educating themselves about the potentially harmful effects of commercial pesticides. That's not to say that these chemical solutions don't have their place. Often, when it comes to pest control, a toxic pesticide is the only realistic solution. However, wouldn't it be nice if we could just politely ask the ants to leave?
Well, in a way, we can. It just turns out we've been speaking the wrong language.
These insects communicate predominantly through smell. It's pheromones that guide these critters to and from their colonies, and help them to identify one another. Similar chemical signals tell these insects what the colony needs, so they know what type of food to seek out at different times of the year. So it makes sense that certain chemicals might be repellent to bugs.
Unfortunately, due to the fact they will eat most things people will, it's rare to find an essential oil that repels ants. But this is an area that continues to be studied, and more and more substances are being discovered all the time that can have this effect. For instance, patchouli essential oil was found to be repellent to ants in a laboratory test. Similar results have been found with substances such as peppermint and cucumber.
With some natural remedies against ants, you don't even need an essential oil. Sometimes, the substance itself is enough. For instance, cayenne pepper is repellent to lots of animals thanks to the heat of its active ingredient, capsaicin. Chilli pepper, black pepper, and cinnamon have also been discovered to have similar properties. These are ingredients you may have sitting around your kitchen already. And you can simply sprinkle them around door frames and windows and other areas pests may try to come inside.
Diatomaceous Earth
If you want to get serious about preventing ants from coming into your home, but you're still trying to find alternatives to toxic chemicals, it's only a matter of time before you come across Diatomaceous Earth.
Diatomaceous Earth, has long been used against ants and bugs of all kinds. It comes in the form of a fine white powder, but this is not a typical insecticide. Instead, it's a physical control. Although the powder feels soft to the touch, on a microscopic level, it's nothing but sharp edges and jagged points. Any bug that tries to crawl through this powder will have its outer layer of skin scratched and pierced in multiple places. This causes the insect to dehydrate and die.
But the best thing about Diatomaceous Earth is that it is a naturally occurring substance. It's made from the ground-up shells of tiny water creatures, and is completely harmless to humans and pets. In fact, food-grade diatomaceous earth is even safe to eat ( even during pregnancy and nursing ). So you can use it around your home and garden without any concerns for the health of your family.
Of course, Diatomaceous Earth needs to come into contact with bugs to work. So it's best to use this substance as a barrier treatment. By dusting around your home, you can create a perimeter that pests won't want to cross. If they do, they won't live to tell the tale. This will stop foraging workers from reporting the location of your food back to the colony, which means far fewer insects inside your house.
The trick when using Diatomaceous Earth is to not go too heavy with it. You want to use enough of the dust that you can see where you've applied it, but don't leave big piles of it lying around. Otherwise, insects will just walk around it.
Chemical Barrier Treatments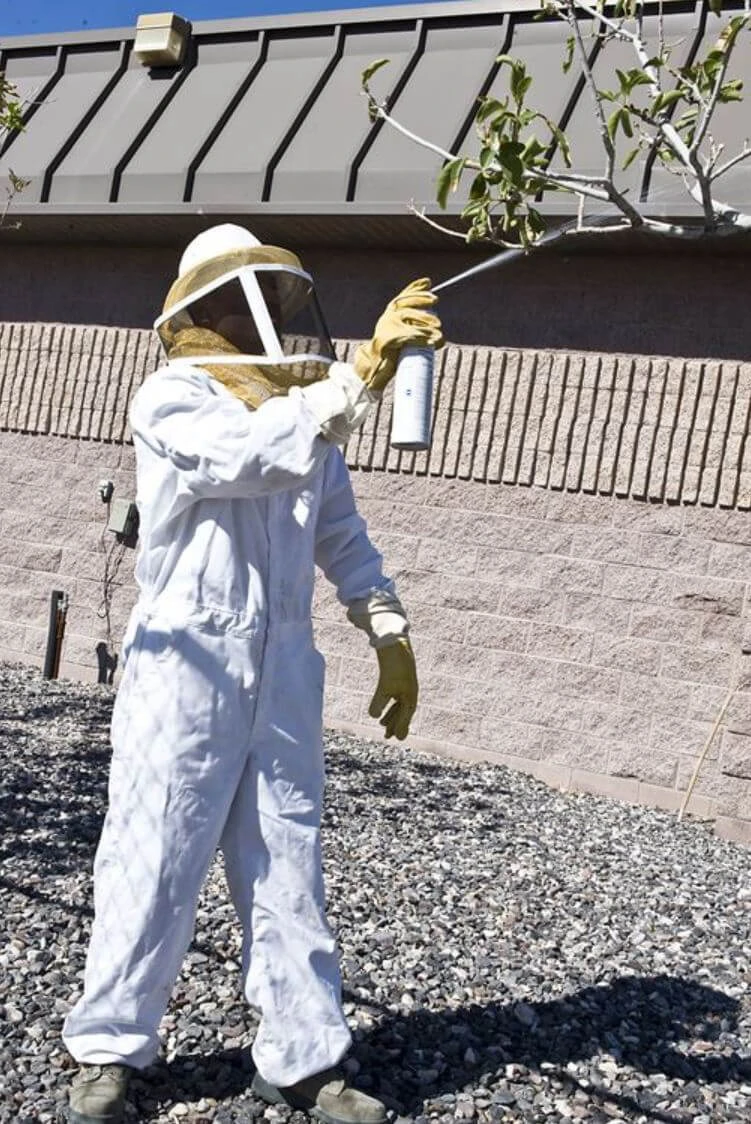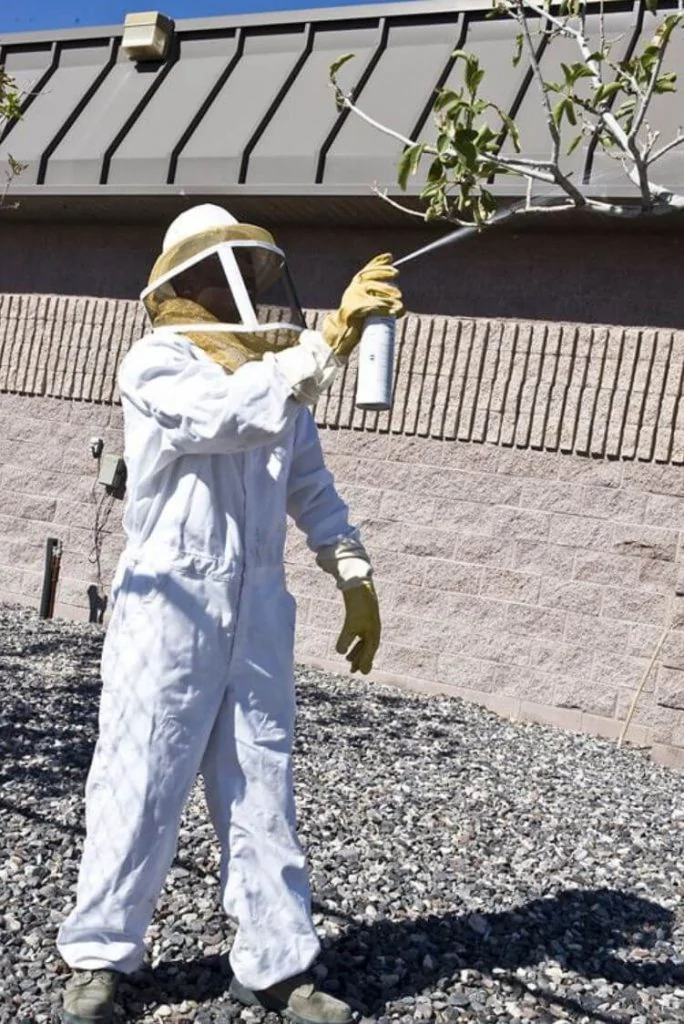 Sometimes, bugs can be stubborn. If you've tried all the methods listed above and you still can't seem to get these critters to stay away from your home, you may have no choice but to look into more aggressive methods. It's time to talk about pesticides.
Most commercially available insecticides are safe to use, provided you use them correctly. That's why it's so important to carefully read and follow the directions on the manufacturer's label. These directions are there for your safety, so make sure you read them closely.
When nothing else will do, chemical treatments can be highly effective ways to keep bugs out of your home. Look for a chemical that has a residual effect, which means that the active ingredient will keep killing insects that come into contact with it long after the spray has dried. Products containing ingredients such as cypermethrin have a residual effect that can continue to kill ants for months after application, so these can be powerful weapons in the battle against pests.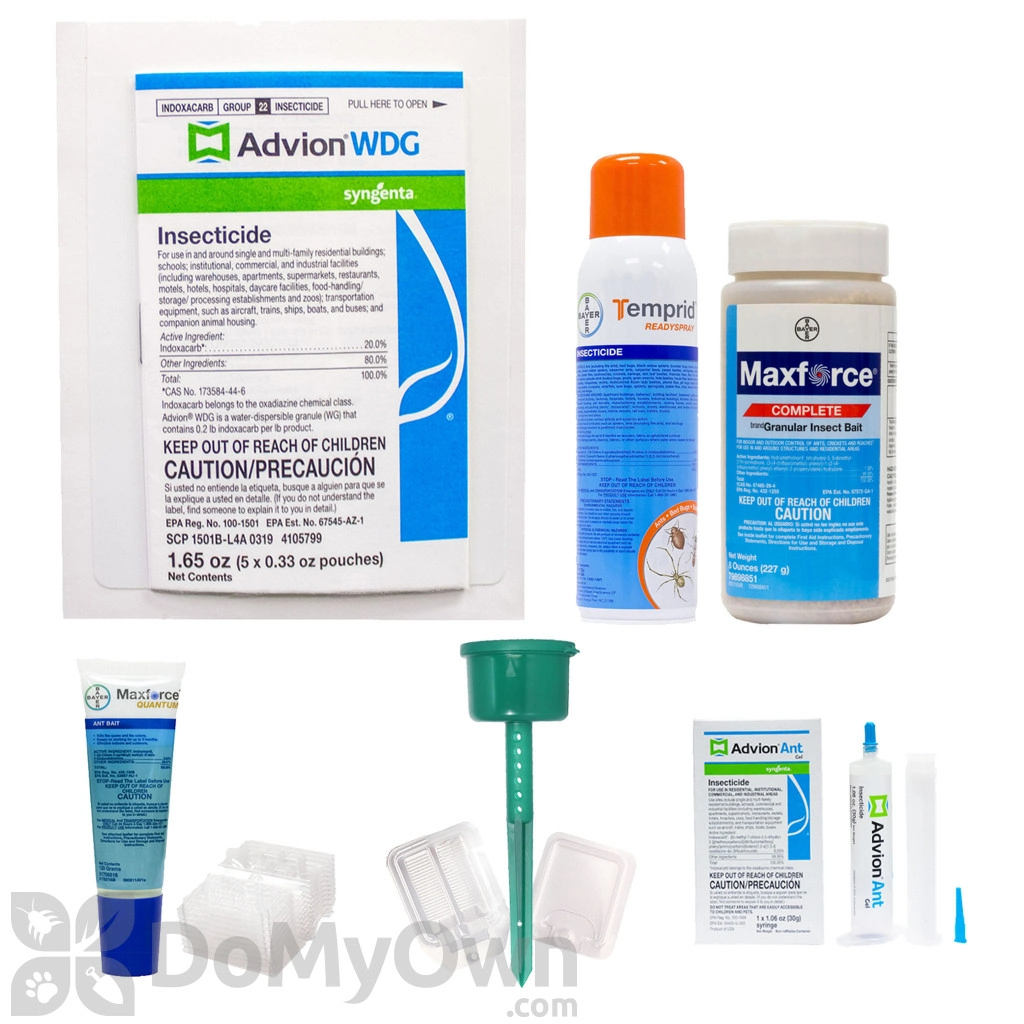 If you are looking for a complete package which provides all the products you need to combat ants both indoors and outdoors, then we recommend this Indoor & Outdoor Ant Kit. It has been specially designed to give you all the tools in one handy kit.
It comes with multiple chemical treatments as well as baiting stations to allow you to set up an effective strategy to get rid of the ants either inside or outside your home.
Conclusion
No one wants to get ants or other insects in their home. The truth is, no house is absolutely ant proof. Thanks to their habit of foraging over a wide area for food, these creatures often come into human houses and other buildings in search of food, water, and shelter.
Luckily, there's a lot you can do to stop ants from entering your home. Cleaning up food spills, temporarily blocking holes, sealing up gaps and cracks, using natural repellents, using Diatomaceous Earth, and deploying commercial pesticides are all pieces of the puzzle that you can use to keep these bugs at bay.
Just remember that the ants were here long before us, and they'll still be here long after we're gone. It's an ants world; we're just living in it.