How To Ant Proof Your House
October 15th 2019, by Dan Crosfield
Any links on this page that lead to products on Amazon are affiliate links and we earn a commission if you make a purchase. Thanks in advance for your support! Learn more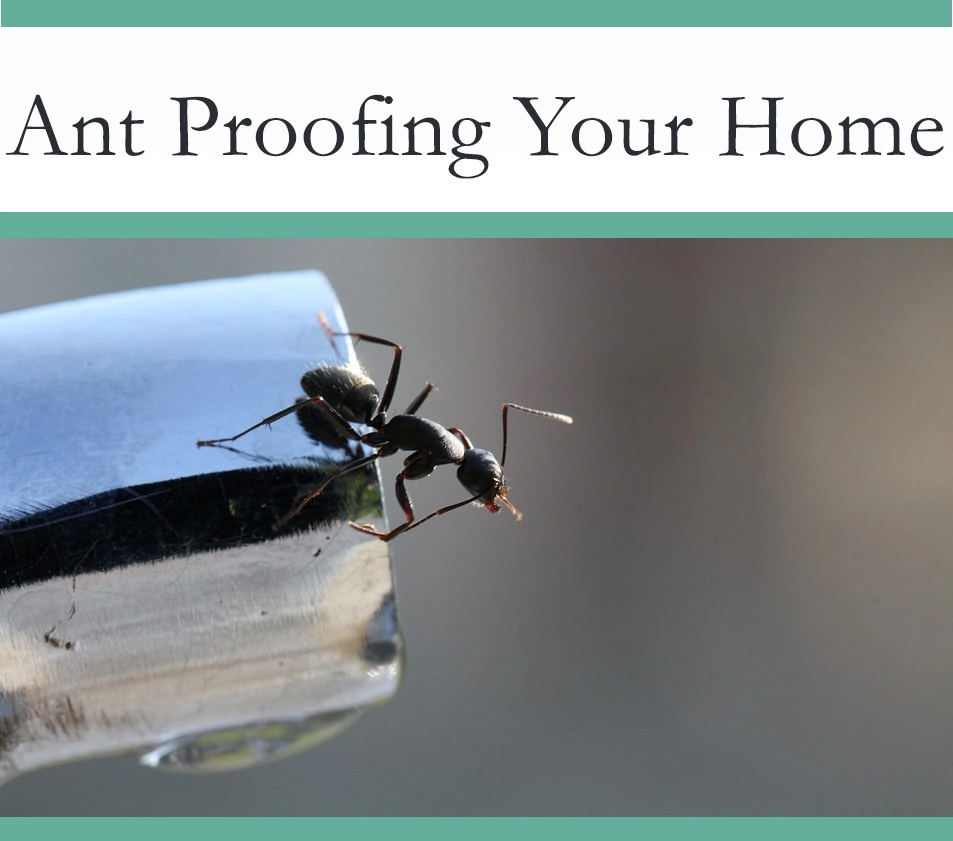 Having ants on your property is okay as long as they live and stay outside of your home, doing the things they've evolved to do.
But ants don't always stay outside. Actually some species like to come inside buildings and prefer to live in the shelter of your home.
This post will help you reduce the amount of ants on our property, and prevent ants from entering your home.
Apart from the frozen wastes of Antarctica, ants are everywhere. There's not a country on earth that doesn't have its own particular species of these widespread insects. The truth is, ants fulfill a vital role in the ecosystem. As omnivores that will eat almost anything, they help to keep down the population of other insects. They also help break down decomposing plants. And the nests they excavate play an important role in aerating the soil.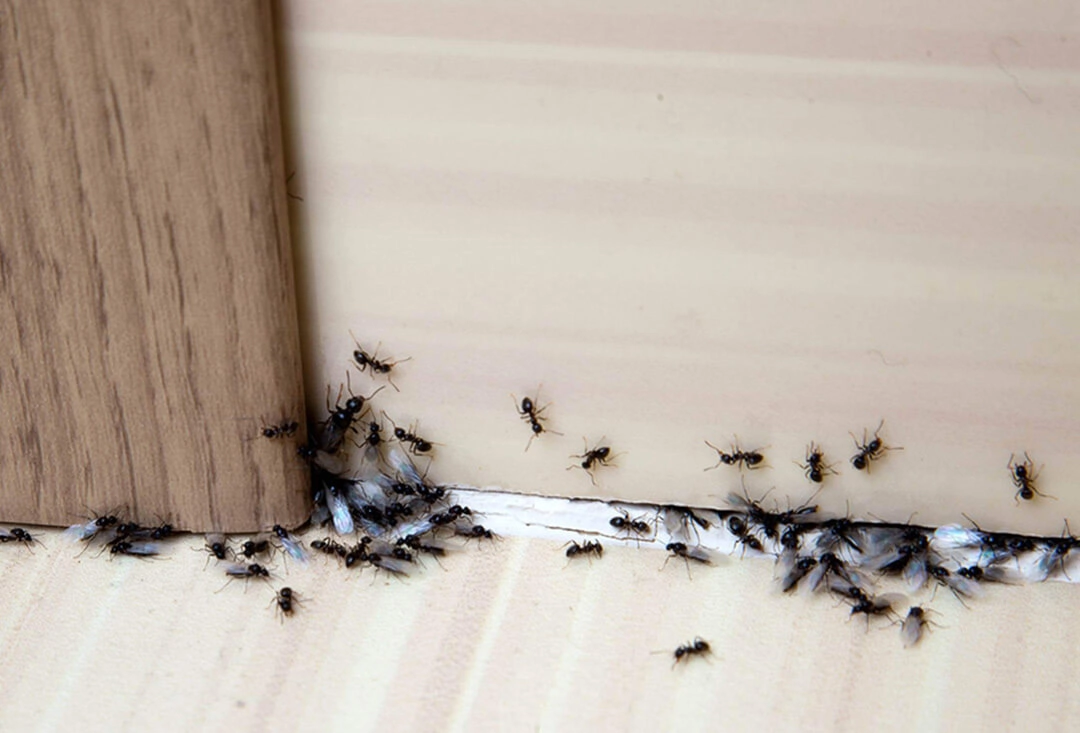 As social insects, ants have babies to feed. And as an insect with a highly sophisticated caste system, an ant colony has members whose entire role in life is to tirelessly fetch food and bring it back to the juvenile ants. It's these foraging workers that most often become an issue in our homes. After all, ants will eat more or less anything you or I would. Our kitchens are a fantastic source of food for these voracious little creatures.
Even if we wanted to, we'll never rid the world of ants. Even on your own property, it's important for the health of your yard that you still have some of these bugs around. But any good relationship is built on boundaries.
If you want to ant proof your house, here's how.
Following these steps will dramatically reduce the population of ants on your property, meaning you are less likely to see them inside your house in the first place. Also, blocking up holes ants can use to get inside, cleaning thoroughly, storing food in ways ants can't get to it and using pesticides can turn your house into a fortress against these tiny invaders.
Trim Back Bushes
If you have a lot of vegetation in your garden, it may be time to get the shears out. Overgrown vegetation can become a breeding ground for all kinds of insects. And many ant species love to feed on other insects. The higher the population of insects on your property, the more likely you are to have issues with ants.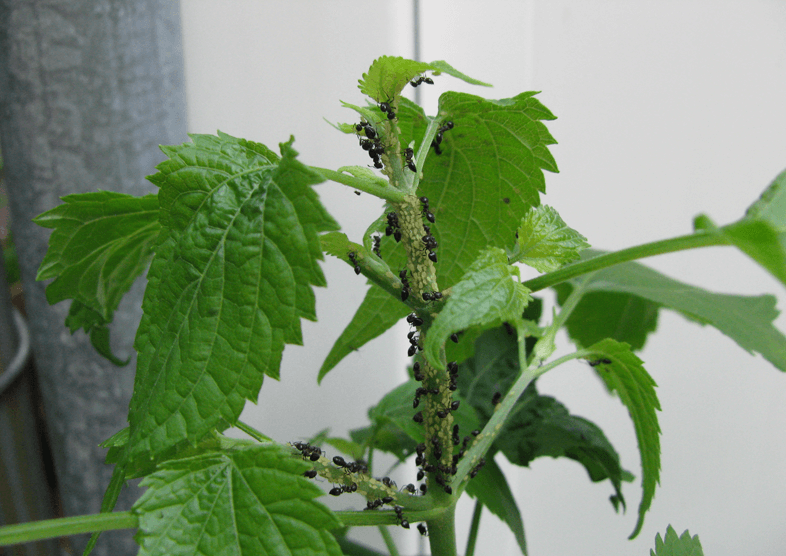 Also, trailing tree branches and bushes can act as highways for bugs to travel along. Once these creatures have found a spot they like to forage in, they tell each other through the use of pheromone trails. Where one ant has been, more are sure to follow. Ants will often use branches to reach your home and then get inside. Cutting back branches will make it harder for them to get your home.
This is also true of bushes and shrubs around the perimeter of your home. These areas provide food and shade for ants and encourage them to come closer to the house. If possible, think about implementing a dry zone for a foot or so around your home on all sides. An area with no plants and dry landscaping is far less attractive to all kinds of bugs. And if any colonies do form, you'll see them much quicker without overgrown plants to hide them.
Keep Grass Short
You may not have considered the effect of long grass on ants. But in reality, an overgrown yard is an insect's best friend. Just as with bushes and shrubs, long grass provides shade and retains water. This makes it a breeding ground for many invertebrates and will attract ants.
Long grass also makes it harder to see any anthills that form. By keeping your lawn clipped, you'll make it much easier to detect the presence of insects before the population gets out of control.
Control Aphids
Aphids, also sometimes known as greenflies, are tiny soft-bodied insects that feed on the sap of plants. If your garden has the kind of plants they prefer, you could end up with a large population of these small creatures. Aphids tend to stick to the plant that provides their food, and they especially like to hide on the underside of leaves and along the stem. If the population grows large enough, they can actually start to damage the plants they feed on.
But what does this have to do with ants? Well, aphids are one of the most important food sources for several common species of ant. But not in the way you might think. Aphids produce a sweet liquid called honeydew that ants love to eat. As a result, ants don't harm aphids. To the contrary, they will actively protect them from other bugs that would like to prey on them. Ants will guard the aphids on your plants, and tickle them with their antenna to stimulate the production of the sugary liquid they love so much. It's a strange relationship, but one that is beneficial to both parties.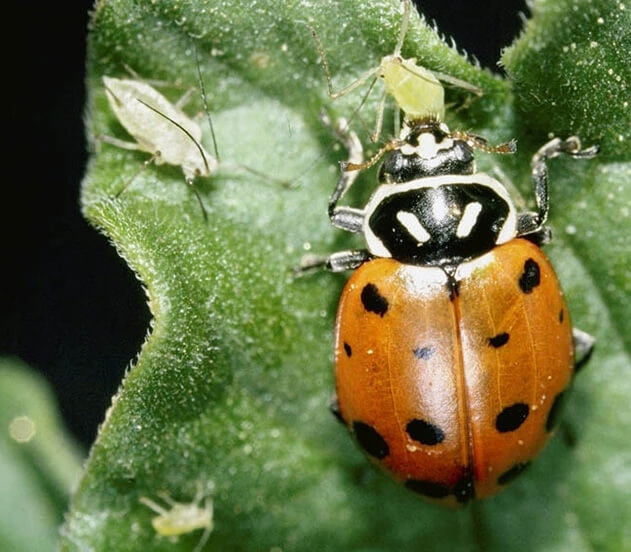 The more aphids you have in your yard, the higher the ant population your property will support, and the greater the chances that some of those ants will eventually make their way indoors. Spraying a simple solution of soap and water on your plants can help to reduce the number of aphids and keep the ant population under control. But if your aphid problem is more severe, you may need to use insecticidal soap. Or, if you want a more environmentally friendly solution, you can use ladybugs as natural pest control by releasing hundreds of ladybugs onto your property. A single ladybug can eat up to 50 aphids in a day, so it's not hard to imagine what 1500 of them could do.
Remove Wood Piles
You're no doubt glad of that wood-burning stove or fireplace in the winter. But in the summer, your stored word can be more of a liability than anything. Woodpiles hold onto moisture, especially when the wood is in contact with the ground. This makes them ideal habitats for all kinds of insects. Which in turn makes them ideal hunting grounds for ants.
Additionally, several ant species would be more than happy to create a nest in a woodpile. Moisture ants are capable of nesting in rotten wood, and love wood that is in contact with the soil. Carpenter ants, Crazy ants and several other species will nest in both rotten and sound wood. And since they can damage the structure of your home if they decide to make a nest inside, this is one species you really don't want getting inside.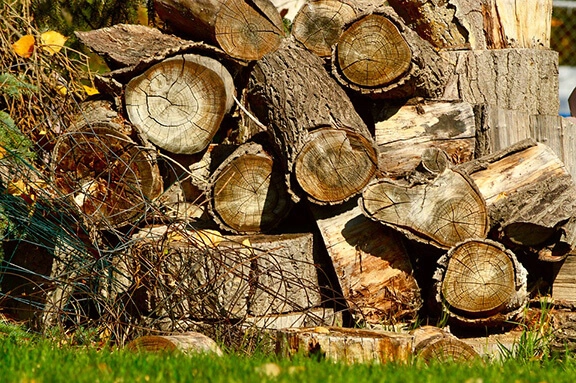 If you don't want to get rid of your woodpile entirely, move it as far away from the house as you possibly can. That way, if any bugs do decide to build a colony in it, they'll be less likely to find their way inside. It's also a good idea to raise the wood off the soil to make it less attractive to ants. And keeping it dry will prevent it from rotting and go a long way toward making it less appealing as a nesting site.
Remove Rotting Wood
This is the same principle as dealing with the woodpile. Certain species love rotting wood, both as a nest site and as a hunting ground. Many different bugs are attracted to water damaged wood, and almost all ants are attracted to other bugs. So taking care of rotten wood is an excellent way to reduce the ant population on your property.
Check out your fence posts, garden shed, porch, planter boxes, and any other wooden items in your yard. All of these will absorb water over time and start to rot. Untreated wood is especially prone to this. Remove and replace any rotten wood you find to discourage ants from colonizing your yard.
Seal Up Cracks and Crevices
Once you've done your best to ant proof your yard, it's time to turn your attention on the house. Start from the outside. Take a look around the outside of the building and look for holes. Remember that ants can be very tiny, and the smallest gap in the envelope of the building may provide them with a way in. Pay special attention around window and door frames. Be mindful too of dryer vents, air conditioners, water pipes, gas pipes, and any other conduits that enter your home. Often, these gaps are not sealed as tightly as they should be and provide easy access points for bugs and other pests.
Small holes you find can be sealed with weatherproof silicone caulk. This will keep out all kinds of bugs and should last for years. Larger holes may need more serious repair, such as concrete patches or replacement of siding. Depending on the condition of your house, this could be a lengthy process. Remember that it's also completely environmentally friendly, and will keep out more than just ants. It can even help lower your heating bills. Besides, if done correctly, you should only need to do it once.
Clean Up + Remove Food Sources
With the garden in top shape and the entry points to the house sealed, it's time to head indoors. Ants don't come inside for no reason. Generally, they are in search of food, water, or shelter. Remember that ants can eat more or less anything that we can, so our kitchens are a great source of food for them. And given their tiny size, even the smallest spill or crumb can be enough to draw them inside.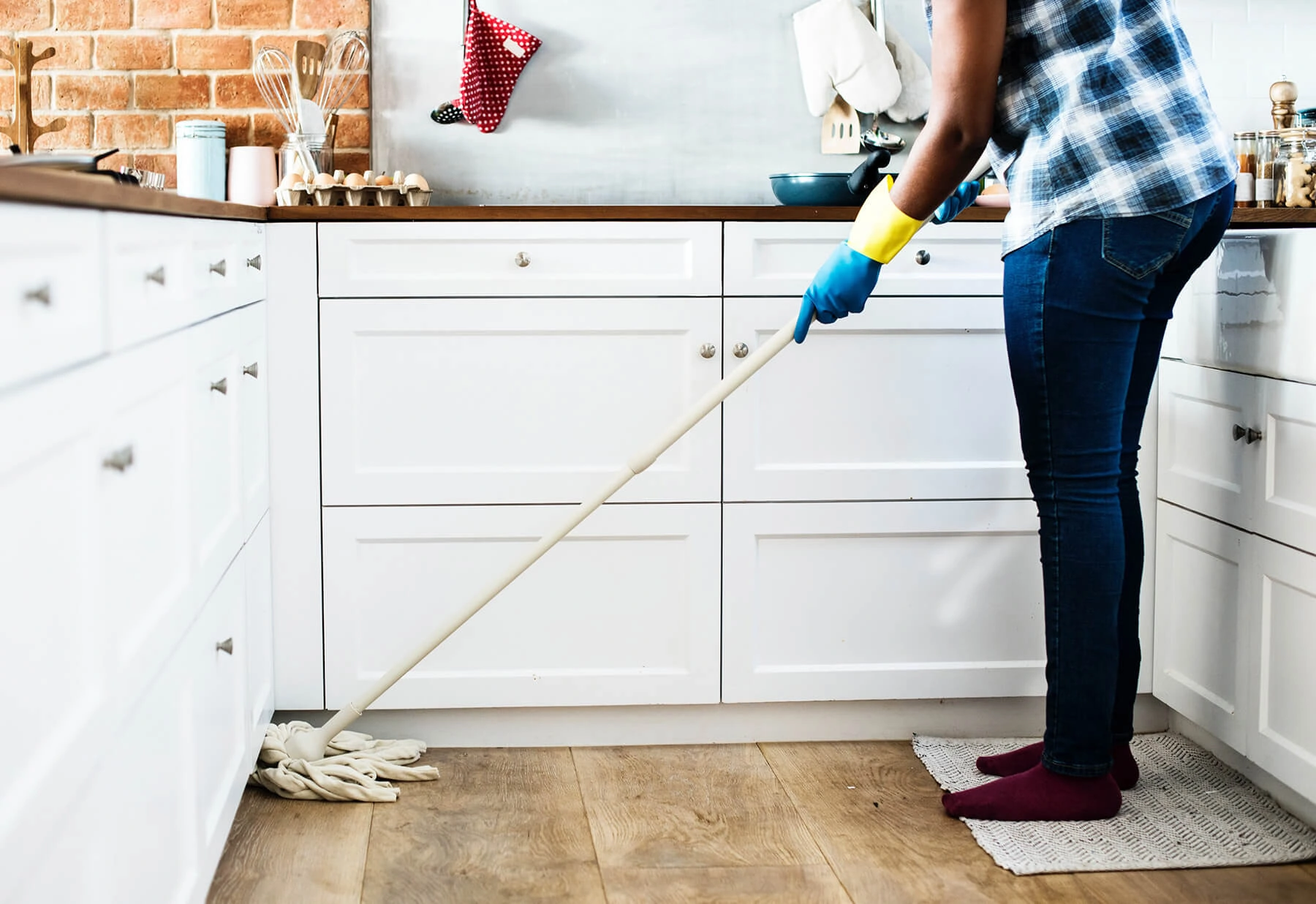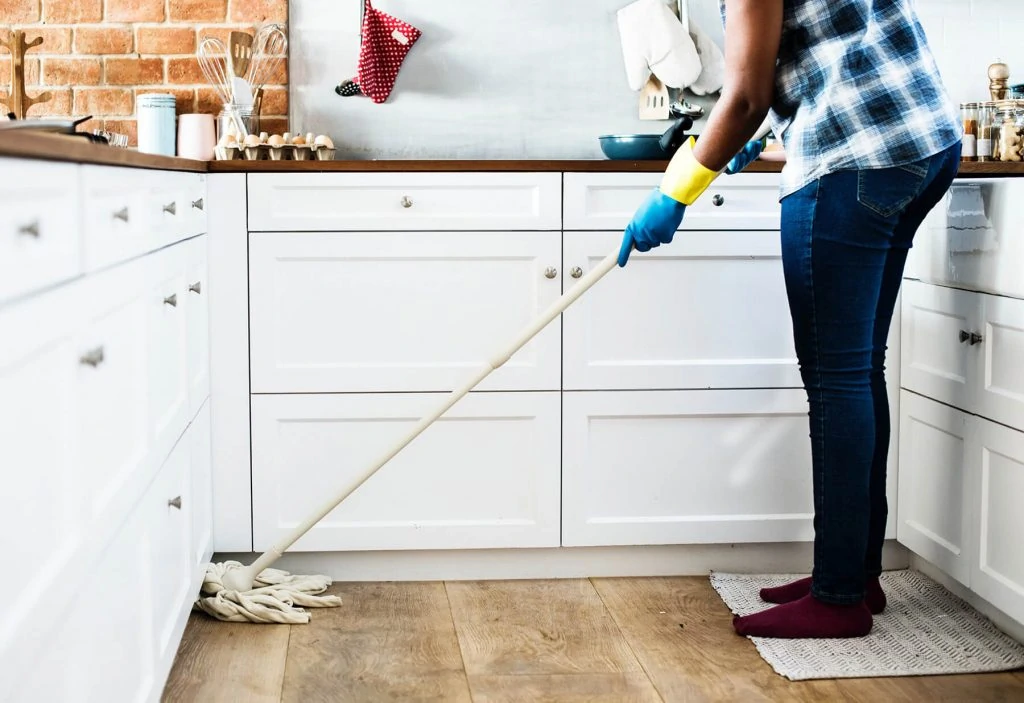 Most ants are especially keen on sugary substances, so pay special attention to spills of soda, coffee, tea, melted ice cream, and other sweet foods. However, ants also eat protein and carbohydrates, so make sure no crumbs are lying around for them to access. Wipe down kitchen surfaces regularly to ensure that there is no residue left behind to attract ants.
Ants also have high water requirements, so pay attention to any areas of moisture that they might access. Check under sinks for leaking pipes and fix dripping taps. Remember to dry the area once you finish cleaning, and wring out sponges and cloths used to stop ants from finding water that way.
Store Food Properly
Ants aren't above climbing into your kitchen cabinets and taking a bite out of whatever you have stored there. They can even chew through certain types of packaging, such as paper or thin plastic. So it's a good idea to store all food in a way that ants and other pests can't get to it. Hard wearing containers with an airtight seal such as Tupperware or glass are the best way to go. Not only will this keep pests away from your food, but it also helps keep your kitchen super organized.
Eradicate Trails
Insects can't talk. Not even to each other. But that doesn't mean they can't communicate. For any creature with the high level of organization that ants display, communication is vital between members of the colony.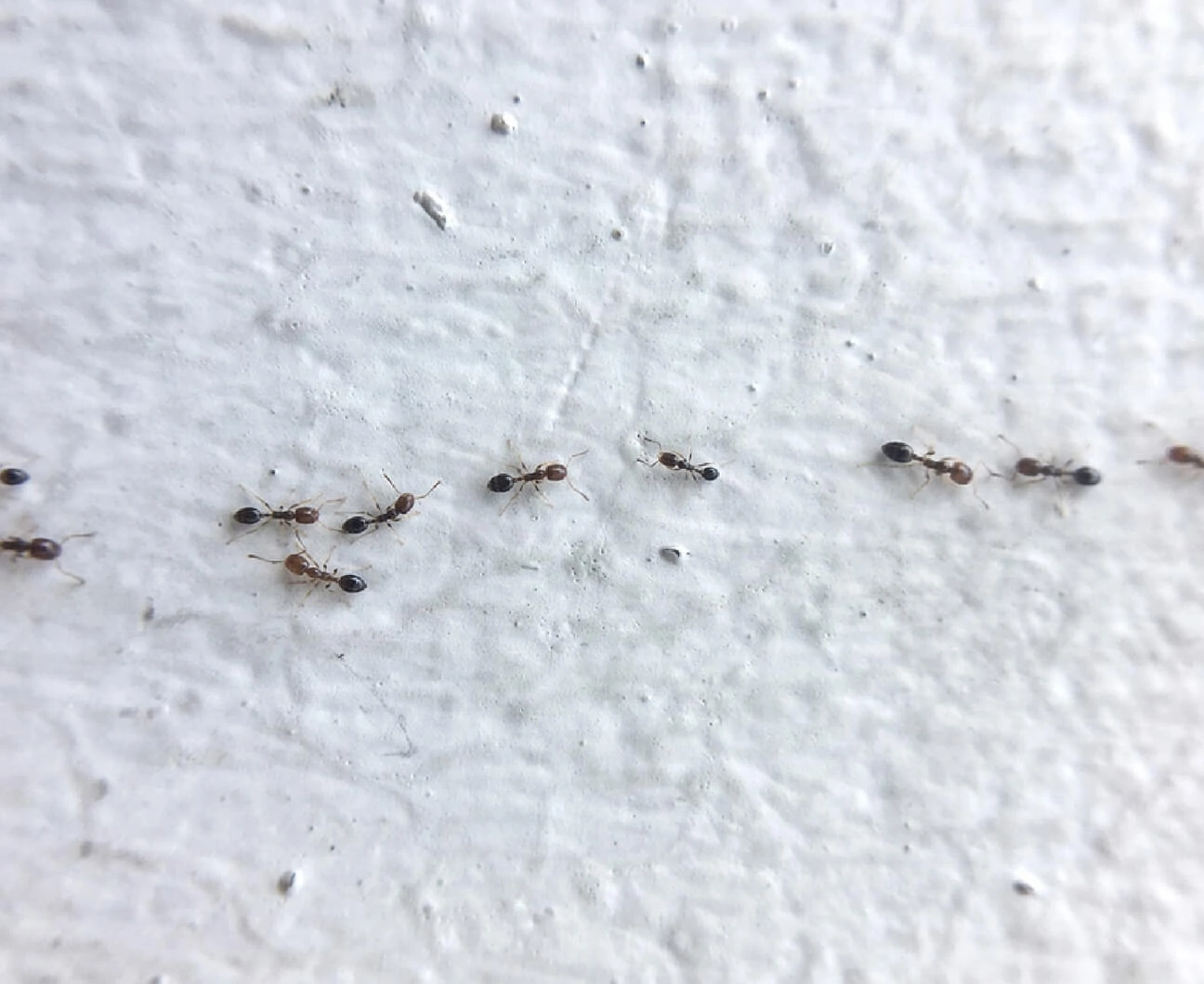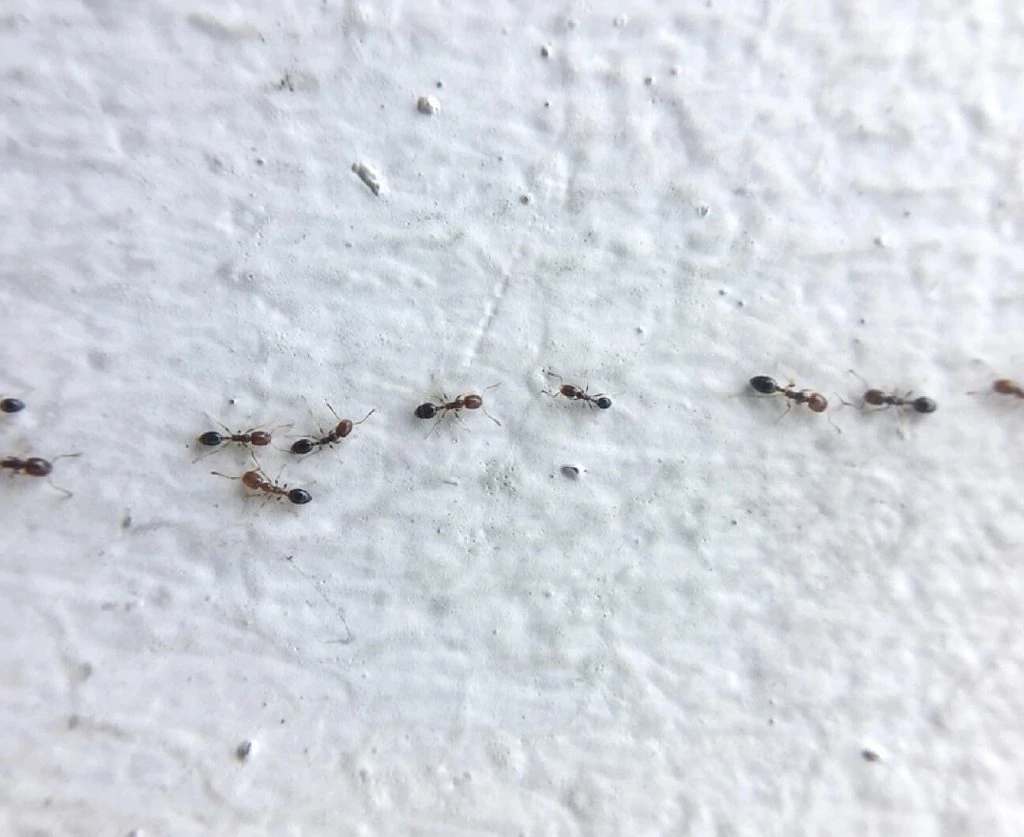 Ants communicate with one another through chemical signals called pheromones. These pheromones can produce some surprisingly sophisticated behaviors, but one of the most basic uses is to find food. Foraging workers go out looking for something to eat, and when they find it, they will carry some back to the nest in their mouth. Along the way, they will leave behind a pheromone trail that other ants will be able to follow to find the same food item the original scout found. This is part of what makes ants so successful in finding food, and the reason why large numbers of ants can appear seemingly out of nowhere overnight.
Fortunately, if these trails are broken, the ants will have a much harder time finding their way back to your food. Regular household cleaners are capable of breaking up ant trails, so this ties into the practice of cleaning your kitchen quite nicely. The more often you wipe down surfaces, the harder it will be for the ants to establish a trail, and the less reason they will have to come into your kitchen in the first place.
Do a Barrier Treatment
If the ants are coming from outside, you may want to consider performing what is known as a barrier treatment. This involves creating a barrier around the perimeter of your house that will stop ants from coming inside. Some barriers repel ants, while others kill any that cross it. The best ones do both.
The most environmentally friendly way to create a barrier is with diatomaceous earth. This naturally occurring substance contains no pesticide and instead works by scratching an ant's body until it can no longer retain water, causing it to dehydrate and die. Because this is not a pesticide, you can use it freely indoors or outdoors, without worrying about your kids or pets getting too close to it. About the only downside is that it comes in the form of a fine white powder, and will be visible wherever you've applied it. Also, if using diatomaceous earth outdoors, you'll need to reapply after rain.
For a neater solution, you could turn to a commercial pesticide such as Ortho Home Defense. This ready-to-use spray comes pre-mixed so that you can spray it around your home to keep the ants at bay. It kills bugs on contact, but it also has a residual effect that will keep killing them for weeks after the application. Even if it rains, Ortho Home Defense will remain effective for a long time and help to keep your home protected.
Conclusion – An Ant Free Home
With so many different species, it's important to remember that what works for one type of ant may not work on another. For instance, not all ants that can be found inside the home come from outside. There are some tropical species, such as Pharaoh ants, that only live indoors, and come into your property either from a neighboring unit or as stowaways in groceries. For these ants, the only effective solution is a poison bait that the creatures will take back to the hidden nest so that it slowly makes its way through the entire colony.
But for most insects, it's possible to keep them outside where they belong. Start by focusing on your garden, and make your home unattractive to ants. The less of these critters live in your area, the less likely they are to find their way inside someday. Then, move on to sealing up cracks and crevices to physically bar them from entrance. Finally, a barrier treatment, whether diatomaceous earth or a pesticide, can be a very effective way to keep these bugs from coming in to live with you.
Ants most definitely have their place in this world, and there's no need to try and eradicate them completely. If you can keep them from coming inside, you may just be able to live in peace with these fascinating but occasionally irritating insects.