Any links on this page that lead to products on Amazon are affiliate links and we earn a commission if you make a purchase. Thanks in advance for your support! Learn more
Pest Product Review:
Best Spray for Carpenter Ants
June 21st 2023, by Dan Crosfield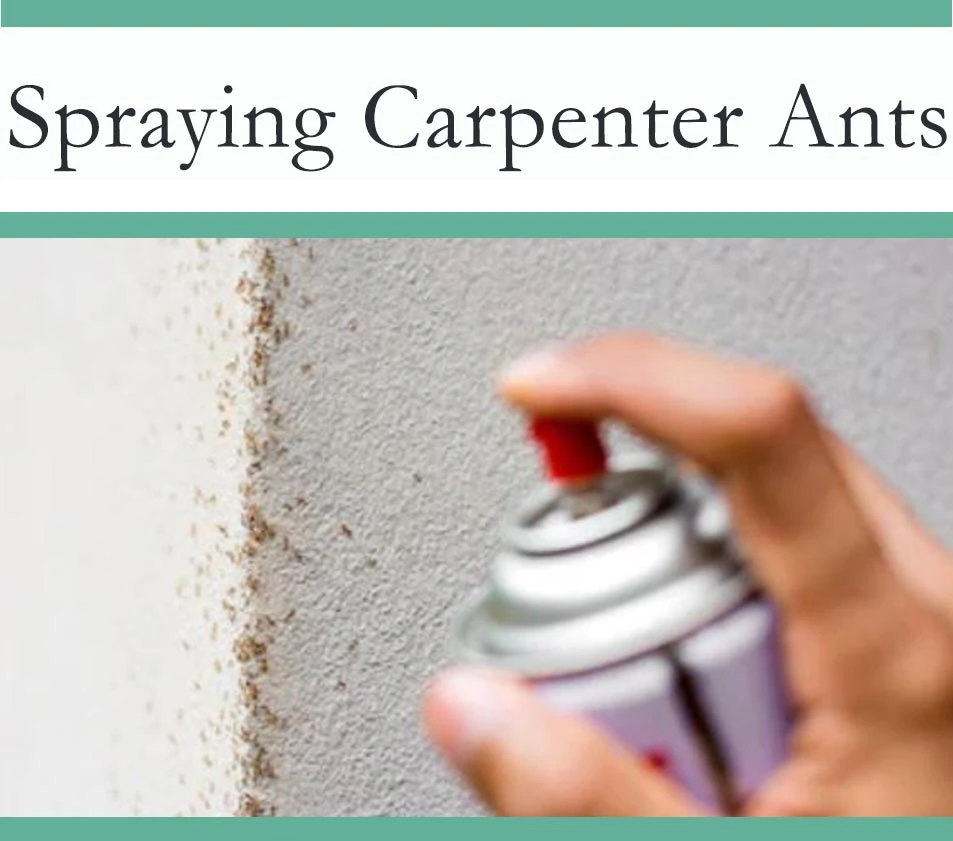 As far as insects go, carpenter ants have a pretty impressive Internet presence. One reason for that is because of the way they look. This is the largest ant species in North America, with adults reaching over half an inch in length. The queens of this species can reach up to 1 inch, and live for 20 years. And these ants aren't just big. With their bulky black exoskeletons, they look like regular ants on steroids.
But carpenter ants are famous for more than their looks. Another reason they get so much attention is because they are one of the few species that are capable of causing damage to buildings.
The trouble is, these mean girls – all foraging workers are female – like to build their homes in wood. They use their powerful jaws to excavate long holes known as galleries in which to lay eggs. In their natural habitat, these bugs fill a vital role in the ecosystem by breaking down fallen trees. But they don't know the difference between an old stump and your home. And they are fully capable of building a nest inside perfectly sound, undamaged wood. Over time, this activity can hollow out wooden beams and threaten the structure of your house. It's estimated that these pests cause $5 billion worth of damage each year in the US alone.
Our Recommended Product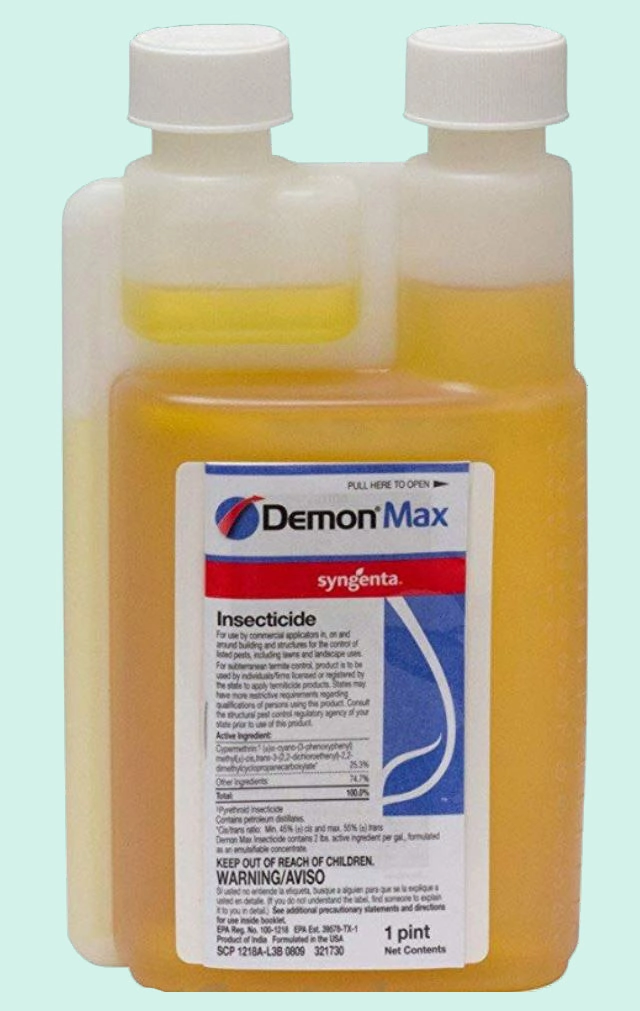 When dealing with this species, it's best to use multiple products. However, if forced to pick just one, this would be it. This broad-spectrum insecticide is deadly to the carpenters. As well as being capable of killing the nest directly, it can also be used to perform a barrier treatment to make sure no bugs come inside your home afterwards.
What makes this species so tricky to get rid of is that they respond poorly to baits. Although there are poison baits on the market for carpenters, they are often ineffective at taking out the entire colony. Carpenters are quite bad at foraging, and so they often don't take enough of the bait for it to kill them. If you're dealing with these guys, the best method of control is to find the colony.
Of course, this can be tricky. Especially considering that there is probably more than one. Colonies are often inside walls or in other hidden areas. The nest could be inside your home or outside. Look for areas with high ant activity. Also, look for the fine sawdust these creatures spit out as they chew new galleries in wood. If you see one of these beasts carrying food, try to follow it. It will lead you back to the colony.
Once you've found the colony, there are lots of different products available to remove it. It's a good idea to use a multipronged approach. Treating the nest directly to kill ants should be combined with a barrier spray to stop more of these creatures from coming inside from another nest. For long-term control, it can also be useful to use a dust that will stay active inside the wall void for months if not years.
Product Comparison Table
Products
Best Feature
Worst Feature
Grade
Buy It Now
Demon Max
Highly effective at
killing ants
Needs special equipment
to apply
A

Buy Now

Termidor Foam
Great at penetrating
nest
Can be messy
B

Buy Now

Ortho Home Defense
Very easy to use
Wand is unreliable
B

Buy Now

Terro Ant Dust
Excellent long term
control
Requires a duster to use
B+

Buy Now
Carpenter Ants Spray Products
Demon Max – Best for Residual Protection
If you're only going to use one pesticide to solve your carpenter problem, make it this one. Often used by pest control professionals, this chemical is a powerful insecticide that can perform multiple functions.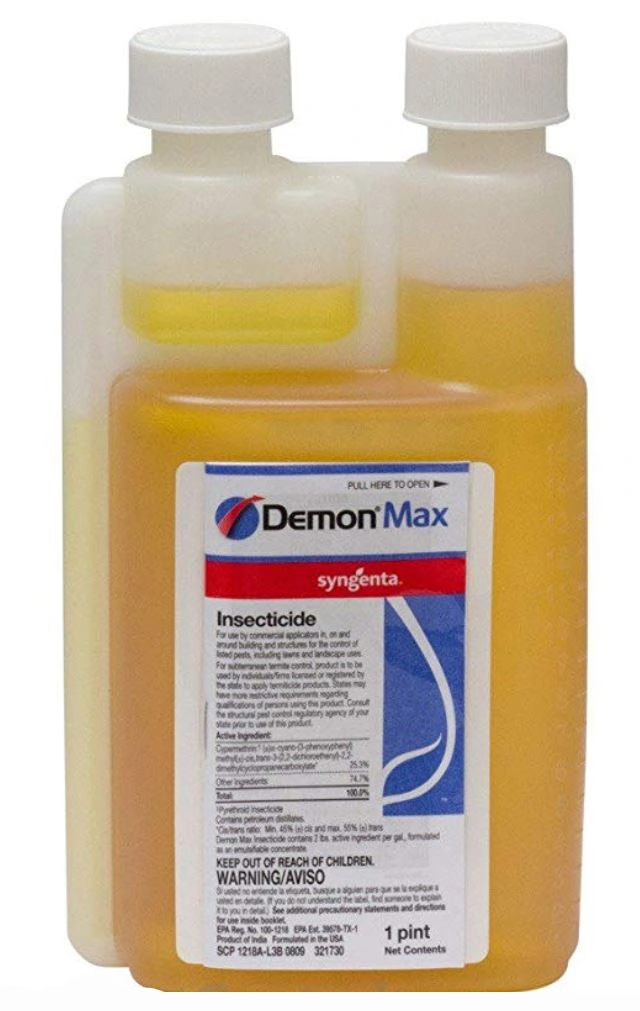 The active ingredient, cypermethrin, is a widely used and potent insecticide. It kills ants and other bugs on contact. Even better, it continues to kill any pests that come into contact with it long after the mixture has dried. The compound can stay active for weeks and has been found to provide better residual protection than the widely used permethrin.
Spraying this stuff around your home will kill any ants on contact and also break up the pheromone trails they use to find their way around. It can also be used outdoors to protect your garden from foraging workers. And if you can find the colony, you can spray this product directly on to the colony to kill it off. Thanks to the residual effect, you can be confident that any nest you spray will stay dead for a long time afterward.
Because Demon Max is aimed professionals, it's not as easy to use as it could be. You will need to dilute the concentrated liquid thoroughly before use. Remember to follow all directions on the label, and resist the temptation to make a stronger mix than is necessary. It's simply a waste of pesticide.
You'll also need some specialized equipment, such as a pump or backpack sprayer, gloves, and ideally a respirator. This additional equipment will raise the cost of your treatment. But if it's worth doing, it's worth doing right.
Termidor Foam – Best For Targeting Nests
The best way to get rid of a carpenter problem is to find and destroy the nest. Realistically, this may be the only way to ensure these bugs don't become an annual problem. Finding a colony is a skill that can take some time to master. But if you do manage to locate it, you'll want a product that can destroy it effectively.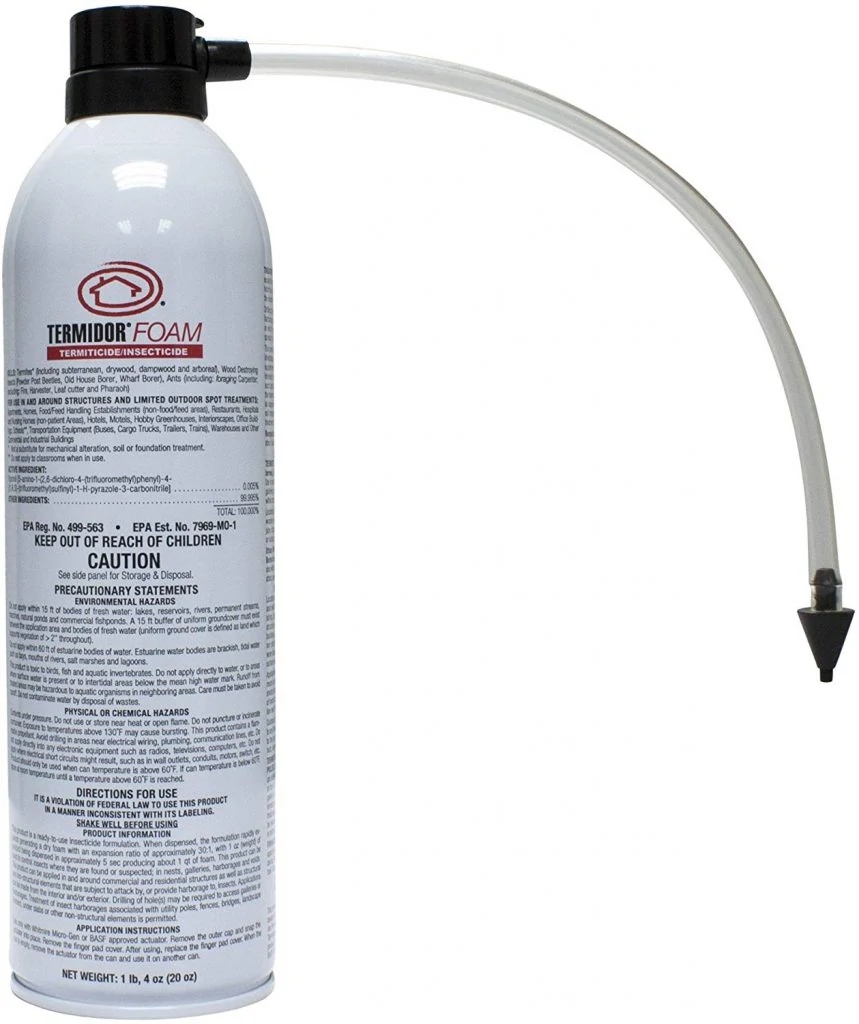 These bugs excavate wood in three dimensions. The colony will consist of several galleries, all linked by tunnels through which workers can come and go. There will also be eggs hidden inside the galleries. And, if you've located the primary nest, the ant queen may also be inside. So it's easy to see the importance of treating the colony effectively.
Foam products are great at this, because the foam expands inside the void, reaching areas that liquid pesticide might not. Termidor Foam comes with a flexible hose that is useful for injecting the product directly into the colony. Ideally, you can use the holes that the ants themselves use to enter and exit. However, in some cases, it may be necessary to drill additional holes to make sure you reach the entire nest.
Termidor Foam expands inside the galleries and kills ants on contact. The active ingredient, fipronil, also provides residual protection, so it will keep killing pests even after the foam itself has evaporated.
Of course, this product is only useful if you can actually locate the colony. But if you do, it's a great tool to solve your problem. A word of warning – put down some newspaper to protect your floors before tackling a nest. This expanding foam can get messy.
So far, we've focused mostly on professional-grade pesticides. That's because the best chemicals are aimed at the pros, since they have a business incentive for treatments to work. But if you're not a pro, all this messing around with concentrated chemicals and specialized equipment may not be particularly appealing. If you want something a little easier to use, you're in luck. Some commercially available products can solve bug problems more easily.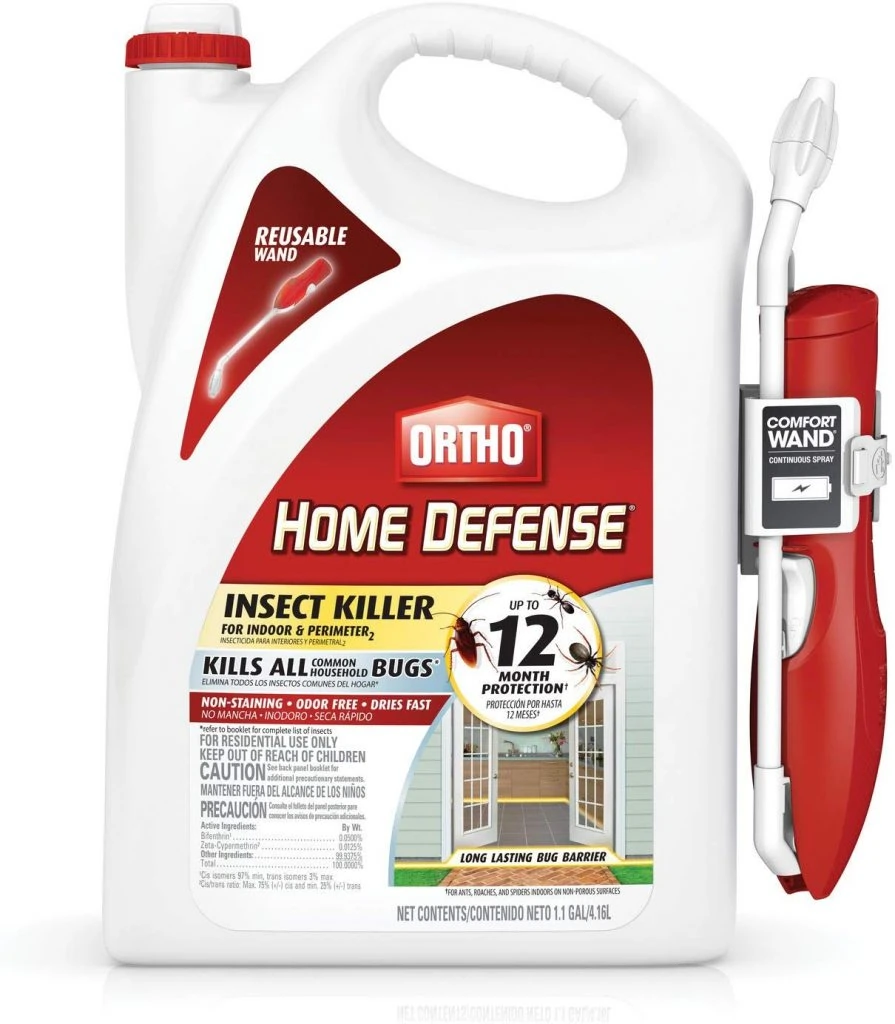 Ortho Home Defense is aimed at homeowners, but that doesn't mean it's not a serious ant killer. The active ingredient, bifenthrin, is known to be an effective pesticide with an impressive residual effect, and is often used under different brand names by professionals. A broad-spectrum insecticide, this stuff will kill all kinds of bugs, and also destroy the pheromone trails ants use to find food and their colony.
As you might expect from an item aimed at home users, Ortho Home Defense comes pre-mixed and ready to use. It also has a battery-powered wand, which eliminates the need for pumping and reduces the risk of hand fatigue during spraying. This is a very nice feature to have, especially if you have a large area to spray.
There's no question that this stuff works. Not only will it provide an effective barrier treatment around your home, but it will kill ants on contact and can even destroy a colony if you find one. However, you may find that this easy-to-use product ends up costing more than the chemicals the pros use. Since it comes premixed, you're paying for a lot of water along with your pesticide.
Also, while the battery-powered wand makes this product extremely easy to use, it's also its Achilles heel. The wand is prone to leaking, jamming, or simply not working at all. It's a nice idea, but one that maybe hasn't been executed as well as it could have been. That doesn't make Ortho Home Defense a bad choice, by any means. The chemical definitely kills bugs, and that's the main thing. But when you're buying something for its ease of use, you want to be sure it will work the way you expect.
This product, rated for both indoor and outdoor use, can be used against bugs in a variety of ways. It's often sprinkled on plants to keep ants away. Terro Ant Dust is a contact killer, and the active ingredient stays effective for up to eight months, even when exposed to the elements. As a result, this dust can also be useful as a barrier treatment. Sprinkle it around your home, paying particular attention to windows, doors, and anywhere that pipes or conduits enter the building.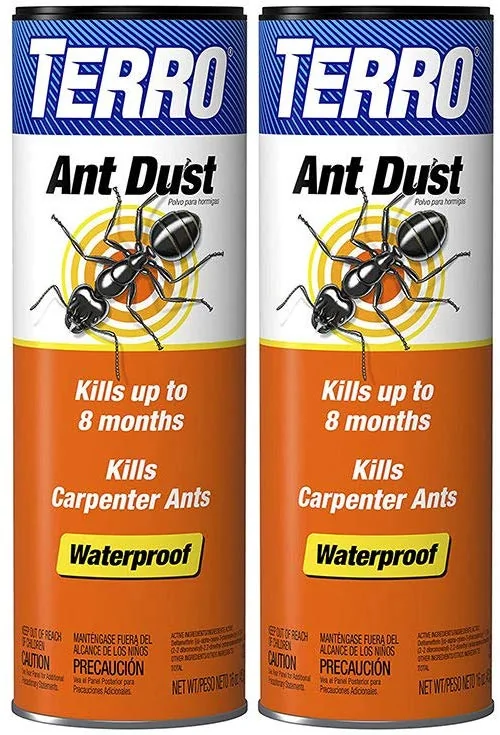 However, this dust can be especially useful if you find a nest. Because the dust is waterproof and stays active for so long, this insecticide provides excellent long-term control to ensure that no new ants come to recolonize the colony that you've destroyed. Once you've sprayed the area with Demon Max or Termidor Foam – or both – let it dry out thoroughly. Then, using an insecticide duster, inject this powder into the void the ants have created. The dust will stay stable for a long time and kill any ants that reenter the galleries.
This could also be useful to prevent what's known as secondary infestation. If you kill an ant nest inside a wall void, you'll end up with a lot of dead ants that you can't reach. Scavenging insects sometimes find these ants and make a meal of them. So instead of having ants, you can end up with other creatures such as mealworms or carpet beetles. Terro Ant Dust helps to prevent this kind of secondary infestation from taking place.
Carpenter Ant Spray – A Buyer's Guide
It's because this species is so tricky to get rid of that there are so many different pesticides available to deal with them. The best spray for carpenter ants you choose is going to be determined by the kind of treatment you're looking to perform. If you have located the colony, your treatment will be very different than if you simply want to create a barrier to stop these critters from coming inside. So here are some things you ought to think about:
Ease of Application
Chances are good you've never done this before. If this is your first time taking on these critters, you'll want products that are easy to use. All pesticides come with directions regarding their use, and it's important to follow these closely. But some items are definitely easier to use than others. Look for products that come ready to use if you're not comfortable mixing pesticides yourself.
Combined Approach
When it comes to this species, you're probably going to need more than one type of pesticide to deal with them. Because these creatures respond so poorly to bait, it's often necessary to track down the nest – or nests. And once you've found a colony, there are a variety of approaches to treating it. Each has its pros and cons. To get the most effective treatment, it's a good idea to use multiple methods.
Effectiveness
This one might seem obvious. But there's no point wasting money and time on a treatment that isn't going to work. When looking for pesticides, pay attention to online reviews and the experience of others. Not all chemicals are created equal, and some work better than others.
Also be aware, though, that how a pesticide is used can have an enormous effect on its efficacy. Sometimes, those one-star reviews that claim an item didn't work have more to do the way in which it was used than the product itself.
Price
Let's be honest – when is this ever not a factor? Professional carpenter ant treatment can cost hundreds if not thousands of dollars, so by doing it yourself, you're already saving a lot of money. But choosing the best chemical, even if it's more expensive than the alternatives, can end up saving you even more in the long run. The right product used correctly may only need to be used once, while cheaper alternatives may require you to treat again and again, negating any benefit of the cheaper price.
Conclusion
Because of their poor foraging abilities and the habit of hiding nests inside wall voids and other areas, this is one of the trickiest species of ant to control. Barrier treatments and sprays can provide some relief by stopping foragers coming inside your home. But long term control depends on tracking down and directly treating the colony itself.
Spraying, foaming, and dusting is a tried and tested method of wiping out carpenter nests. And once a colony is destroyed, you can be confident that your problem is over. While they may have multiple colonies, this type of insect only has one reproductive queen. Kill her, and you kill the whole colony.
It's easier said than done. But with the products listed above, you have a good chance of declaring victory over these troublesome pests.