Any links on this page that lead to products on Amazon are affiliate links and we earn a commission if you make a purchase. Thanks in advance for your support! Learn more
PEST GUIDE:
Why Are Carpenter Ants In Your Home?
October 14th 2019, by Dan Crosfield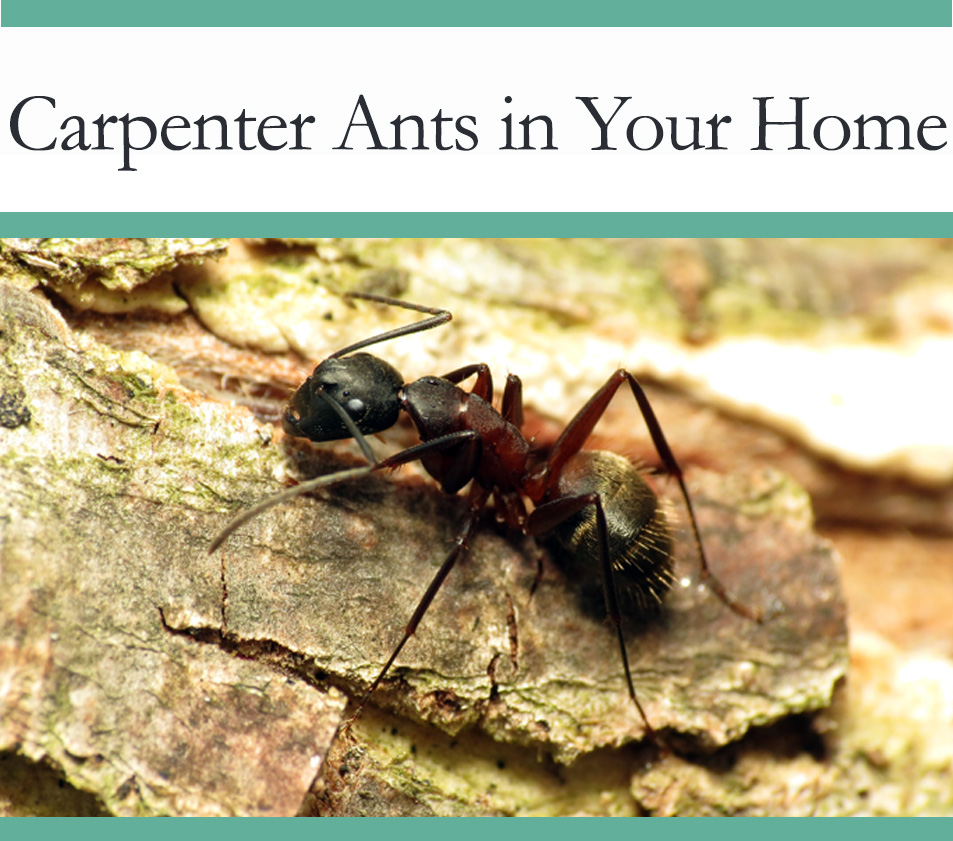 Carpenter ants are striking creatures. As North America's largest species, adults can reach close to an inch in size. Among ants, that makes them giants. And if you stumble upon a colony of these creatures, you won't soon forget the experience.
Most insects live outdoors, and that's the way we like it. But sometimes, these giant bugs can be found inside the house. And if that happens to you, you may be wondering why. Unfortunately, there's no good reason for this to be happening. However, there are a couple of bad ones, and one is much worse in the other.
The Ants are Looking for Food or Water
Like all living things, these creatures need food and water to survive. Human houses can provide them with both of these things, as well as shelter from extremes of temperature or bad weather. Foraging workers can often find their way into human homes. And if there's something there that they like, whether to eat or drink, they will certainly tell their friends. Before you know it, you'll have plenty of insect visitors.
This is undoubtedly a bad thing. But it's better than the alternative.
The Ants Have a Nest Inside Your Home
The name Carpenter comes from these ant's habit of building settlements inside wood. In their natural forested environment, these creatures play an important role in breaking down dead trees and returning the nutrients to the soil. But in buildings, this can become a major problem. These bugs have jaws that are powerful enough to chew through solid wood. They don't even need it to be rotten or water damaged, the way the termites do. If these bugs are living in your house, you can have a serious problem on your hands.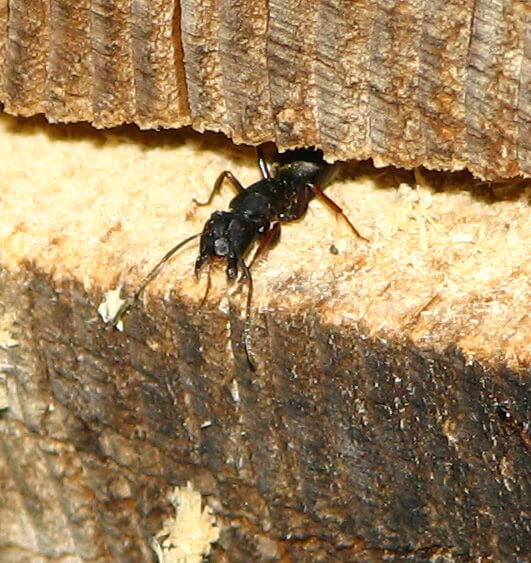 What to do About Carpenter Ants in Your Home
Foraging Workers
As social insects, ants have a high degree of organization in their colonies. Individuals perform different roles throughout their lives, and everything they do is in service of the group as a whole. To explain why these bugs have to go out foraging for food, we need to take a closer look at their biology.
Adults can't eat solid food. While they may have fearsome pincers, or mandibles, these are only useful for breaking material down into smaller pieces. But the structure of an ant's body, with its extremely narrow neck and waist, makes it impossible for them to eat solid food. That doesn't mean it won't attract them, though. Leave a piece of solid food out, and they will most certainly be interested in it.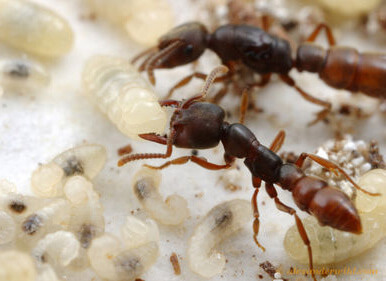 So what are they doing? The adults carry solid food back to the group. Here, they feed it to the juveniles, the larvae. At this stage of their life cycle, the creatures have worm like bodies without the distinct segments of the adults. The larvae can eat solid food and regurgitate a nutritious liquid for the adults to swallow. For this reason, the adults are totally dependent on the survival of the colony.
The job of a larva is to digest food for the adults until it grows up to be an adult itself. Once it does, it begins to take care of the remaining larvae and the queen who lays the eggs. But as the ants age, they start to take on a bigger role in the defense and maintenance of the nest. Finally, as an ant reaches the end of its life, it becomes a foraging worker. The majority of the ants that you will see in your house are the oldest members of the colony.
By ant standards, carpenters are relatively poor foragers. They can often be found hundreds of feet from the nest. The constant quest for food sometimes brings them into our homes. As omnivores, these bugs will consume a wide range of foods, including almost anything that humans will. Also, their preferences change throughout the year according to the shifting needs of the colony. These insects will happily feed on protein such as meat and other insects. But they are also attracted to sugar and sweet substances.
So how do you keep these foraging workers out of your home?
Keep Clean; For so many species, this is the best pest control there is. Give the bugs nothing to eat, and they will have no reason to come inside and bother you. Store food in airtight containers when it's not being used. Remember that these bugs have powerful jaws, and can chew through thin plastic and paper. Invest in some Tupperware or glass containers to keep your food safe from foraging workers. Also, don't forget about soda spills, honey, syrup, and melted ice cream. All of these are extremely attractive to foraging workers, especially since the adults can consume these liquids directly without needing to bring it back to the larvae to be digested. Wipe up any spills as soon as they happen.
Look for Water; A colony needs plenty of moisture if it is to survive. And the hotter it is outside, the more water the bugs will need. In times of drought, these creatures often come inside more readily, since human houses provide a reliable source of fresh water. Inspect your home for any leaks. Pay special attention to air-conditioning units and the back of the fridge where water collects. Bugs will often drink the condensation that forms on cold pipes, so also remember to take a look under sinks and anywhere else that water flows. The same goes for the outside of your house. Inspect faucets to make sure they're not dripping and providing these creatures with one more reason to come close to your house.
Create a Perimeter; Insects often walk along the ground to get to where they are going. But as insects, they aren't as constrained by gravity as us large animals. These bugs move in three dimensions. Trim back any branches and plants that touch your home, since these can be highways for them to travel along. Reduce vegetation around the building. This can provide shade and good foraging ground for the creatures, who then don't have far to go to come inside. Think like an ant, and make your property less attractive to these invaders.
Destroy Trails. Ants don't do anything alone. Everything they do is intended to benefit the colony as a whole. So if one of these bugs finds a good source of food or water, it will tell its family all about it. They do this through the use of pheromones, chemical signals that change the behavior of the bugs who pick it up. If an individual finds a good source of food, it will hurry back to the colony and leave a trail behind it for others to follow. Once you've killed any forages you find in your home, you can break up the pheromone trail they may have created with nothing more than soap and water. Happily, this ties in with keeping your house flawlessly clean. Wiping down kitchen surfaces regularly will not only remove a food source but also destroy the pheromone trails that help these insects find their way into your home.
A Nest Inside the Home
All of these tips will help reduce the presence of ants in your home. Removing food and water will give foraging workers no reason to come inside. And destroying the trails will ensure that no more insects can find their way inside.
But thanks to their ability to carve galleries inside solid wood, Carpenters are quite capable of living inside your house. If this happens, cleaning up may not be enough. You'll need to go on the offensive against these bugs.
How Will I Know There's a Nest?
One or two of these bugs inside your house could be no more than a few foraging workers. If you see a couple of them per day inside, it could mean nothing more than that there is a colony nearby, and these bugs are checking your home for food. But if you start to see more –six, seven, eight, or more per day – you may have to entertain the possibility that they are coming from inside the house.
A more surefire way to tell is the presence of winged ants. Carpenter colonies spread by swarming. This means that at certain times of the year, generally in spring and again in the fall, a mature colony will produce flying ants. These creatures, called alates, are the only reproductive members of the colony besides the queen. They can be either male or female, and are usually significantly larger than their flightless siblings. The alates exist to fly into the air, mate with one another, and then fly off to start new colonies of their own. The males die soon after the so-called nuptial flight, whereas the mated females go on to start colonies of their own. It can be the start of a long and productive life for these females; Carpenter ant queens can live as long as 20 years!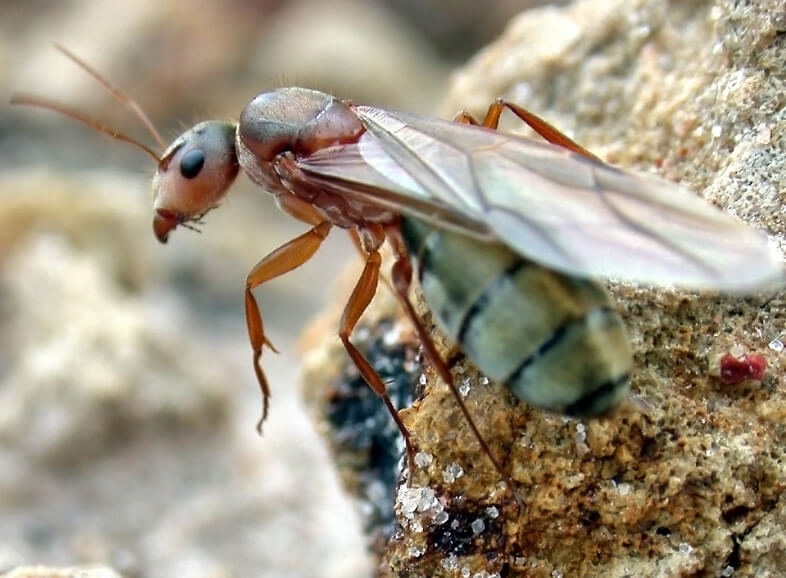 Alates are relatively poor flyers. Ants aren't designed to be aerodynamic, and can often be clumsy in flight. While an alate can find your home from outside, if you see two, three, four or more, it's more likely that they are emerging inside. And that can only mean that there's a nest.
Alates only fly when climactic conditions are just right. So often, alates will emerge without taking flight just to check the weather conditions. Strangely, it's only the males that do this. They check to make sure conditions are perfect before the females take flight. This can happen for many days before flight takes place, so this is often the first sign people see that there is a nest in their property.
Another way to determine where the colony is involves tracking the foraging workers. Once a worker discovers a food source, it will carry some back to the nest. You can feed a worker with a dab of diluted honey. Once it drinks up the sweet liquid, it will carry some back to the colony inside its crop, a kind of stomach that the ants use to share food with one another. Left to its own devices, the ant will head back to the colony. And you can follow it.
Of course, these insects can go places you can't follow. You may need to feed multiple workers this way to establish a pattern of behavior. But sometimes, these workers will lead you right back to the nest they came from. If nothing else, they will help you narrow down your search area.
Because these creatures live inside wood, the colonies can be surprisingly discreet. Watch out for holes in the wall where the bugs are coming and going. Also keep an eye out for frass, a kind of fine sawdust that the ants produce and push out of the entrances to the nest. Unlike termites, carpenter ants don't eat wood. They simply hollow it out to make galleries in which to keep their eggs and raise their larvae. Piles of this fine dust underneath holes that ants are using is a sure sign of the presence of a colony.
I Found the Nest – Now What?
Directly treating a carpenter ant nest can be a tricky task. Many people prefer to leave these kinds of jobs to the professionals, and there's no shame in that. Every situation is slightly different, and it takes years of experience to get good at taking down colonies of these bugs. As a result, however, it can also be a very expensive service.
So if you want to take on the nest yourself, you'll need to get hold of some good pest control products. If you can find it, a professional grade insecticide such as Demon Max is a great tool to use. This concentrated liquid needs to be diluted before use and will require the purchase of a pump sprayer. But it's worth the hassle. It not only kills bugs on contact but also has a residual effect that will kill ants in the treated area for months after the application. It also breaks up the trails and creates a barrier that the insects won't want to cross, so it can be very effective as a perimeter treatment around your home. Remember that Carpenters typically have more than one nest. The one in your home is likely to be a satellite colony without a queen. These satellite nests stay in contact with the primary nest where the queen lives, which is usually outdoors in a tree stump or some other area of high humidity. Breaking the pheromone trail between these two colonies ensures that the bugs won't simply recolonize your home.
If you're sure you've located the nest, a good product to treat it directly is Termidor Foam. The expanding foam will swell to fill all the cavities and tunnels of the nest, making sure it reaches each and every insect that's inside. Like Demon, this product also provides residual protection, so that the ants won't be able to recolonize the space once you've destroyed it. It's a great product, but make sure to put some newspaper down before injecting it into the nest, because this stuff can get messy.
Once the nest has been treated, you'll need to assess the damage the insects have caused. Bear in mind that if the colony was producing alates, it would have to be a minimum of five years old, meaning the damage could be quite extensive. By hollowing out the wood, these creatures can reduce the loadbearing capacity of wooden beams in buildings, so it's a good idea to get an assessment of the damage. This kind of work is best performed by an expert.
Conclusion – No One's Favorite Roommate
There's no good reason to have these bugs in your home. But some reasons are worse than others. As much of a nuisance as foraging workers can be, especially when you find them in your kitchen, it's preferable to having to share your home with a carpenter ant nest. And it's essential to figure out why you're seeing these bugs inside your home. Generally, foraging workers account for only 5 to 10% of the population of the colony. You can kill them all day and make no difference to the overall health of the population.
Carpenter ants are one of the trickiest species to get rid of, and their ability to cause damage to homes makes them a major problem to have to deal with. If you discover the presence of these creatures in your home and don't feel confident about solving the problem yourself, don't hesitate to contact a licensed local pest control company to take care of the problem for you.