Best Bait for Pharaoh Ants
June 22nd 2023, by Dan Crosfield
Any links on this page that lead to products on Amazon are affiliate links and we earn a commission if you make a purchase. Thanks in advance for your support! Learn more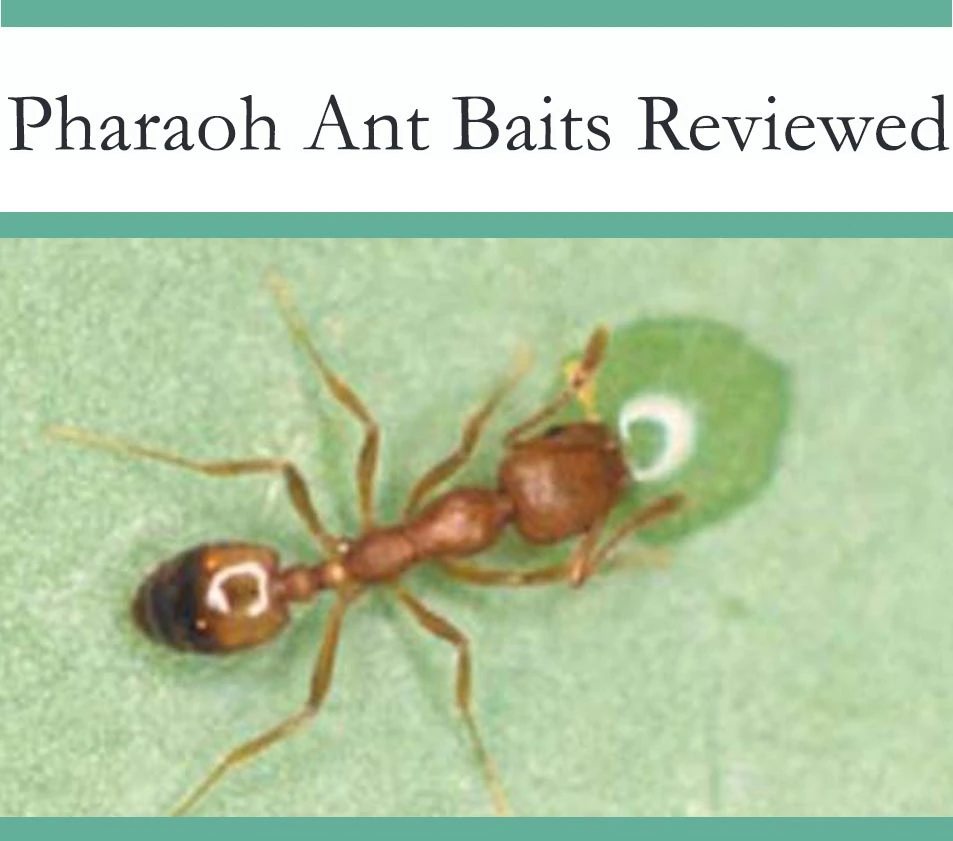 In this post we have reviewed several baits for Pharaoh ants and we tell you which one works best and why.
Pharaoh ants are a species that often becomes a problem inside people's homes. These very small ants are unusual in many ways. For one, these are not occasional invaders. Pharaoh ants can and do build nests inside people's homes. In fact, except in the very warmest climates, this species of ant don't go outside at all.
Pharaoh ants are also unusual in that the only effective treatment is to use bait. If you want to get rid of Pharaoh ants do not use residual spray treatments as they are not effective on these ants and can actually make the problem worse. This is because they have multiple queens in a single nest. If the application of a pesticide stresses the nest, the queens will disperse and create new nests in new areas. So a single ant nest can quickly turn into five or six or even more.
Pharaoh ants are unusual: the only effective treatment is to use bait
Even household cleaners can cause the queens to disperse and start a new nest. Only systematically placed poison baits can control this species; The ants consume the bait without ever realizing that it's bad for them so that the colony won't split.
Pharaoh Ant Bait Products Reviewed
We purchased, tested and reviewed several well known Pharaoh ant bait products in real-world conditions. Read along to learn which product is the most effective bait for this species of ants and why it works so well. Or purchase the best-tested ant trap to use in combination with pharaoh ant bait.
So what's the best bait for Pharaoh ants?
Got no time to read the whole post? Pick our recommended product:

Recommended Product
This is the best bait money can buy if you want to get rid of Pharaoh Ants quickly.

Highly attractive to ants, and highly lethal to their colonies, this bait doesn't come cheap. But if you want to see fast results, this is the bait to choose.

Product Comparison Table
Select your product from the list below, or scroll down to read our detailed ant bait reviews below.


Bayer Maxforce is a highly respected brand in the pest control industry, with products that have been used for decades by professionals. Their Quantum bait gel is designed to kill a variety of insect species, including Pharaoh ants. The active ingredient of this bait, imidacloprid, is known to be highly effective at destroying Pharaoh ant nests once it spreads through the colony.
Of course, any ant bait is only useful if the ants are attracted to it. Pharaoh ants can be especially picky eaters, with food preferences that shift over time. But liquid foods are highly attractive to ants, and the sweet ingredients of Maxforce Quantum mimic the kind of food sources the ants would naturally consume in the wild. This makes the bait highly attractive to the ants.
This liquid bait comes with clear plastic bait stations. These can be useful if you have kids or pets or want to apply the bait without having the sticky liquid touch your kitchen countertops and other areas. You can fill the bait stations and place them in areas where ants forage, or you can apply to bait by itself. In this way, you can bait in tiny cracks and crevices where pets and kids can't reach, but ants can.
Liquid bait isn't always the easiest thing to work with. It's probably a good idea to wear disposable gloves while applying Maxforce Quantum. Also, over time, the liquid will dry out if Pharaoh ants don't consume it, and you will need to reapply. The dried-out bait can become sticky and difficult to remove, so try to apply it in areas where you won't see it.
As with any ant bait, patience is required. Baits work best when they work slowly. Be prepared to make multiple applications to get your Pharaoh ants under control.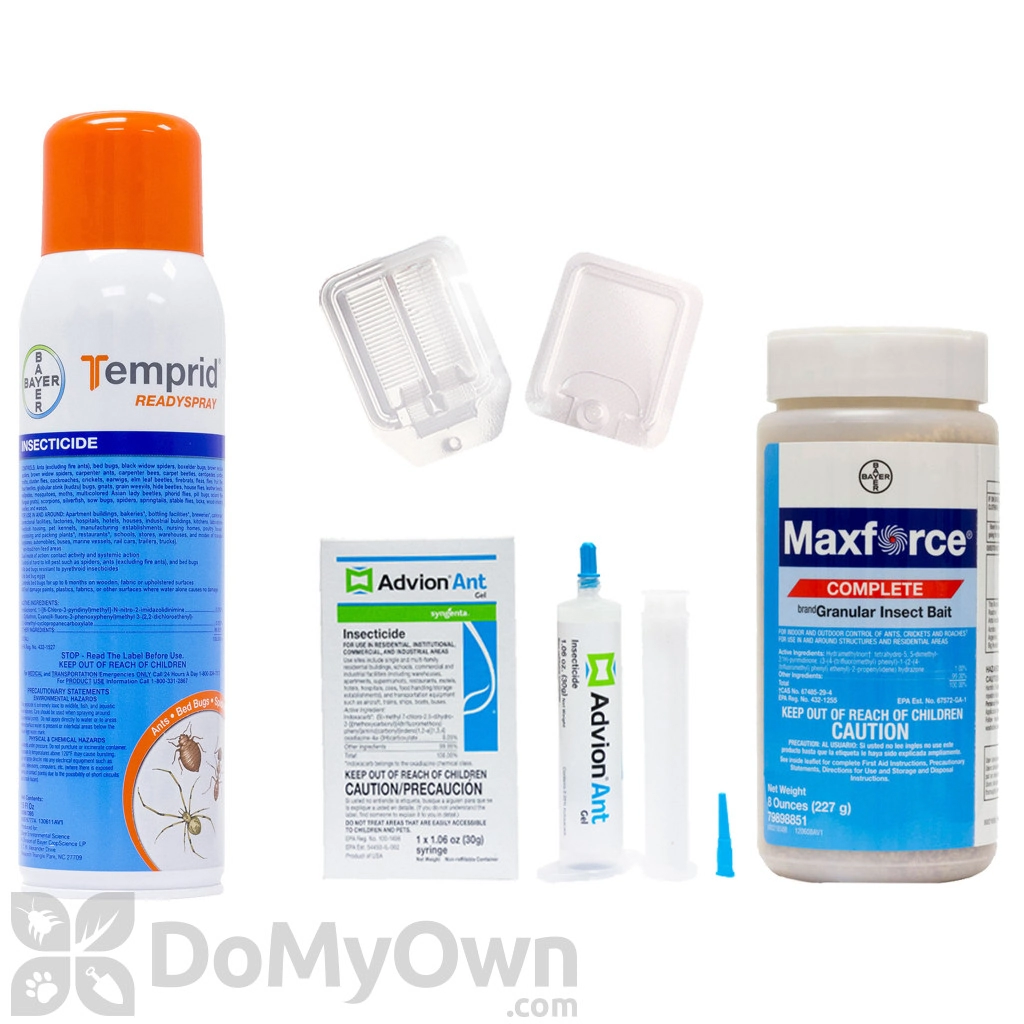 When it comes to killing pharaoh ants, the most effective method is by tackling them with a multi product Combination Ant Pack. This allows you to provide multiple baiting options, selected specially for this ant type, to combat the ants every move. The kit includes baiting stations as well to allow for the easy application of the baits indoors without making a mess or damaging your home.
If you are looking for the total solution then we suggest this ant kit because it contains some of the other products listed in this guide, but at a better price point than buying them individually and its complete approach means you have everything you need in one convenient kit.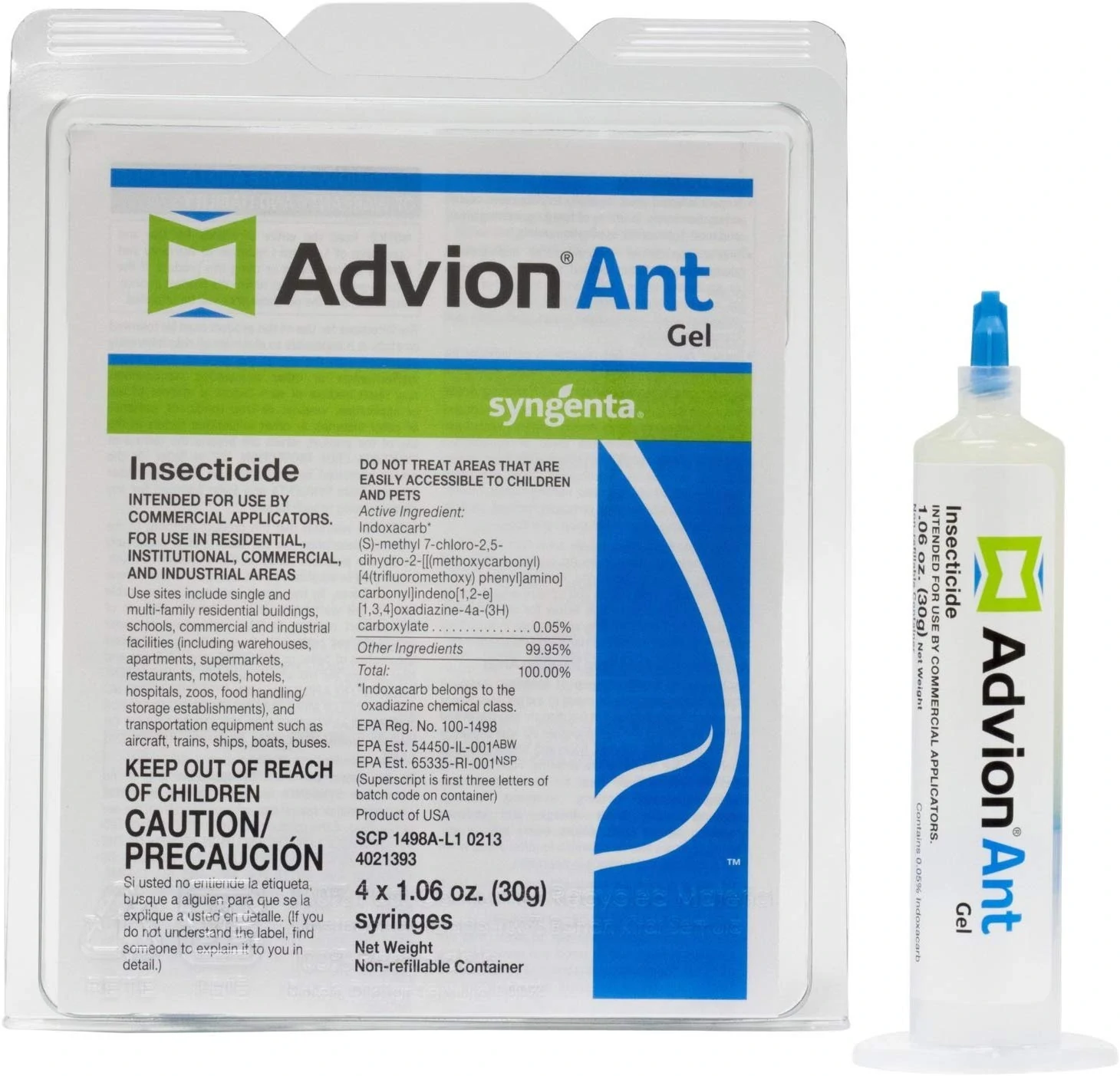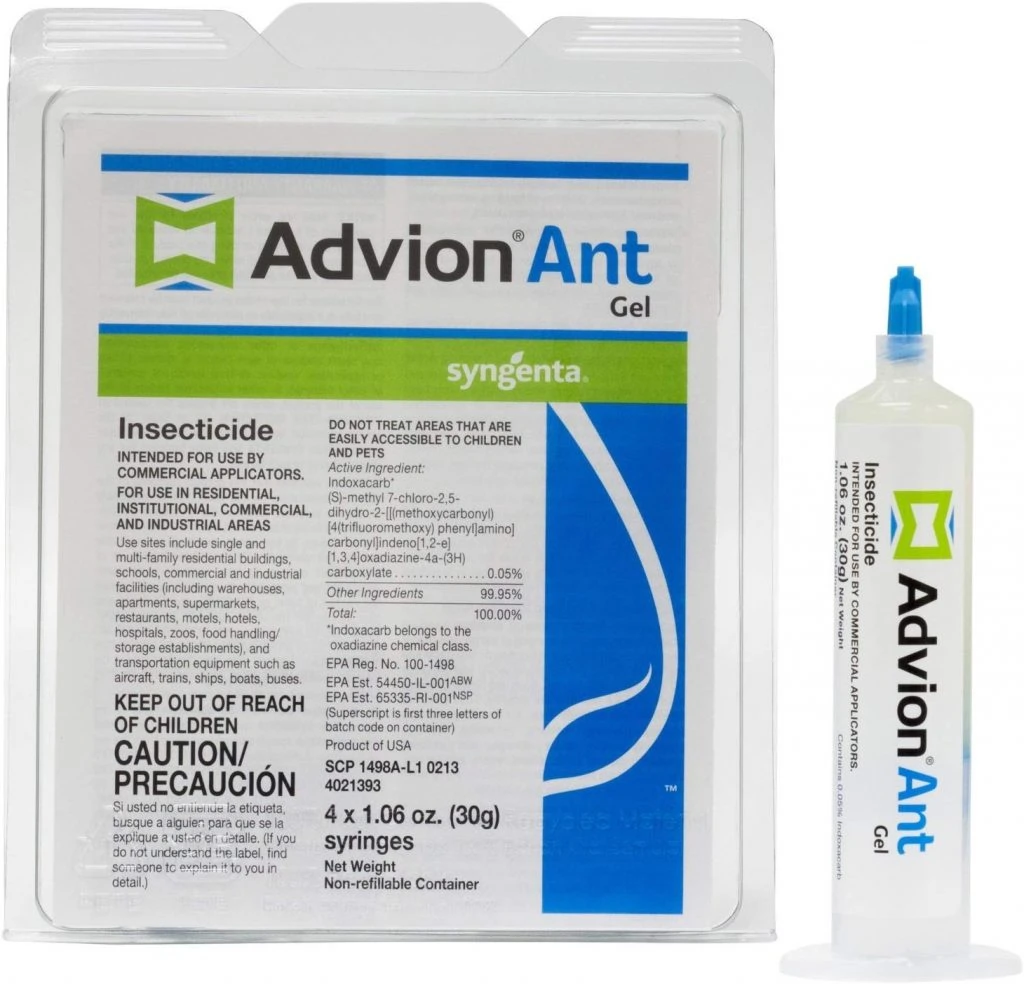 Like Maxforce, Advion Ant Gel relies on the ants finding the bait and carrying it back to the nest. The gel formulation is attractive to ants, allowing them to consume it and bring it back to the queen.
Maxforce may be a market leader when it comes to ant bait, but they aren't the only game in town. Advion is also a widely used bait in the professional pest control industry, and it's also a great product to use at home.
Advion gel has a thicker consistency than Maxforce liquid bait, so it's easier to apply in cracks and crevices and have it stay put. To that end, the product comes packaged in small disposable syringes that make it easy to inject the product into tight areas around kitchen cabinets, water pipes, and other areas where you've seen ants.
Advion claims to be non-staining. However, over time, the gel will dry out just like Maxforce does. You may need to perform multiple applications and remove the old gel once it begins to attract dust and dirt. Although syringes help with application, the gel can still get messy. Also, there are rumors that Advion has changed its formulation recently. New batches of the product don't seem to have the same attractiveness to the ants as they used to.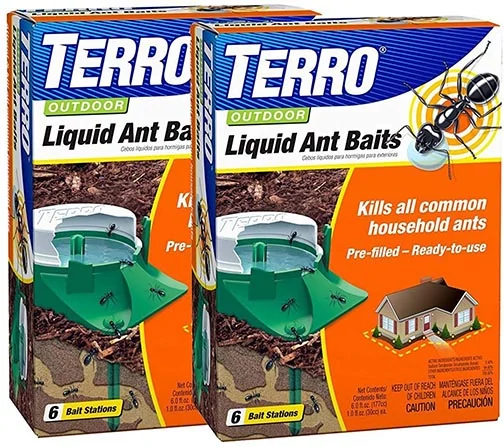 Liquid or gel baits may be the most effective way to get rid of Pharaoh ants in your home, but they are not always the easiest thing to work with. For that reason, Terro bait stations are a perennially popular product.
These stations couldn't be easier to use. You simply twist off the tab and set the station down in areas where you've seen foraging ants. The plastic container holds a liquid bait that will attract the ants, and the station allows the ants to enter and exit at will, carrying the bait back to the nest. Not only does this reduce the messiness of using a liquid bait, but it also keeps the poison away from any children or pets in your home. It also helps to keep the bait in its liquid form for longer.
While professional exterminators tend to favour liquid or gel baits, the ease-of-use of Terro bait stations make them extremely popular with homeowners. However, the convenience comes with a trade-off. If you have a substantial ant infestation, the expense of buying the number of bait stations that you need could be significant.
Additionally, the bait stations could be better designed. The entrance that allows the ants to access the bait is raised a little from the floor. Since ants are so tiny, they can often seem to have a hard time finding their way to the bait.
The active ingredient in Terro bait stations is Borax. This is known to be an effective stomach poison when combined with a sugary attractant to make ants eat it. However, it may take longer to have an effect than more modern pesticides such as hydramethylnon or imidacloprid.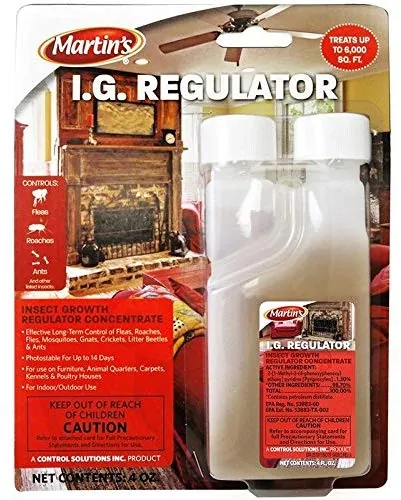 This is an article about Pharaoh ant bait. So you may be surprised to see this product on the list. Because this isn't a bait, it's a spray.
Confused? Every rule has its exceptions. It's generally a bad idea to spray anything to control Pharaoh ants unless the product is an insect growth regulator. And that's exactly what Martin's IGR is.
Insect growth regulators work by interfering with the chemical processes inside an insect's body that determine its development. The active ingredient in Martin's IGR, pyriproxyfen, will sterilize the queens inside the nest, preventing any new ants from being born. Effectively, it's birth control for ants.
It's important to note that Martin's IGR doesn't kill ants. This means that they won't realize that the spray is harmful to them. It therefore avoids the budding behavior that can otherwise cause ant colonies to split and spread.
Another good thing about this product, and insect growth regulators in general, is that they are highly specific to the target species. The chemicals involved are completely harmless to humans and other mammals, so you don't need to be concerned about the health of your family and pets when using this product.
Unfortunately, it can take three weeks before the IGR starts to sterilize the ant queens, and even longer before they are rendered completely infertile. And even once that happens, there will still be plenty of adult ants wandering around your home, since Martin's IGR does nothing to kill ants.
Another issue with Martin's IGR is that you need to mix it yourself. The product comes in a bottle designed to make measuring easy, but you will still need a spray tank like this one to apply the product.
Be aware also that once the product is mixed, it doesn't stay usable for long. It's recommended that you don't store mixed product in a tank for more than 24 hours. It's best to only mix as much spray as you think you will need to treat your home.
Pharaoh Ant Killer – A Buyer's Guide
If you're reading this, chances are that you haven't given Pharaoh ants a lot of thought before. Maybe you never even heard of this troublesome species until you started seeing them in your home. And now that you've started looking for a solution, you'll quickly see that there are a lot of options when it comes to different products to use against these ants.
So here's some things to think about before you make your decision:
Ease of Application
If you're not a professional exterminator, you may not have the skills or equipment to apply certain products. Most ant baits are easy to use, but some are definitely easier than others. So before making a purchase decision, pay attention to how the product needs to be applied and think about whether that's something you can handle.
Safety
Commercially available ant baits are extremely safe to use. However, if you have young children or pets in your home, you'll need to think extra carefully about safety. Choose a bait that can be applied in cracks and crevices where only ants will reach it, such as a liquid or gel. Alternatively, consider prefilled bait stations that will keep the poison safely away from your family.
Price
Over time, Pharaoh ant colonies can grow to contain thousands of ants. It can take a long time to get an ant infestation under control, and require multiple applications. A pesticide that doesn't seem so expensive at first can quickly become unaffordable if you need to buy it over and over again.
But remember that there's more to the value of a product than just its price. Sometimes, the most expensively priced product can end up being cheaper than a more affordable but less effective alternative. A $30 bait that knocks down your ant problem in one go will end up being cheaper than a $10 bait that you need to buy five times.
Effectiveness
Not all ant baits are created equal. Pay attention to the active ingredient in each product, and do your research. All those scientific chemical names can be intimidating, but there are great resources out there that can tell you which work better than others.
Remember: When it comes to pest control, prevention really is better than cure.
Conclusion – The Best Baits for Pharaoh Ants
When it comes to Pharaoh ants, every infestation is different. There's no one-size-fits-all answer to an ant problem. But the best approach is generally to try a variety of different methods of ant control.
So if money isn't an issue and you aren't afraid of getting your hands dirty, a combination of Maxforce Quantum and Martin's IGR will quickly get the ant population under control, and also prevent new generations of ants from being born. Or keep it simple and get the Combination Ant Pack which is a premium kit with everything you need in one handy pack. You'll get extremely effective control in both the short and long term. However, if you're on a budget, you might be better off using Advion. And if you don't want to fuss with messy baits, Terro bait stations offer the easiest method of ant control.
Using a combination of Maxforce Quantum and Martin's IGR or the Combination Ant Pack provides extremely effective control in both the short and long term.
Whatever product you choose, be patient. Pharaoh ants are an extremely tricky pest to deal with, and any baiting program takes time.