Eco Friendly Ant Control
Sept 9th 2020, by Dan Crosfield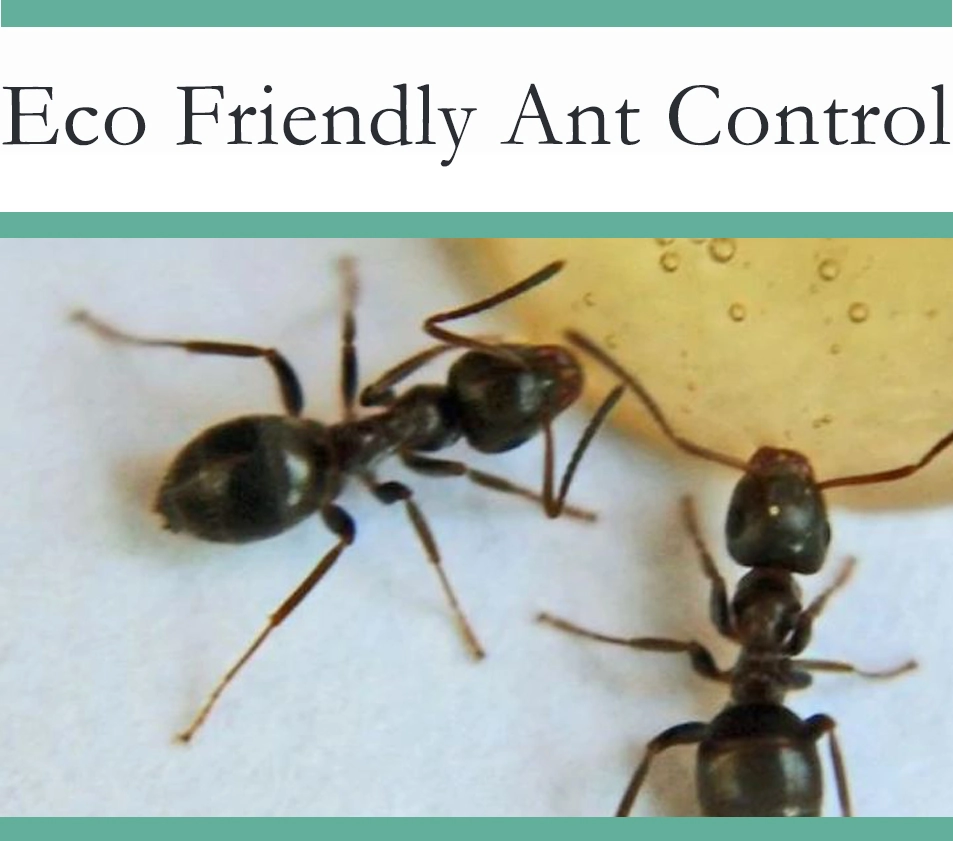 Ants are a fact of life. With thousands of different species around the world, ants one of the most successful animals on the planet. No matter where you live or what you do, you're going to run into these creatures.
Once upon a time, the standard response to ant problems was to spray them with harmful chemicals. However, chemicals can damage the environment and harm nontarget animals. Some pesticides even pose a risk to human health.
Getting rid of ants without using harmful chemicals can be tricky. Let's take a look at 3 of the most common ant species and ways that you can deal with these invaders without relying on toxic pesticides.
Moisture Ants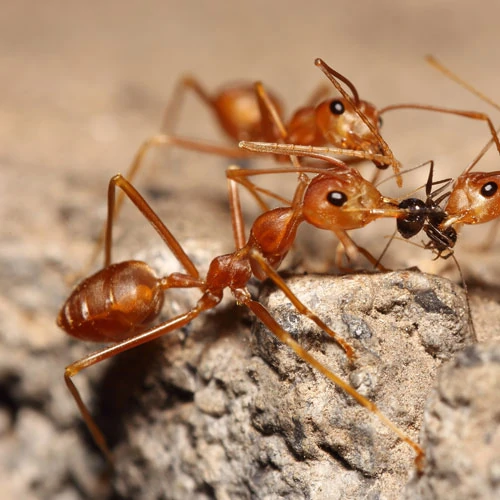 These ants are extremely common, and can usually be found nesting in soil. Sometimes, they can also construct nests in water damaged wood. Typically, these ants live outdoors. However, they will calm inside to forage for food. They are also capable of building nests inside the home, particularly in areas of water damaged word or exposed soil.
Exclusion
Using weatherproof silicone caulk, seal up any gaps and cracks in the exterior of your home where ants could get inside. Check the foundations, around windows and doors, and also anywhere that a pipe or conduit enters the house. Gas pipes, water pipes, air-conditioners, and dryer vents can all give ants chance to get inside.
Remove the food source
Moisture ants feed on a variety of food sources, but one of their favorites is honeydew, the moisture that aphids secrete. Reduce the ant population on your property by getting rid of aphids. Spraying your plants with a mixture of dish soap and water will knock aphids off the plants, reducing their numbers and giving ants less to eat.
Diatomaceous earth
Diatomaceous earth feels like a fine dust, but to ants, it's nothing but jagged shards and sharp edges. This lacerates the ant's exoskeleton, causing them to dehydrate and die.
You can use food-grade diatomaceous earth both inside and outside the house. Sprinkle it around the house to create a barrier that will kill any ants that cross it. Indoors, you can use it along baseboards, around water pipes, and other areas where you've seen ants foraging.
Bait
Ant Bait products combine a stomach poison with an attractive bait that ants will eat and bring back to the nest to feed to the Queen and her young. In this way, the whole colony gets poisoned. Best of all, the bait is non-toxic to humans or pets. You can buy ready-made bait that is effective against moisture ants. Or, you can make your own by mixing Borax with icing sugar and placing it around the house inside bottle caps or other small containers. Although this is generally safe, make sure you place the bait in areas where animals and young children can't reach it.
Pharaoh Ants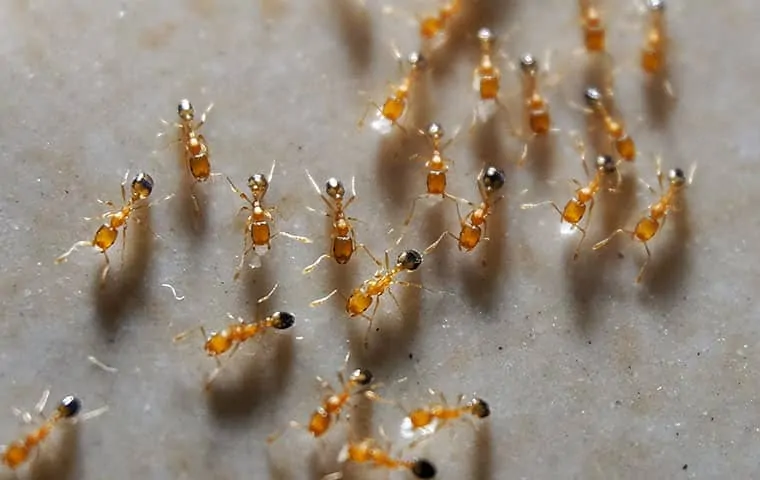 Pharaoh ants are one of the trickiest ant species to get rid of. These tiny orange ants are a tropical species, and in temperate climates, are only found indoors. They nest in hidden areas like wall voids. Plus, they have many queens and, if they feel threatened, will split up and create multiple new nests throughout the house.
That's why it's crucial to never use a pesticide spray on Pharaoh ants. It will only make the problem worse. The only way to deal with this tricky species is by using non-toxic methods.
Bait
Baiting is the only effective way to get rid of Pharaoh ants. You can use a gel bait or bait stations. As with moisture ants, you can make your own bait using Borax. However, it's best to use a couple of different baits, since Pharaoh ant diet preferences change over time. Try both sugar and protein-based baits for the best results.
Carpenter Ants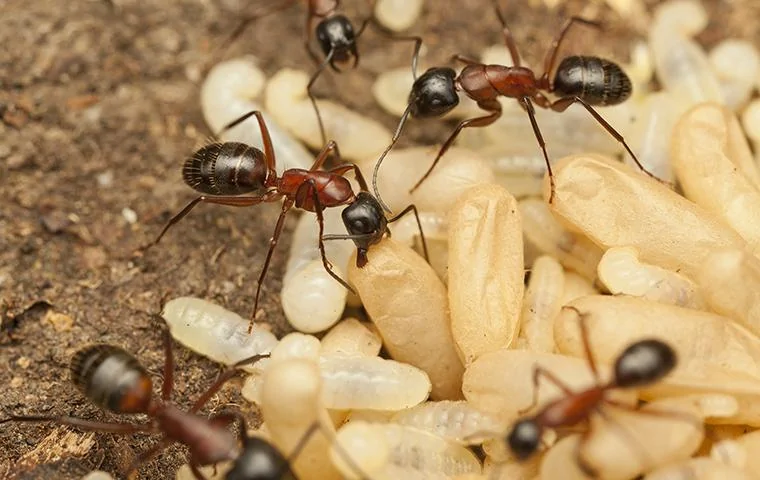 These large ants nest in wood and can cause structural damage to your home. While they only have a single queen to a colony, the colony may have multiple nests. They can nest both inside and outside your home, and finding the nests is key to getting rid of these ants.
Bait
Baits are available for carpenter ants. However, these ants are relatively poor foragers, and baits are often of limited use. They may help to keep the population down, but it's unlikely you will destroy a carpenter ant nest through baiting alone.
Diatomacaceous Earth
Diatomaceous earth is useful for creating a barrier that will kill any carpenter ants that try to cross it. Additionally, through use of a duster, you can apply diatomaceous earth directly into the carpenter ant nest if you find it. These moisture-loving ants are very susceptible to the dehydrating effects of diatomaceous earth, and if used correctly, you can kill the colony in this way.
Prevention
You can prevent Carpenter ant infestation by treating the timbers of your home with a product such as Bora-care. This non-toxic product is an ant repellent that will make the creatures unwilling to nest in the wood of your home.
Remove Wet Wood
Carpenter ants like to nest in damp wood. Removing old stumps and rotten fence posts from your property gives them fewer places to establish a nest. Also check wood piles and any other areas of wood around your home.