Ant Bites and How to Treat Them
Any links on this page that lead to products on Amazon are affiliate links and we earn a commission if you make a purchase. Thanks in advance for your support! Learn more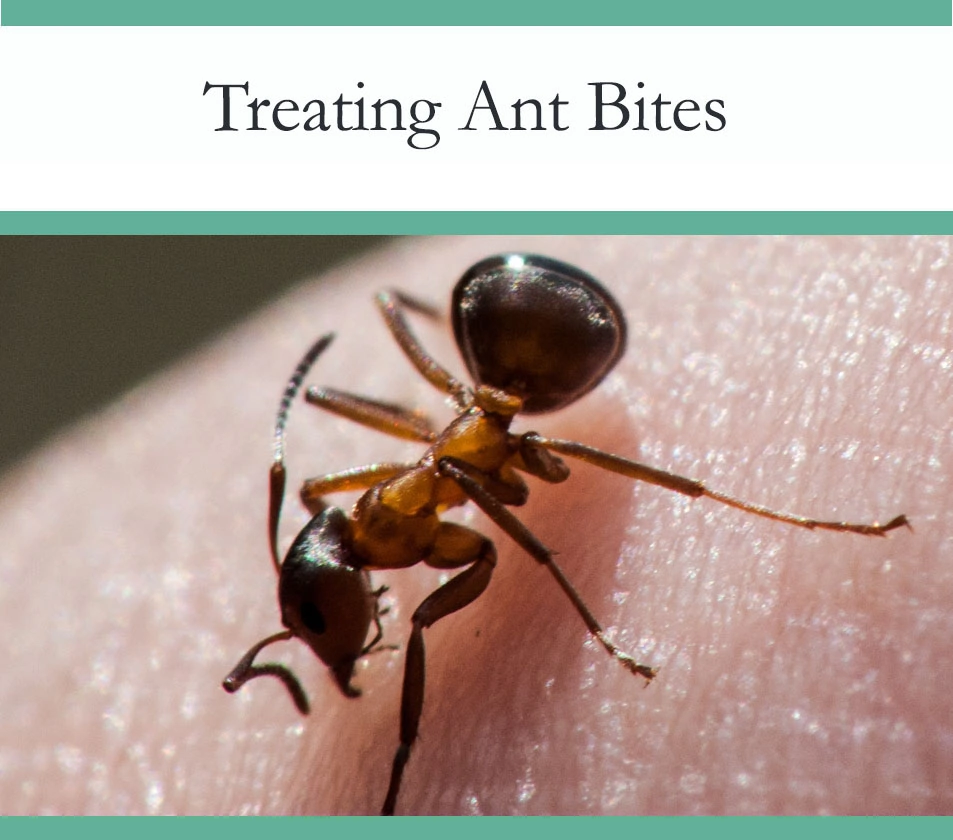 Can ants bite? They sure can. In the insect world, these creatures are fearsome predators. And for most species, their bite is their primary form of both attack and defense. Ants use their jaws to eat, to carry food back to the nest, and to dismember larger insects to eat them, too. So if an ant feels threatened, it most definitely will bite.
However, these are tiny creatures. While their mandibles may be fearsome to other insects, surely they don't stand much chance of hurting an animal as large as a human, do they?
Usually, no. Most species of ant lack the size or jaw strength to harm a human. But there are thousands of different species in the world, including some that are very capable of hurting you. Australia's bulldog ants are known for their aggression and tenacity and are willing and able to give a painful bite to people. Then there's the South American bullet variety, generally regarded as possessing the most painful bite of any insect in the world. So painful, in fact, that it is frequently compared to being shot with a gun. There are also Africa's famous army ants, which have been known to kill mammals using nothing but their powerful bite and overwhelming numbers.
Fortunately, very few of us are likely to ever run into these exotic species. But that doesn't mean you're entirely safe. There are ants capable of delivering a painful bite that could be sharing your property with you. They could even be living in your home.
In the US, when we talk about biting ants, we're really talking about two species. There's the Carpenter, and the Fire ant. Both of these ants are capable of causing pain, but they do so, and the reasons why they might bite, are very different. Also, the treatment for each bite varies according to species. So let's look at these two biting insects and see how best to deal with them.
Carpenter Ant Bites
Carpenter ants are native to North America and are one of the largest types found on the continent. The biggest individuals can be close to an inch in length. And these creatures aren't just big. They have a fearsome look about them, as though they are wearing armor. Seeing a group of these insects on your property can be an alarming experience.
And you're right to be alarmed. These creatures take their name from the habit of nesting in wood. While they will often chew out rotten and water damaged wood, they don't need to. Their jaw is strong enough to carve holes in solid wooden beams.
Given that these ants can chew through wood, it's obvious that they have powerful jaws. Jaws that are strong enough to break human skin. As a result, carpenter ants are one of the few species capable of delivering a painful bite that can feel like a sharp pinch. Those with softer or thinner skin are especially at risk, so children and the elderly are more likely to feel a bite from these bugs.
However, the carpenters don't leave it there. As members of the Formicidae family, these creatures are capable of producing formic acid inside their bodies. This acid serves many purposes in the life of the carpenters, but among other things, they use it for defense. When a carpenter bites, it may also spray the wound with acid from its acidopore, an orifice at the very back of the ant's body, where the animal would have its sting if it were a wasp. In fact, all ants are closely related to wasps, which explains why some of them possess these chemical defense mechanisms.
Fortunately, bites from this species are rare. They don't go looking for people to bite. In general, these guys are barely aware of our existence. They come into conflict with humans mainly over food, since they will eat more or less anything that we will. Also, unfortunately, our homes often provide these creatures with a great place to set up a nest. This is the most common reason for bites, as ants will defend their nest against any attacker, no matter their size. People sometimes get bitten when trying to wipe out a colony of these bugs. That's why, if you're tackling a nest, it's a good idea to wear protective gear. Gloves and long sleeves at the minimum.
Treating Carpenter Ant Bites:
Bites may be rare. But if they do happen, there are a few steps you can take to reduce the pain and any unpleasant side effects.
Wash the wound with soap and water. Ants are clean creatures, but there is always a risk of infection any time anything pierces your skin. Washing immediately with soap and water will wipe out any bacteria that could have travelled from the insect's mouth to your skin.
Apply ice. A cold pack pressed to the wound will help to reduce any swelling that may be caused by the injury. Apply an ice pack for 20 minutes at a time, and then leave it off for 20 minutes to make sure you don't damage your skin.
Baking soda. Baking soda neutralizes acid. So if the creature sprayed you with formic acid, this household product could help alleviate the painful reaction. Mix baking soda with water to create a thick paste and smear it onto the wound to neutralize the effect of the bug's chemical defense.
Hydrocortisone cream. If the swelling, burning, or itching sensation persists, you could try applying some hydrocortisone cream to the wound. This medication is readily available from most drugstores, and will quickly alleviate the symptoms of an insect sting. However, don't overuse it. This medication has been found to thin the skin when used for prolonged periods, so only use it when you need it.
Fire Ant Bites
When it comes to biting ants in the US, carpenters are amateurs. The true kings – or queens, since ant colonies are overwhelmingly female – are the fire ants.
These creatures take their name from the burning sensation they produce when they attack. But while it's true that these creatures do bite, it's not the bite you need to worry about. Instead, like their wasp cousins, it's the sting in the tail you need to watch out for.
When one of these critters attacks, it will bite into the skin. But that's just to keep it attached. The real damage comes when the creature curls up its abdomen underneath it and delivers a sting. Like wasps, these bugs have a venomous stinger at the back of their bodies that allows them to inject poison into anything they perceive to be a threat. And like wasps, these bugs can deliver multiple things at a time.
What's even worse is that while the creature is stinging you, it will also release a pheromone, a chemical signal that tells its nest mates that there is a threat. Within seconds, more ants will arrive. And they won't hesitate to join in the fight. For this reason, when people get stung by these bugs, they usually get stung multiple times. Sometimes even hundreds of times.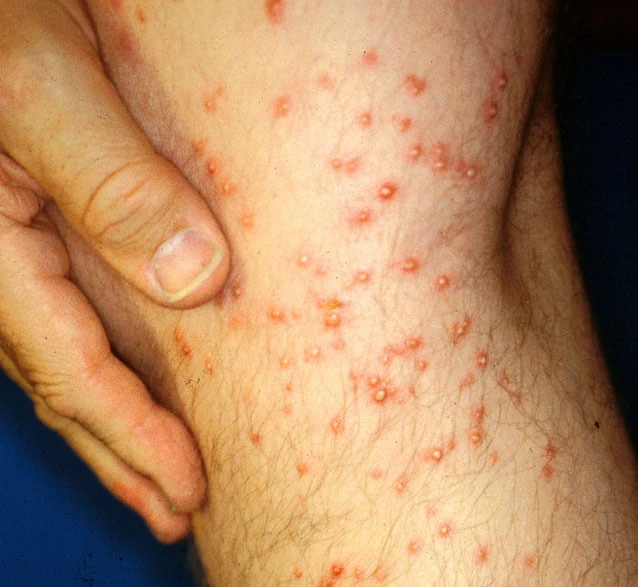 Different species have spread throughout much of the US. The European variety is found in the northeast of the country, and also along the West Coast. But these creatures are most prevalent in the warmer southern states. In fact, the southern states are home to an invasive variety, the red imported fire ant, or RIFA. Brought to the country from South America in the 1930s, these bugs have spread throughout the South, out competing and overwhelming many native species along the way. These creatures form huge colonies of up to half a million ants and may have multiple queens inside the nest to keep producing more. As a result, it is estimated that around 14 million people are stung each year by these creatures.
Most commonly, people get stung while out in their yards. The bugs like to build colonies in sunny areas and usually nest in soil. When people get too close to the mound the bugs have raised, they can get defensive and swarm what they perceive to be the intruder. These creatures will sting adults, children, dogs, and cats indiscriminately. They have no fear when it comes to defending their colony.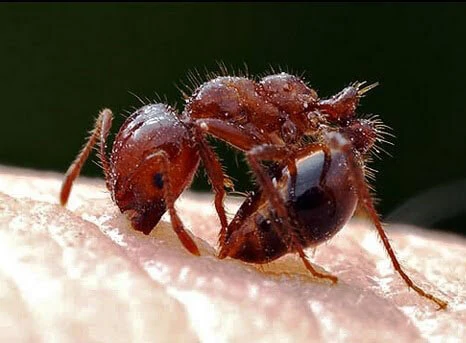 In most cases, the sting is felt as a sharp burning sensation. The painful feeling will subside after a few minutes, but the skin will redden and start to swell. Within 24 hours, small pustules typically develop at the site of the sting. Though painful, these pimples are sterile and are caused by the alkaloids in the creature's venom.
The venom of one of these creatures is composed almost entirely of these alkaloids. However, there is also a small amount of protein, and it's this protein that can cause bigger problems. It's estimated somewhere between one and 6% of people are allergic to the venom. And when that happens, the reaction can be far more severe.
Some people can have what's known as large local reactions. This reaction results in extensive swelling, up to 4 inches across, around the site of the injury. These reactions are very painful and can last for up to 72 hours.
Even worse, in a small group of people, the sting of this bug can cause anaphylaxis. This is a kind of toxic shock that creates a whole-body reaction and if left untreated, can even prove fatal. This severe reaction is characterized by flushing of the skin, hives, shortness of breath, nausea, swelling, and trouble breathing. It's possible for the swelling to close up the victim's airways and cause them to suffocate. In severe cases like these, medical attention must be sought immediately. An EpiPen should be administered if available.
Fortunately, very few people will have such a severe reaction. Strangely, these reactions are most common in people who have been stung in the past by either wasps or ants, which sensitizes them to the venom of the fire ant. Even stranger, some other bugs use the formic acid they produce to protect themselves against fire ants. Formic acid can neutralize the alkaloids of the sting. However, it's not recommended that you use a carpenter ant to neutralize a fire ant sting. More likely, you'll just end up getting stung twice.
Here's what you should do:
Treating Fire Ant Bites
Wash the wound with soap and water. As with any injury, it's important to minimize the risk of secondary infection. Wash immediately and keep the wound clean afterwards so that bacteria don't take hold and cause more problems.
Apply ice or a cold compress. As with the carpenters, the coldness will help keep the swelling of your skin in check. Just remember to remove the ice pack from your skin after 20 minutes to prevent causing any more damage.
Vinegar. The Carpenter's defense mechanism is based on acid, but that of the fire ant is alkaline. For that reason, acid can neutralize the stings. Dab the wound with apple cider vinegar or white vinegar to make the venom less potent.
Hydrocortisone cream. Just as with other species, this cream can help reduce the itching and swelling that often accompanies a sting. It's a good idea to keep a supply in the house, especially during the summer, when stings from this creature are more likely. Just remember not to use it too much, as it can thin the skin over time.
Antihistamine. A large part of what causes the pain from a sting is your body's reaction as it tries to fight off infection. It's this histamine reaction that causes extensive swelling of your skin. This can be diminished by the use of an antihistamine such as Benadryl or other anti-allergy medication. This can be taken as an oral medicine or applied as a topical cream to the affected areas.
Let the pustules heal. The welts caused by the sting of these creatures are unsightly, to say the least. They can also be extremely itchy. But it's important not to scratch them. Beneath the skin, these lumps are sterile, but if you break the skin, you're opening a pathway for infection. If the skin does get broken, clean the wound with soap and water, and apply an antibiotic cream. Then bandage the wound to keep it clean.
For Severe Allergic Reactions:
Seek medical attention immediately. If the patient has an EpiPen, administer it. Emergency responders can give you more advice to take care of the patient until help arrives. Anaphylactic reactions can be extremely dangerous and must be treated straightaway.
Don't think it can't happen. Fire ants, small as they may be, have been known to kill people in the past. In fact, it is estimated that fire ants cause as many as ten deaths per year in the US. Often, these deaths occur in hospitals and nursing homes, among patients whose immune systems are already weakened.
In times of flooding, RIFAs have been known to evacuate their nests and go looking for a new place to rebuild. When this happens, the creatures are even more aggressive than usual, as they need to protect their queen without a nest to hide in. Bedridden patients are especially vulnerable, since they can't move away from the stinging ants.
Fortunately, these tragic events are quite rare. For most people, the sting of these insects is a nuisance, and a painful reminder that size isn't everything. These small creatures are more than capable of defending themselves.