Any links on this page that lead to products on Amazon are affiliate links and we earn a commission if you make a purchase. Thanks in advance for your support! Learn more
Best Sprays for Fire Ants
October 18th 2019, by Dan Crosfield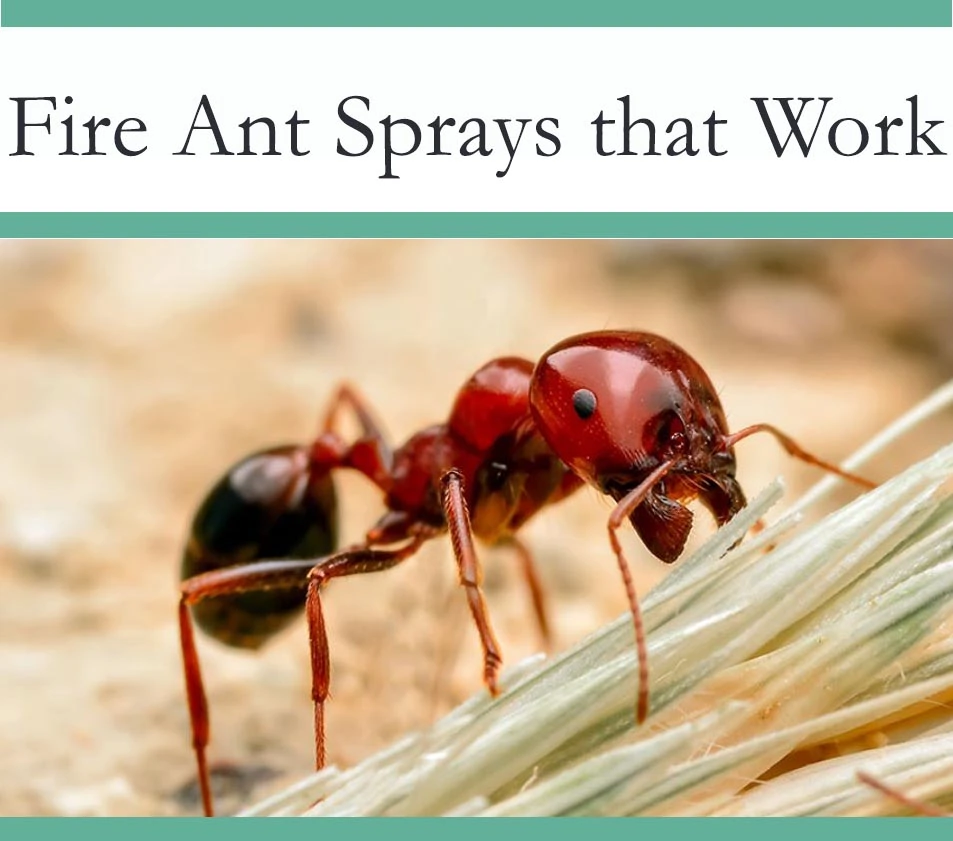 Those of us who live in temperate climates are lucky that we don't really have to worry about being injured by insects. Spiders and scorpions that are capable of causing harm to people are restricted mostly to the warmer places on earth. So while those in northern climates may have to suffer through prolonged darkness and cold in the winter, we usually don't have to think about being hurt by six-legged critters.
However, that doesn't mean our gardens are entirely safe. The fire ant, as the name implies, is perfectly capable of causing pain to humans. In this post we research the best sprays for controlling Fire ants. Looking to get rid of fire ants all together, read this guide for long term Fire ant control. Like wasps, these creatures carry a sting in the tail, a venomous barb that they are more than willing to use in defense of themselves or their colony. Anyone who has been the victim of this venom will tell you it's far from a pleasant sensation. Worse, because these bugs are so highly social, it's not uncommon for people to receive multiple stings at one time.
Our Recommended Product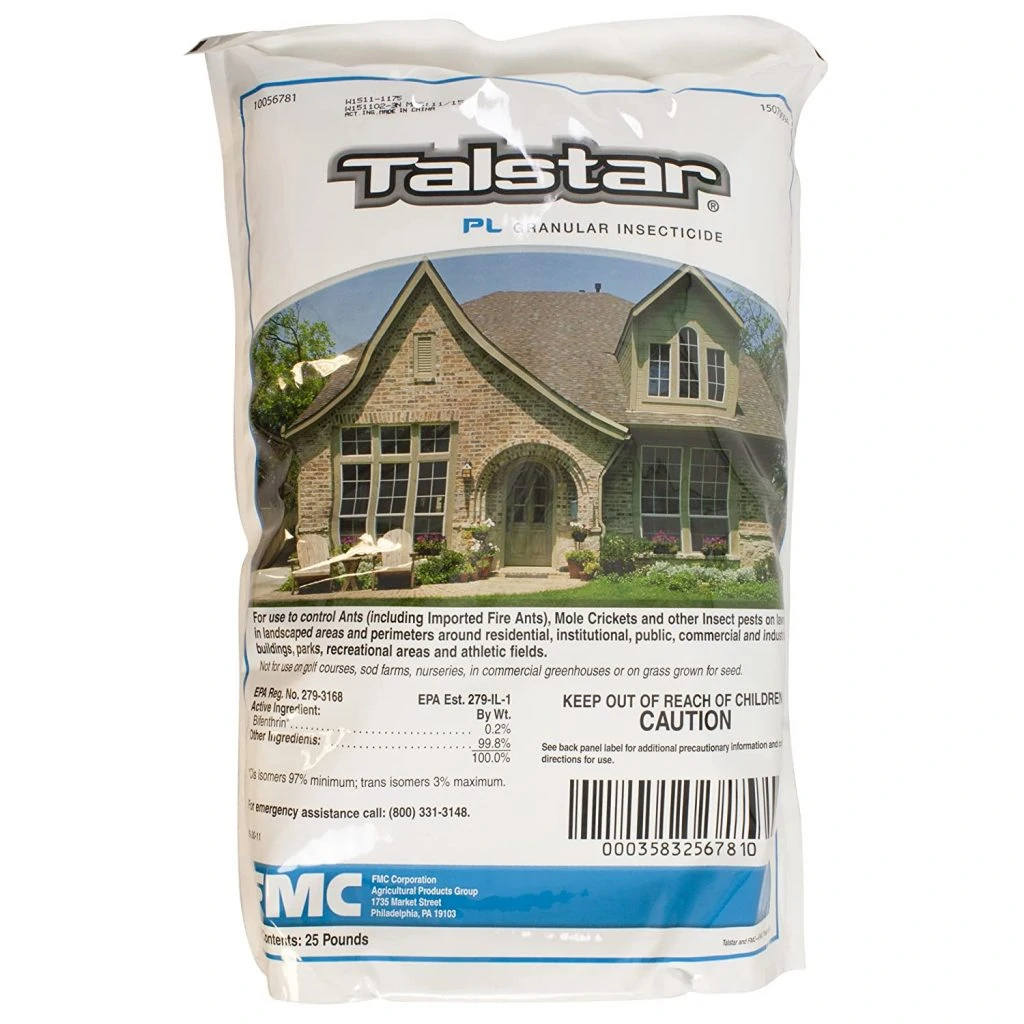 Sometimes, the tried and tested tools really are the best. Talstar insecticide has been around for decades, and in that time, it has remained the first choice of those who deal with ants professionally. If you're willing to learn how to use this powerful product properly, there's no better way to get the fire ants off your property.
The best way to avoid a fire ant sting is to avoid the bugs themselves. However, that's not always possible. These troublesome creatures can easily infest your yard. And when they do, you'll know about it, because this species likes to build large mounds of soil on top of its nest. These mounds can be over a foot high and up to three feet in diameter. And the fully mature nest can contain up to half a million workers, each of which is capable of delivering that painful sting.
Fire ants can hurt you and ruin your lawn. So it's not hard to find reasons to get rid of them. However, fire ants can be a tricky species to deal with. They are capable of relocating their nests if they are disturbed. So if you try to get rid of the colony but fail to kill the queen, the ants can move to new location and start all over again.
Also, this species reproduces by swarming. At certain times of the year, a fire ant colony will produce winged individuals that are capable of flight. These winged reproductives mate with one another, and the females fly off to start new colonies of their own. So if you manage to get rid of your fire and problem, there are no guarantees it won't return. These fly-in queens can literally drop out of the sky and colonize your garden all over again.
Because of their unique biology, fire ants require a special approach. The pesticide you use to treat fire ants can make a big difference to your chances of success. So without further ado, here are the best sprays for fire ants.
Product Comparison Table
Products
Best Feature
Worst Feature
Grade
Buy It Now
Talstar
Highly effective at
killing ants
Can be tricky to apply
A

Buy Now

Bifen
More affordable
alternative to Talstar
May kill non-target
insects
B

Buy Now

Ortho Orthene
Extremely easy to use
Smells terrible
B+

Buy Now

Nyguard
Halts ant reproduction
and sterilises queen
Doesn't kill adult ants
B

Buy Now

Ortho Broadcast
Granules
Great long term
protection
Requires some legwork
C

Buy Now
Fire Ant Spray Products
Fire ant sprays don't calm any better than Talstar – if you can get your hands on it. Talstar isn't available in all states, and other states require a license for its use. But there's no question that this stuff works very well against Fire ants.
The active ingredient in Talstar insecticide is a chemical called bifenthrin. Bifenthrin has long been known to be an effective insecticide with an impressive residual effect that will keep killing bugs even after the spray has dried. There's a reason this pesticide remains a popular choice among pest control professionals.
Talstar is the most popular choice among pest control professionals.
Talstar can be used to treat nests directly. It kills fire ants on contact, and when wet, it does so quickly. Pour some of this insecticide on a mound and you'll see instant results. But even better, this stuff can be used as a perimeter treatment. Spray it around your house at ground level, and it will keep fire ants and other bugs from trying to get inside. And if they do cross the line, this pesticide will kill them. Once dry, the residual effect doesn't work as quickly as it does when wet. But it will protect your home for weeks and months after you've sprayed.
Because this product is aimed at professionals, it isn't the easiest thing to use. The pesticide comes in the form of a concentrate that you will need to mix with water yourself, carefully following the directions on the label. You will also need a pump or backpack sprayer to use Talstar. And if you're using professional pesticide, you should probably do what the professionals do and use some protective equipment. Gloves, long pants, and appropriately designed respirator are a good idea.
If this sounds like a lot of trouble to go to, it is. But this stuff works. And it's infinitely preferable to having fire ants in your garden.
Bifen – More Affordable Professional Product
If greatness leads to imitation, Talstar should be flattered. Bifen is another professional grade insecticide that is based on Talstar's winning formula. Bifen also uses bifenthrin to control bugs and provide long-lasting residual protection.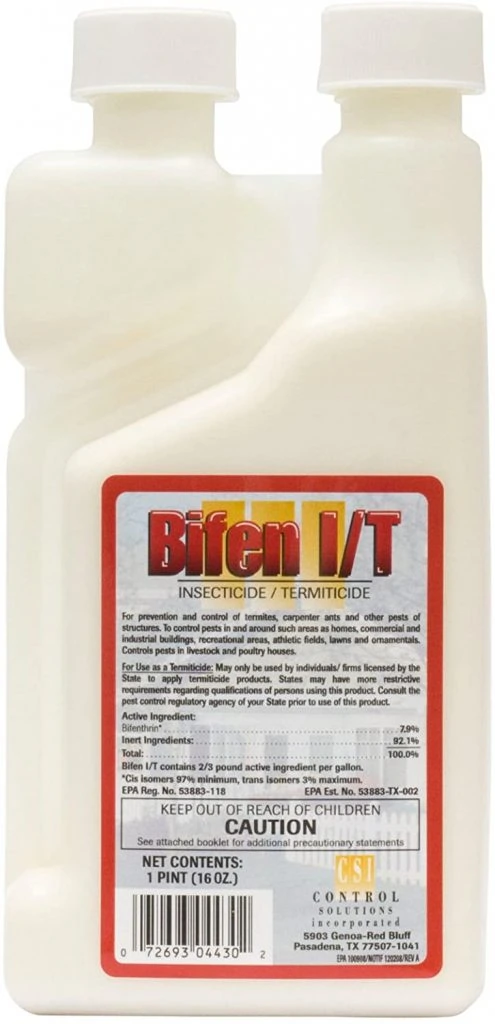 Since it uses the same active ingredient, you can rely on Bifen to solve your pest problem – provided you use it right. As with all pesticides, make sure you read the label carefully and follow all directions before using. Although this pesticide is safe to use if done correctly, in the wrong hands, it could cause problems.
One of the downsides of Bifen is that it may work a little too well. It's what is known as a broad-spectrum pesticide, which means that it isn't targeted specifically at any one pest. This compound will kill not only ants, but also just about any other bug that comes into contact with it. This can be a problem for beneficial insects that you actually want in your yard. Bees, butterflies, predatory insects, and other critters are all important to maintaining the health of your environment. Careless application of professional grade pesticides like this one can harm the population of these innocent creatures.
Like Talstar, Bifen also requires specialist equipment to use. But it does have the advantage of being cheaper than the name brand rival, so you'll have a little more money to spend on a sprayer and some protective equipment.
Professional products are all very well for professionals. But if you have a busy life and aren't interested in learning how to be an amateur exterminator, you might want something easier to use than Talstar or Bifen. In that case, Ortho Orthene may be the pesticide for you.


This dust-like concoction couldn't be easier to use. You simply dump a tablespoon of the product on top of any mounds you find on your property. Unlike with some other ant killers, you don't even need to water this product in. Simply leave it where it is, and the fire ants will come into contact with the dust.
The active ingredient in this mixture, acephate, is a contact insecticide, and a potent one. The idea is that the creatures will spread the dust to one another as they move through the colony, eventually reaching the queen. Treating with Ortho Orthene is a far quicker process than using one of the concentrated pesticides, since you simply dump out some powder and move on to the next mound. Ant treatment doesn't get any easier than this.
While the manufacturer claims the acephate begins working in a matter of hours, you may find you need to wait a day or two for it to really take effect. Treatment is best done when you aren't expecting rain for at least a couple of days.
The major downside of this product is the smell. If you have a lot of mounds to treat, there's no way you're not going to notice it. Some people liken it to sauerkraut. Others liken it to the smell of something dead. Either way, it's a pretty horrible stench to have to endure. But maybe Ortho Orthene's ease-of-use is worth it for you.
Nyguard IGR – Best To Use With Other Products
There's some cutting-edge science packed into this little bottle. While other products are designed to kill ants that come into contact with them, Nyguard works a little differently. The active ingredient, pyriproxyfen, belongs to a class of chemicals known as insect growth regulators. These synthetic chemicals interfere with an insect's ability to respond to the hormones that allow the creatures to reach maturity. Nyguard can sterilize fire ant queens, preventing them from laying eggs and ultimately causing the colony to collapse over time.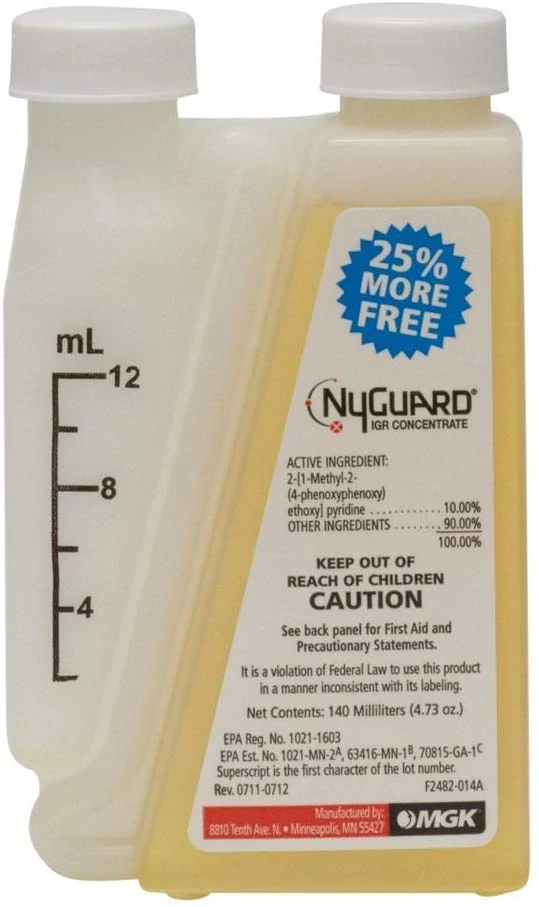 The beauty of a product like this is that it is more targeted than many other pesticides. Most creatures won't be affected if they come into contact with this insect growth regulator. This means you can treat the mounds in your yard without worrying about harming nearby beneficial insects.
However, Nyguard doesn't kill ants. Once you've sterilized the queen, you'll be waiting for the existing adults to die of old age. In an ant's case, that doesn't take very long. But still, you may have to wait weeks before the colony collapses by itself. To get around this problem, many users mix Nyguard with another chemical, such as Talstar. This way, it will kill the adults at the same time as preventing any new ones from being born.
Nyguard isn't available in all municipalities. Even where it is allowed, it can be tricky to get hold of. Also, it's an expensive item. But it adds a dimension to your ant treatment that is well worth considering.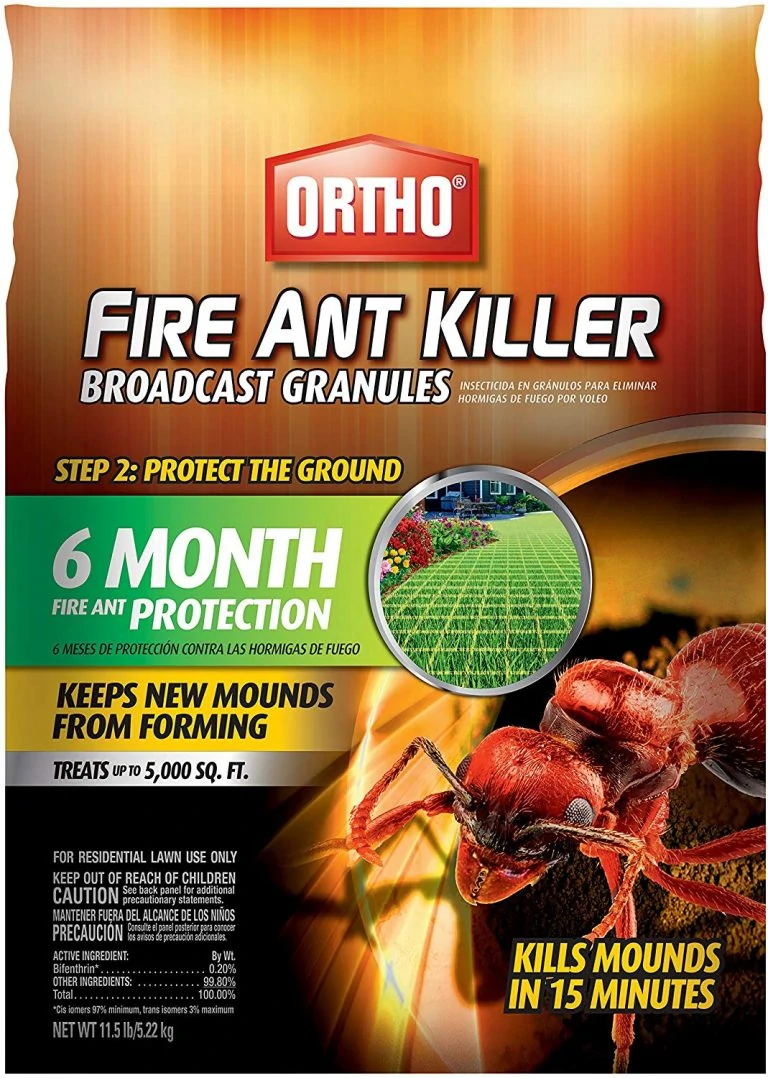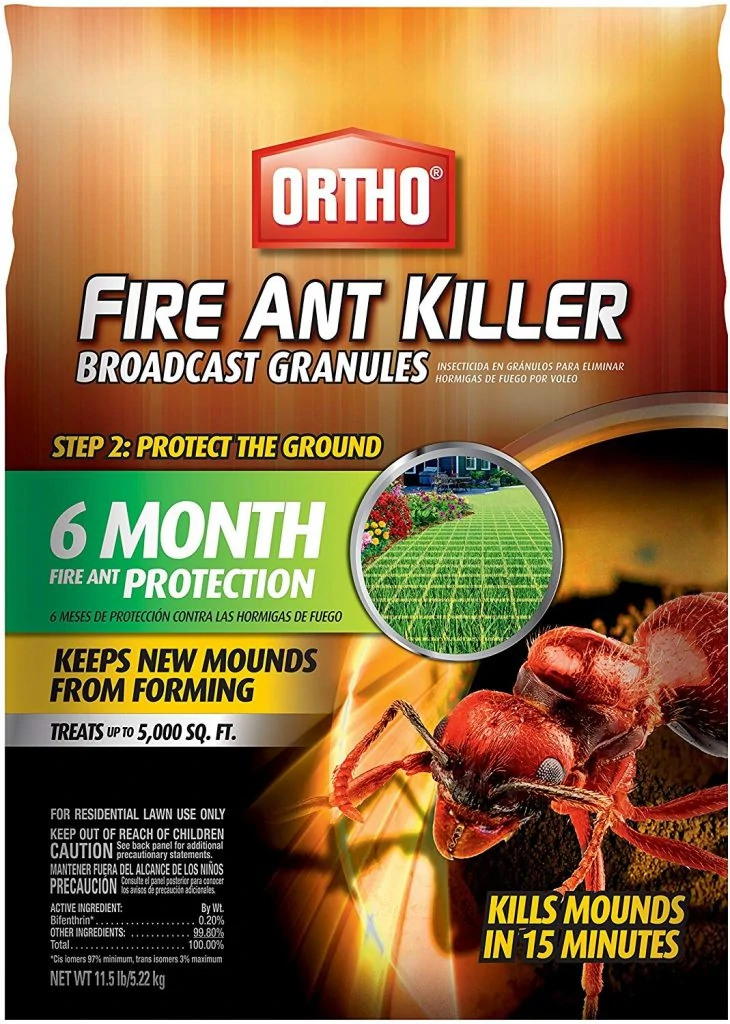 Even if you successfully destroy every colony of insects on your property, all you're doing is creating a void space where no ants live. And this is very attractive to any fly-in queens looking to start a new nest. The absence of fire ants on your property will make your yard more attractive to any new queens looking to set up a colony of their own. So long term control of these creatures can be very difficult.
That's where these granules come in. They use bifenthrin, the same active ingredient you'll find in Talstar. But the granules are designed to release this pesticide slowly. This way, the granules can stop new mounds from forming and kill any fly-in queens for up to six months after application.
Fire Ant Sprays – A Buyer's Guide
No one ever said fire ants are easy to get rid of. But choosing the right product can make all the difference. So here's some things to think about before you make your decision:
Ease of Application
There are many different ways to use a pesticide. Some need to be mixed and applied to a mound in order to saturate the soil. Others are dry granules that you simply dump out on the soil. And then there are dry granules that you need to water in after applying. Before choosing which pesticide is right for you, give some thought to how much work you're willing to put into the application. After all, even the best fire ant spray is only as good as the way you use it.
Price
Is your fire ant problem large or small? A few mounds or acres of them? Because the extent of your problem will have an effect on how much you're willing to spend to get rid of it.
Remember, though, that the cheapest option is often not the best. There's no point spending a small amount on something useless when you could spend a little more and get something that actually works. Think about the scale of your problem and how aggressive you'll need to be to get rid of these creatures. And don't be afraid to spend a little extra to get something that really works.
Effectiveness
This ought to be the most important consideration of all. Why waste your money on something that isn't going to do the job? Because these critters are so tricky to get rid of, there's no point doing ineffectual half measures. Spend the money on something that works, or else you could lose your entire summer to these nasty six-legged invaders.
Conclusion
If you have fire ants on your property, you probably want to get rid of them right away. After all, your yard won't feel like your own as long as these aggressive stinging creatures are around. And you definitely don't want the nightmare of them coming inside the house.
If you want to get rid of this menace right away, you can't go wrong with Talstar. It will knock the colonies down almost immediately and provide residual protection to keep them out of the house. If you can't get your hands on any of this particular product, Bifen can do the same job. But remember that you will need additional equipment in order to apply it correctly.
If money is no object, consider using Talstar or Bifen in conjunction with Nyguard. As well as killing the adults, this combination will prevent any new bugs from being born. And if you really want to eradicate the insects permanently, you could follow this up with some Ortho Broadcast Granules to prevent these creatures from re-colonizing your property.
If you can't get your hands on any of the professional grade pesticides, Ortho Orthene provides an easy way to get rid of fire ants. If you can handle the smell, this product might be a good fallback option