Pest Product Review:
Best Insect Growth Regulator for Ants
October 21st 2019, by Dan Crosfield
Any links on this page that lead to products on Amazon are affiliate links and we earn a commission if you make a purchase. Thanks in advance for your support! Learn more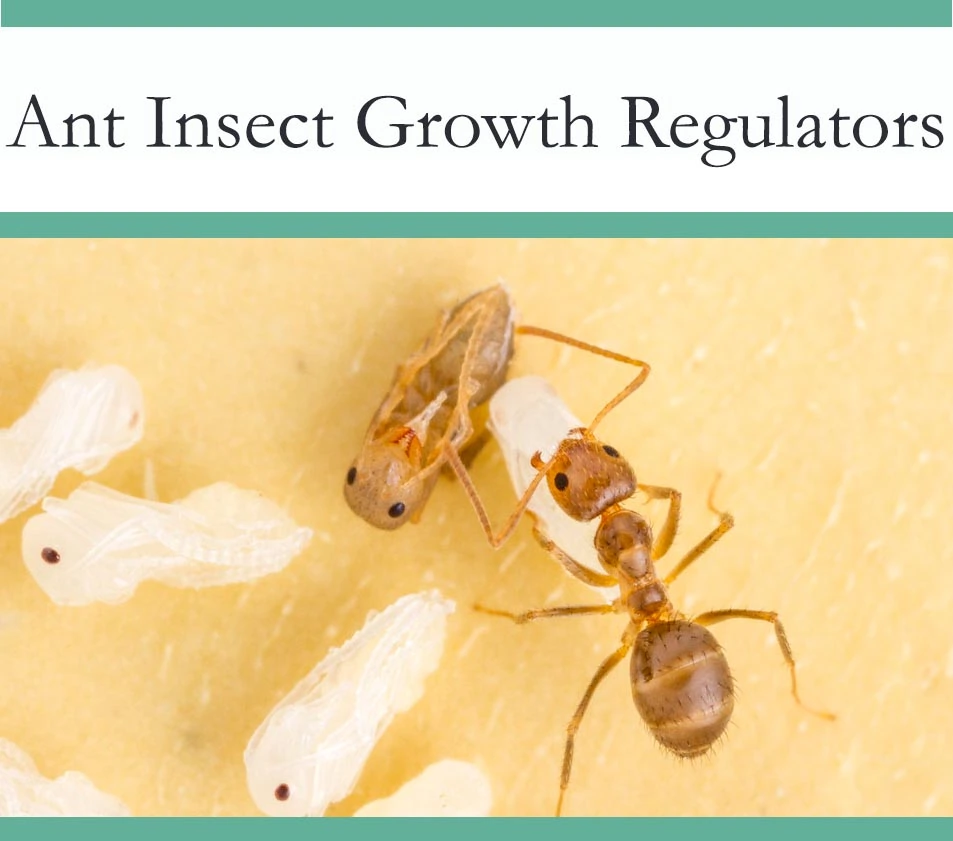 If you're looking to get rid of ants, there are a few ways to go about it. You can reduce the food and water these creatures find in your home to make it less attractive to them. You can physically keep them out by sealing up gaps and cracks that they use to get inside homes. You can turn to natural repellents, or you can try synthetic pesticides. You could employ a poison bait, or spray a contact killer.
But there's another solution that works differently to any other treatment. It's a chemical called an insect growth regulator, or IGR. And there are several reasons why you should consider using one.
Our Recommended Product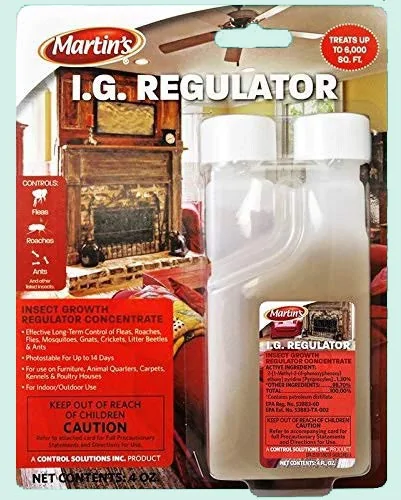 One of the most popular and trusted IGRs on the market, this product has the power to neutralize ant colonies. It's also relatively easy to use and to find, making it our pick for the best IGR out there.
How Do Insect Growth Regulators Work?
Insect growth regulators work by preventing insects from reaching maturity. They do this by mimicking juvenile hormones which interfere with the bug's natural growth and maturity. In effect, it stops insects from becoming adults.
Ants are social creatures with a high level of specialization within a colony. Every member has a role. The queen handles the reproduction for the colony and is the only egg-laying member of the nest. The juveniles, or larvae, take care of digestion, with older larvae able to digest solid food and secrete a liquid that the adults then feed on. Meanwhile, the adults build and maintain the nest and forage for food to bring back to the larvae. Take one of these specialized roles away, and the entire colony will collapse.
If no ants become adults, no food will be brought back to the colony. Additionally, IGRs can sterilize Queens so that no new eggs are laid. Once this happens, the colony is doomed. It's only a matter of time before it dies out.
Benefits of Insect Growth Regulators
IGR's are highly complex chemicals intended for a very specific use. As such, they have a number of advantages over traditional pesticides.
Safety
IGR's work on insects, and only on insects. Some are even specific enough to work only on specific types of bug. When using an IGR, you don't need to worry about any harm to you, your family, or nontarget animals. These chemicals work only on insects.
Additionally, these products break down rapidly in the environment. Some of the most commonly used IGRs bind with soil when sprayed outside, so they don't contaminate the environment. Most break down within a week outside. This doesn't harm the efficacy of the treatment; once the bugs have absorbed the IGR, it will do its job. It doesn't need to hang around the way some residual pesticides do.
Unlike many conventional pesticides, IGRs don't repel bugs. The creatures will never know that they've been sprayed. This is especially useful in the case of species that have multiple queens, such as Pharaoh ants. These bugs will often split up the colony if they perceive a chemical disturbance in their environment, leading to one nest becoming many. IGRs avoid this problem by being undetectable.
By disrupting an insect's lifecycle, IGRs ensure long-term control. Instead of merely keeping ants away or killing foraging workers, they go straight to the heart of the nest and destroy its ability to grow and reproduce. In this way, they are one of the most effective methods for long-term pest control.
Indoor and Outdoor Control
Because IGRs do not affect people, they can safely be used either indoors or outdoors wherever bugs are seen. This makes them suitable for a wide variety of pest control situations.
Limitations of Insect Growth Regulators
If IGRs are so great, why do we ever use anything else? Well, it's important to understand that IGRs have certain limitations.


The most significant one is that these products don't kill ants. This is important to remember when you perform a treatment and find that you still see insects afterward. Any creatures that are already adults when the IGR is sprayed won't be affected by it, and will continue to work and forage just as they always have. Even if no new eggs are being laid and no new adults are emerging, the existing bugs will still be able to keep the colony going until they start to die off from natural causes. This can take weeks and is often a source of frustration for people who use IGRs. It's also why many people advise mixing IGRs with a contact pesticide that will kill adults for quick results.
Also, IGRs often come in the form of a concentrated liquid that needs to be mixed before application. These require the use of a sprayer, and the manufacturer's directions need to be followed closely. These are highly specialized chemicals intended for professional use, so they can be a little tricky to get to grips with if you've never used one before.
Using Growth Regulators
One of the most popular ways to deal with ants is to make use of poison bait. The creatures find the food and carry it back to the nest, doing much of the work for you. The active ingredient in the bait varies, and that ingredient can be an insect growth regulator.
However, there are surprisingly few bait IGRs on the market. Some of the companies that used to manufacture them have gone out of business, while others have discontinued the product line. It's a shame, because it's a great way to use this powerful group of chemicals. And while there are still some baits on the market, it can be a struggle to find them.
More often, IGR's come in the form of a concentrated liquid designed for spraying. This will require the use of a sprayer. It's probably also a good idea to use gloves while mixing these chemicals. Although they are not harmful to humans, it's always better to avoid contact when possible. When diluting these concentrated liquids, always follow the manufacturer's instructions. Don't make the mistake of thinking that a more concentrated mix will give you better results. In the best-case scenario, you're merely wasting product. In the worst case, it may actually negatively affect the treatment.
Diluting chemicals isn't everyone's bag. But if you follow the instructions and measure correctly, it's relatively easy to do. And the benefits these products offer certainly make them worth the effort.
Product Comparison Table
Products
Best Feature
Worst Feature
Grade
Buy Now
Martin's
Highly effective at
killing ants
Needs sprayer to apply
A

Buy Now

Tekko
Effective active ingredient
Hard to get
B

Buy Now

Archer
Sterilizes queens
Works slowly
B

Buy Now

Extinguish
Kills adults and sterilizes
the queen
Only works on fire ants
B+

Buy Now
Insect Growth Regulator Products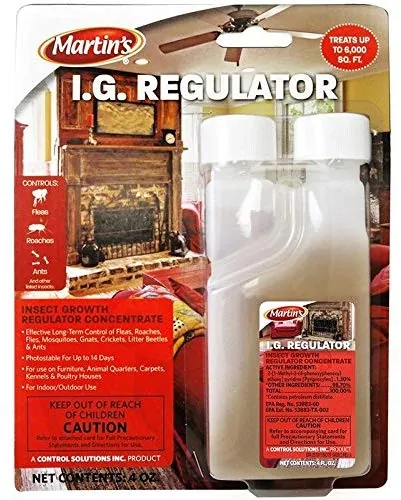 Don't be fooled by the tiny bottle. One ounce of this concentrated liquid should be mixed with a gallon of water, giving you enough solution to cover approximately 1500 ft².
The active ingredient in this chemical is Nylar, which is essentially a proprietary concentrated form of pyriproxyfen, one of the most widely used insect growth regulators in the pest-control business. Several studies have demonstrated the effectiveness of this chemical. By mimicking juvenile hormones within the ant's body, this ingredient effectively tells them not to mature. It also sterilizes the queen, meaning no new ants can be produced. Non-repellent and non-toxic to mammals, this product can be used indoors or outdoors to control the insects wherever they may be found.
Also, Nylar works on more than just ants. This solution is also highly effective on fleas and cockroaches, disrupting the lifecycle of these creatures just as effectively as it does for ants. So if you're having problems with multiple pests in your home, this could be a good solution.
Of course, like all IGRs, Martin's is not intended to kill the adults. So don't expect to see an immediate change in ant numbers when you spray this chemical. In fact, the manufacturer recommends that you mix this product with another pesticide in the tank before spraying. This way, you'll kill both adults and juveniles. This product is stable to be tank-mixed with any other pesticide.
Overall, Martin's is an excellent choice if you're looking for an IGR. By mixing this stuff with a contact pesticide, you will have a spray that not only kills foraging workers but will also ultimately eradicate the colony they came from. The only real problem is that to use this method, you'll need some equipment. A pump or backpack sprayer is necessary in order to apply this stuff, and which one works better for you will depend on how large an area you're planning to treat. Yes, it's an additional cost. But if it solves your problem – and if used correctly, it should – it's worth spending the money.
Tekko Pro – Powerful Active Ingredient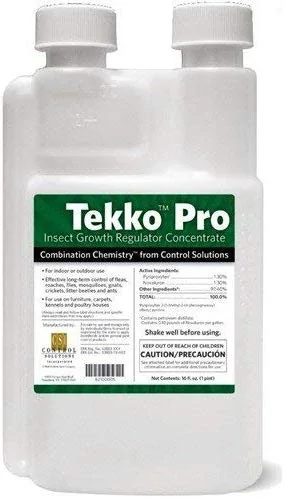 Martin's IGR is one of the easier growth regulators for nonprofessional to get their hands on. But depending on your jurisdiction, you may have some trouble sourcing it. If so, there are alternatives. One of those alternatives is Tekko Pro.
Tekko makes use of pyriproxyfen, the same active ingredient you'll find in Martin's. This chemical is known to be a very effective mimic of juvenile hormones, keeping bugs from reaching maturity. Tekko Pro contains this ingredient at the same concentration as Martin's does, so there's very little to distinguish the two products from one another.
However, pyriproxyfen isn't the only active ingredient in Tekko Pro. This product also contains a chemical called Novaluron, another type of insect growth regulator. Novaluron works by inhibiting the growth of chitin, the hard substance that forms an insects exoskeleton. Sounds good, right? Well, while ants do have a chitinous exoskeleton, there is no evidence that Novaluron has any effect on them. So it doesn't make sense to buy Tekko Pro just for that. However, if you have other bugs that this chemical does work on, such as mosquitoes, Tekko Pro may be a good choice.
Tekko Pro suffers from some of the same problems as Martin's does. Coming as a concentrate, it's necessary to mix this product with plenty of water and spray with some kind of spraying equipment. And like all IGR's, it won't kill foraging workers, so it's a good idea to mix it with a contact insecticide.
However, as a specialist product, Tekko Pro can be quite expensive. And that's if you can find it at all. In some jurisdictions, getting hold of this product requires special licensing, so it can often be tricky for non-professionals to find.
Archer IGR – Best Long Term Solution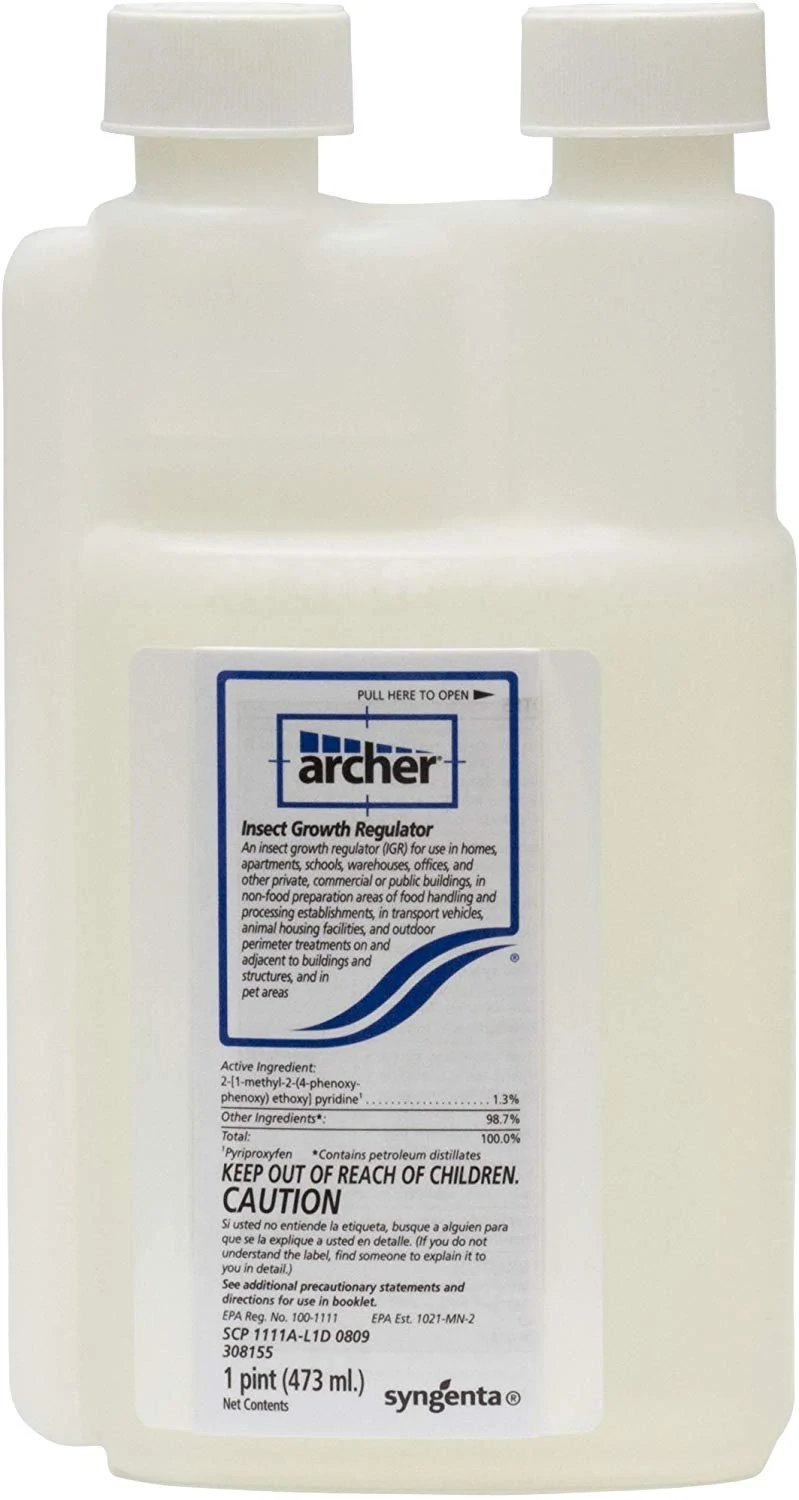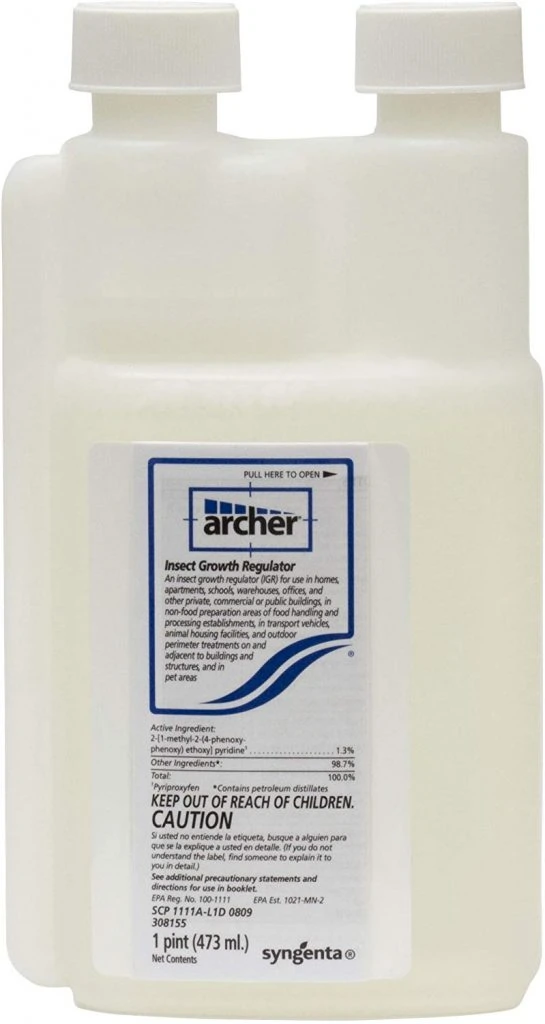 Another product that contains our old friend pyriproxyfen, Archer is also an effective choice to deal with ants. It has the same ability to disrupt the lifecycle of these creatures as other growth regulators and provides long-term control by preventing juveniles from maturing into adults.
Like the other products listed above, Archer works best when mixed with an adulticide to kill foraging workers, such as Demon WP. And you don't need to take the manufacturer's word for it, either. Check out this study in which these two products used together were found to kill over 90% of an ant population even 45 days after treatment.
However, this product doesn't come cheap. And like many other chemicals of its type, it can be hard for a layperson to get hold of. Still, if you do manage to find a supply of Archer, it offers an effective addition to any treatment you might use.
Extinguish – Best IGR For Fire Ants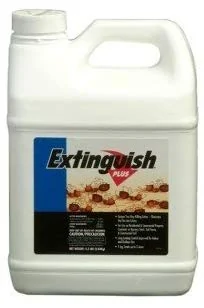 So far, all the IGR's we've looked at have been liquid sprays. But bait can also be an effective way to deliver these potent chemicals to a colony. It's a shame that more manufacturers don't utilize this delivery system. But some do. And among those, Extinguish is one of the best.
Extinguish comes in the form of granular bait that can be used indoors or out. There's no mixing or dilution required here. You simply shake the granules out in areas where you've seen ants foraging and let them do the rest. The bugs will take the bait back to the colony and feed it to the young and the queen. This makes Extinguish one of the easiest IGRs to use.
The active ingredients in Extinguish are hydramethylnon and methoprene. This is important, because while methoprene is an insect growth regulator that mimics juvenile hormones, hydramethylnon is a stomach poison that will kill adults. This combination makes Extinguish a highly effective treatment.
The only downside is that Extinguish is explicitly targeted at fire ants. And while some other species may also consume it, it is not especially attractive to most of the common species that are a problem in homes. In fact, for the smallest species of ants such as pharaohs, the granules may even be too big to pick up and carry. So while this is an excellent product for fire ants, it's not suitable for many other problems.
Insect Growth Regulators – A Buyer's Guide
Insect growth regulators have been around the 70s, but they're still a relatively unknown class of chemical. It's strange that they are not more widely available to the public, given how safe to use they are. But they do require some knowledge of pest biology to use effectively, and they also require patience. Many also require mixing with other chemicals. As a result, IGRs have become a kind of secret weapon in the pest control industry.
But they're definitely something you should think about using. So here's what to think about before buying.
Ease of Availability
By targeting specific pests and being harmless to other organisms, these chemicals are very much in line with the way the pest control industry is going. So it's surprising that they aren't more readily available. What IGRs there are on the market seem to be mostly targeted towards professionals in the industry rather than home users. This is slowly changing, but these products can still be hard to get hold of. Often, your purchasing choice will be heavily influenced by which product you can actually find.
Effectiveness
Only a few chemicals are useful as growth regulators on ants. As a result, many of the products on the market use the same active ingredient. Pyriproxyfen and methoprene, as juvenile hormone mimics, are the most widely used. Beware of other growth regulators, such as Novaluron, that have not been proven to have any effect on these creatures.
Beware also of customer reviews. While these can be a useful tool in evaluating the effectiveness of most pesticides, it's important to remember that IGRs are different. Unless mixed with an adulticide, they can take weeks to show any noticeable difference in the pest population. Many people don't have the patience or don't understand how these products should be used, and so may give a product a poor review when the real problem is how they used it.
Conclusion
These chemicals are an excellent weapon to have in the battle against ants. For most of them, it's a good idea to mix them with another pesticide that will kill the adult ants. But for effective, long-term control, insect growth regulators are hard to beat.
Martin's IGR comes out on top thanks to its ease of availability. But if you can get your hands on Tekko or Archer, you won't be disappointed. All of these pesticides use the same active ingredient and work in the same way, so whichever one you can find should work for you.
Extinguish is a little different. Its unattractive to most species of ant means it is limited in its uses. But if you're looking to get rid of fire ants, this is a fantastic product that you should definitely consider using. Easy to use and effective, it's one of the best growth regulators out there. It's just a shame it doesn't work on a wider variety of species.