Any links on this page that lead to products on Amazon are affiliate links and we earn a commission if you make a purchase. Thanks in advance for your support! Learn more
Pest Product Review:
Best Ant Sprays
October 17th 2019, by Dan Crosfield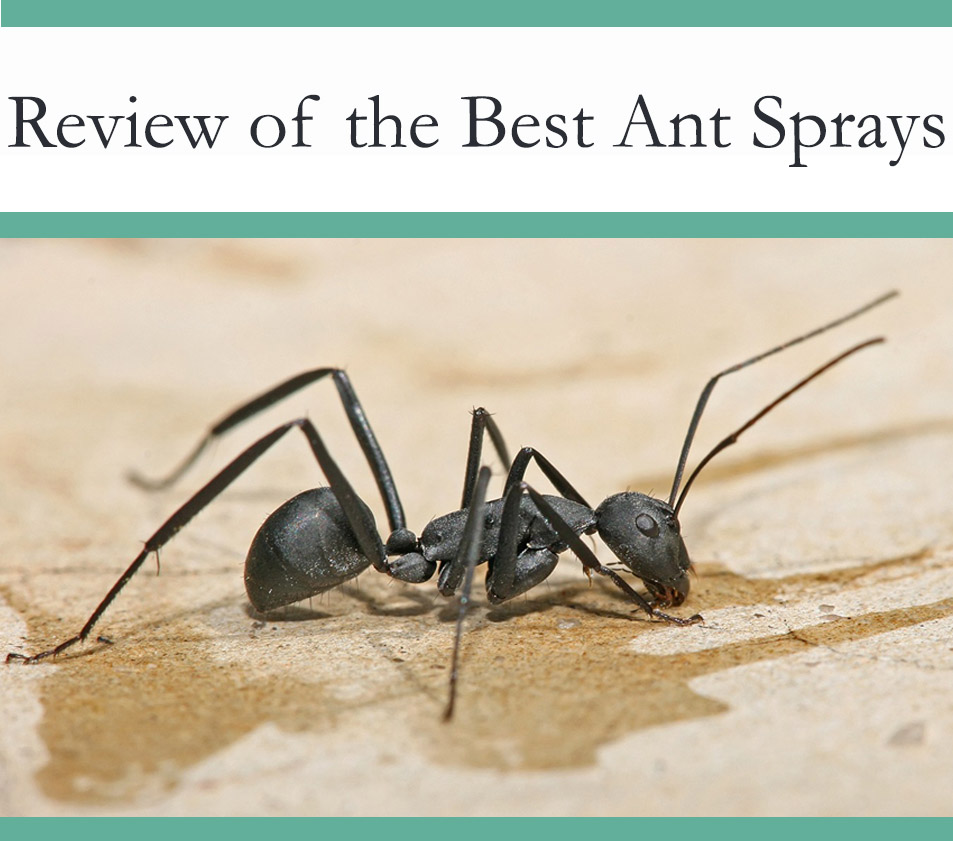 As far as bug species go, ants don't inspire the same fear that, say, wasps or bedbugs or cockroaches do. But that doesn't mean that these creatures are something that you want to find in your home. While ants aren't generally harmful to humans, they can quickly become a real nuisance. And some species can even damage your property. So if you have these creatures living close to you, either indoors or outdoors, you'll probably want to get rid of them.
Our Recommended Product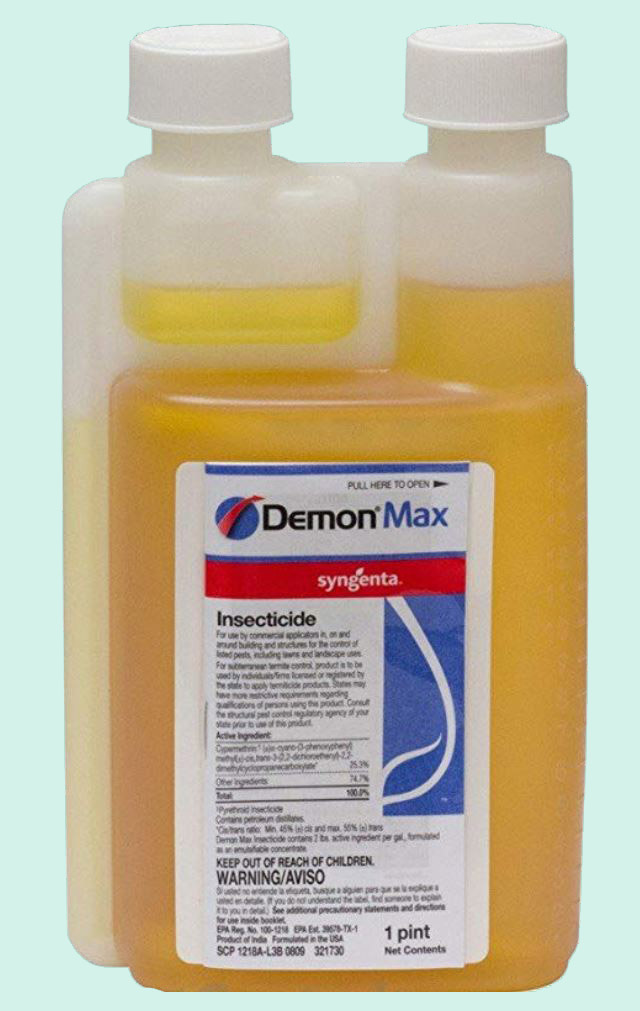 The name says it all. This is a serious chemical capable of dealing with serious problems. Used right, it will take out just about any insect you use it on. And it does it fast. This is a pesticide designed for professional use, which needs to be treated with respect.
There are lots of different ways to solve your problem. Poison baits can be very useful in getting rid of ants, since they contain a slow-acting ingredient which permeates the entire colony and kills off the queen. Additionally, these baits are generally very easy to use. But by design, they act slow. Sometimes you want a fast solution to a problem. Or perhaps you want to prevent a problem before it starts, by creating a defensive perimeter around your home. In that case, an ant spray is your best bet.
When spraying for ants, it's important to keep a couple of things in mind. Some of the more potent sprays out there can be relatively toxic. Although these pesticides are formulated to be as safe as possible, they are ultimately designed to kill. And a lot of chemicals aren't particularly selective about what they kill. There are plenty of bugs that are beneficial to have around, and pesticide treatments can harm these helpful critters. When using an insecticide, make sure to always follow the manufacturer's instructions. And protect yourself, too. Gloves, overalls, and sturdy shoes are the bare minimum gear you should be wearing while applying pesticides. For some of these sprays, you should use an appropriate respirator too.
Okay, that's the scary stuff out of the way. If you've decided that a spray is the way to go, you'll want to know what your best option is. We're here to help.
Product Comparison Table
Products
Best Feature
Worst Feature
Grade
Buy It Now
Demon Max
Kills ants quickly
Requires spray
equipment
A

Buy Now

Permethrin SFR
Residual control
Resistance is becoming
an issue
B

Buy Now

Ortho Home Defense
Easy to use
Applicator is unreliable
B

Buy Now

Cedarwood Oil
The natural alternative
Not as effective as
synthetic pesticides
C

Buy Now
Ant Spray Products
Demon Max – Best At Killing Ants
Good things sometimes come in small packages. Don't be fooled by the size of this product. This pesticide is highly concentrated and designed to be heavily diluted before use. So a single bottle can treat a large area, possibly even multiple times.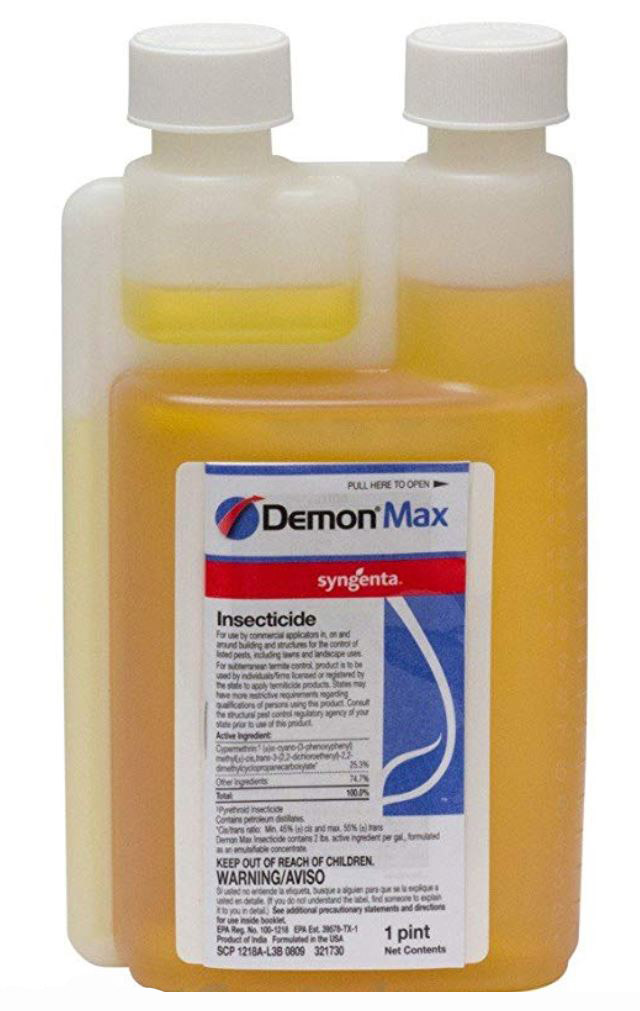 What makes this spray so great is its active ingredient, cypermethrin. Part of the pyrethroid group of insecticides, this chemical wipes out ants and other bugs on contact. It also has a powerful residual effect, meaning that the compound stays active even after it's dried. Any bugs that cross the area you've treated with this stuff will continue to be killed by it for weeks after application. Cypermethrin has been found to have an even more powerful residual effect than the more widely used permethrin.
For this reason, this chemical and others like it are popular with professional ant killers. Since it is targeted more at the professional market, Demon doesn't even try to be easy to use. You'll need to mix this pesticide with water, following the manufacturer's instructions, before use. You will also need some specialized equipment with which to spray it – a pump or backpack sprayer, for instance. Gloves are also a good idea, as is a respirator. If you're using this stuff outdoors, try to keep everyone out of the area until the pesticide has dried thoroughly. If treating indoors, it's a good idea to get everyone out of the house for six hours after the treatment. As you probably guessed by now, this pesticide is no joke.
With all that said, so long as you follow the directions, Demon is perfectly safe for you to use. The same can't be said for other insects. Cypermethrin isn't selective, and will destroy any insect it comes into contact with, either during the application or afterward via its residual effect. This can be a big problem when you consider all the beneficial insects that may live in your home or garden. Bees and butterflies, for instance, are important pollinators of plants. And predatory bugs are vital to help keep the population of plant feeders in check. So when using a pesticide of this type, be very careful where and how you use it. You want to kill ants, but not everything else in your garden.
Permethrin SFR – Alternative Broad-Spectrum Pesticide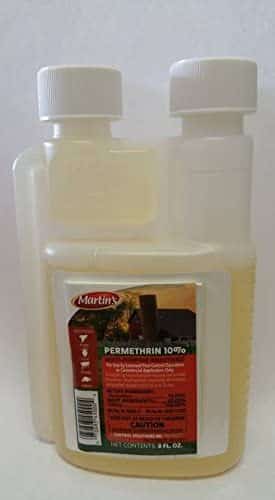 The active ingredient in this chemical, permethrin, is well known as a potent insecticide. In fact, you may have used permethrin before without knowing it. If your dog has had fleas, or your children have had head lice, you may have used a permethrin shampoo to get rid of bugs.
Permethrin kills ants, too. In fact, permethrin eradicates pretty much any bug. Like Demon, this pesticide has a residual effect, which makes it extremely useful for protecting your property from bugs. Spraying around your house, paying particular attention to areas around doors and windows and anywhere pipes enter the house, can keep bugs from coming inside for months after application. Also, this pesticide will kill ants on contact when it's applied wet. Pouring this liquid on an ant colony, if done correctly, will almost certainly eradicate the entire nest.
But this spray suffers from the same flaws as Demon does. It's just as tricky to use, and requires all the same equipment. If using this chemical, you will need to follow all the same precautions as you would with Demon to protect your own health and safety. And like Demon, this pesticide is capable of killing far more than just ants. Be very careful how you use it, to make sure you don't wipe out populations of insects that it would be better to leave alone.
As well as sharing the disadvantages of Demon, Permethrin has some problems of its own. In many ways, Permethrin is a victim of its own success. It has been used so widely for so long in the pest control industry that insects are starting to become resistant to it. While this resistance is still rare, especially in ants, it's a fact you need to consider. Also, while Permethrin provides a residual effect after application, this protection is not as good at killing bugs as Demon is. So if you have the choice, Demon is generally going to be a better option. However, if you can't get hold of any, this product can be a useful alternative.
If you want professional results, you need to use professional equipment. But that can be a lot of hassle to go to – and a lot of expense. Do you really need to go that far to solve your problems?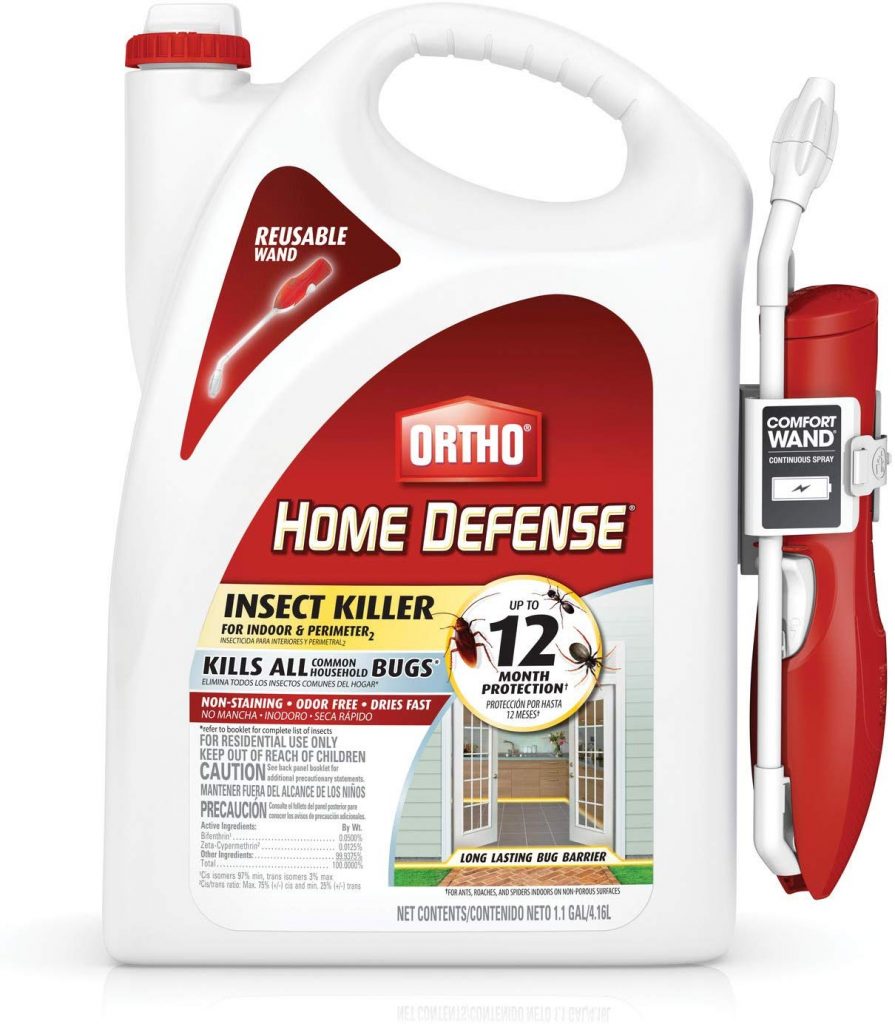 If you're looking for something a little more user-friendly, this product is the one for you. Widely available, it requires no special licenses and no special equipment to use. Gloves are still a good idea, but this compound comes ready to use immediately.
One of the most helpful features of Ortho Home Defense is its battery-powered wand. This really comes into its own if you're treating a wide area. There's no need to pump the sprayer repetitively, and you don't need to hold down the handle either. It's great for reducing fatigue during treatment.
You also don't need to worry about measuring and diluting Ortho yourself. But don't make the mistake of thinking the ease-of-use means that this product isn't a serious pesticide. The active ingredient in this mixture, bifenthrin, is another compound that professionals often use to get control of bugs both indoors and outdoors. And like the other chemicals mentioned, bifenthrin not only kills ants on contact but will keep killing them even after it has dried via its residual effect.
However, one of the best features of Ortho Home Defense ends up being its downfall. That battery-operated wand, as great as it is when it's working, often breaks down. The hose that supplies the chemical often jams, and the wand can leak or even cease to function at all. If you end up having to pour this product into a different bottle to use it, you will have negated one of its main selling features.
Also, ease-of-use comes at a price. Once you look at what the professional chemicals cost and factor in the dilution required, you may find that they work out cheaper than this commercial alternative. Ultimately, given that the concentration of active ingredient is 0.05%, you're paying for a lot of water when you buy this stuff.
Still, that doesn't make it a bad choice. The ease-of-use Ortho offers over the more professional chemicals may well make it worth the money.
Has all this killing got you feeling like a bad guy? When bugs invade your property, you've got to take a stand. But so far, the pesticides we've looked at are capable of harming other insects, including those that perform beneficial functions in the environment. Plus, you may be uncomfortable using these toxic chemicals around your home. If that's the case, you may want to try a more natural alternative.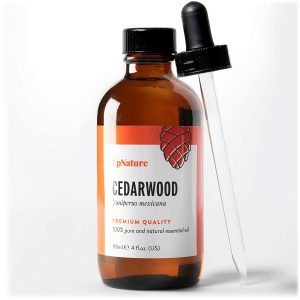 Cedar trees are well-known for their resistance to insect infestation. The secret is the fragrant oil that they produce. Cedar oil is a potent yet natural insecticide that has been shown to keep bugs at bay. The cedar oil works by destroying the trails the foragers used to find food. Spraying cedar oil around your home is almost like using a cloaking device to make it invisible to these invasive creatures. Also, the oil has a repellent effect, so that bugs won't want to cross it.
The best thing about this product is that it doesn't harm nontarget creatures. All it does is repel foragers, so the bees and butterflies and other beneficial insects can go about their business unaffected. And because it's a natural product, you won't need to invest in a bunch of safety equipment to protect yourself while using it. In fact, this oil even smells nice. And it comes in a concentrated form, made to be diluted for use so that a small bottle can last quite a long time.
It's great that there are non-toxic alternatives on the market. But it's essential to understand the limitations of cedar oil. It's not particularly effective at terminating bugs on contact, so it's unlikely you're going to be able to destroy an active colony using this product. Instead, it's best used around the home as a natural repellent to keep the bugs from getting inside in the first place. If that's all you want to do, give this natural alternative a try. But if you're looking to reduce the population of ants on your property, you may need something a little stronger.
Best Ant Sprays – A Buyer's Guide
As you can see, there are plenty of options to choose from when you're looking for an effective ant spray. You can go full-on professional with something like Demon or Permethrin. You can opt for a more expensive but more user-friendly option such as Ortho Home Defense. Or you can try something a little more environmentally friendly, such as cedar oil. Before you make your decision, consider the following factors:
Ease of Application
Professional products are great at killing bugs, but they are designed with pest control professionals in mind. Professionals who already have all the equipment needed to perform a treatment. If you don't, you're going to have to obtain it from somewhere. And mixing and measuring pesticides is something that needs to be done very carefully, especially if it's your first time. The most effective sprays are also, unfortunately, the hardest to use. So, you need to weigh up the benefits versus the difficulty of using these products.
Price
Professional insecticide doesn't come cheap. But when you factor in how much you can dilute these products, you may find that sprays like Demon represent better value than something easier to use like Ortho Home Defense. Then again, you may be happy to spend a little extra on a product that comes ready to use.
Effectiveness
Used correctly, every product on this list should be effective at what it does. But cedar oil isn't meant to take down active colonies. And while Ortho Home Defense is capable of eradicating a nest, it won't do it as quickly or as thoroughly as Demon will.
Toxicity
This is your home we're talking about. The most effective ant killers are also the most toxic. You want to make sure you get rid of all the pests that are bothering you, but you may not be comfortable doing it at the expense of other insects. Professional grade pesticides are best used as a last resort, once every other avenue of treatment has been explored.
Conclusion
For all the advances that have been made in the treatment of ants in the past few decades, sprays still have their place. Nothing gets rid of insects as quickly and as effectively as a properly used pesticide spray.
For this reason, Demon Max is about the best ant killer available on the market. It's not the easiest product in the world to use, nor the least harmful thing out there. But it wipes out ants like nothing else. However, since this product isn't always available, Permethrin can perform much the same role as Demon. For that matter, so can Ortho Home Defense. But you will pay more for the convenience of a more user-friendly spray.