How to Get Rid of Acrobat Ants
Acrobat ants – What they look like, How you get them & How to get rid of them.
Crematogaster species
Facts, Identification & Control
There are many species of ants in the Crematogaster genus that are known as Acrobat ants. Species of Acrobat ants are found throughout the United States and around the world. Workers are around 1/16 to 1/8 of an inch long, so these ants are not particularly large.
Acrobat ants get their name from the habit of raising their abdomen up above the rest of their body. This acrobatic display is a method of both defense and attack. These ants carry venom which they use to defend their nest and capture prey. However, these ants can't sting people. Their stingers are shaped like spatulas, and they use them to wipe venom on their enemies. They can't pierce human skin and inject the venom, so they can't hurt us.
Acrobat ant species usually live outdoors. However, they will often forage inside homes and businesses. Also, they may nest inside a building that has rotten wood, allowing them to form a colony.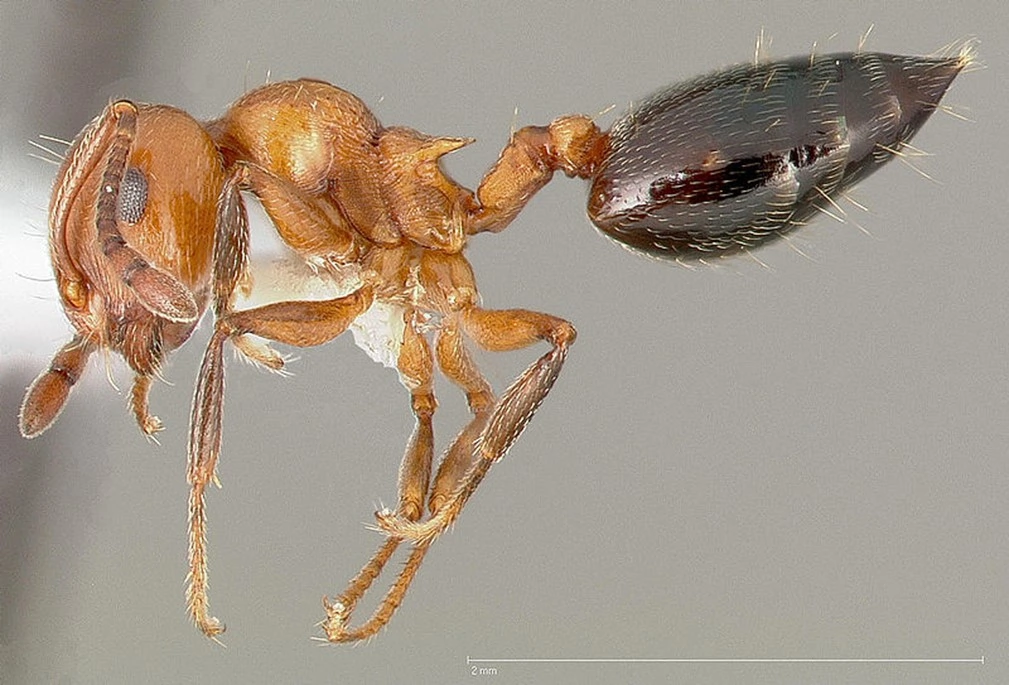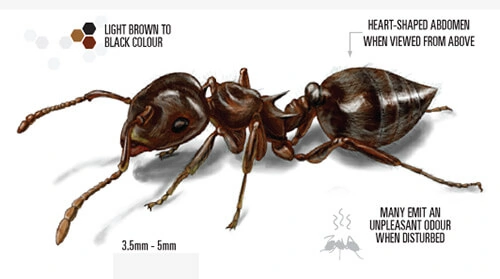 Identification & Characteristics
Other Names: cocktail ant; St. Valentine's ant
Odor: A foul-smelling odor that some people compare to feces. The odor comes from the venom that they emit when disturbed.
Color: light brown to black
Size: 1/16 to 1/8 of an inch (2.5 to 4 mm); queens can be up to 3/8 of an inch (10 mm)
Legs: 6
Antennae: yes, 11 segmented with three segmented club at the end.
Shape: three distinct body segments. Thorax has a pair of noticeable spines and is unevenly rounded. The abdomen is heart-shaped when viewed from above, ending in a sharp point.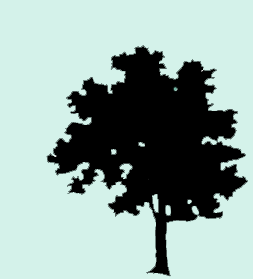 Habitat
Native to the US, these ants are often a tree-dwelling species. Acrobat ants are not capable of boring into sound wood, but they will use holes made by other insects such as caterpillars and termites to get inside trees.
Inside the house, Acrobat ants can often be found foraging for food. Although they are omnivorous and will eat a wide range of food, they show a preference for sweets and high-protein foods such as meat and nuts.
Sometimes, Acrobat ants will establish a nest inside a structure. This usually happens in wood that has become water damaged or rotten, since it makes it easier for the ants to chew through. They will also nest in Styrofoam insulation inside wall voids. Additionally, they may recolonize dead nests of wood-destroying insects such as termites and carpenter ants.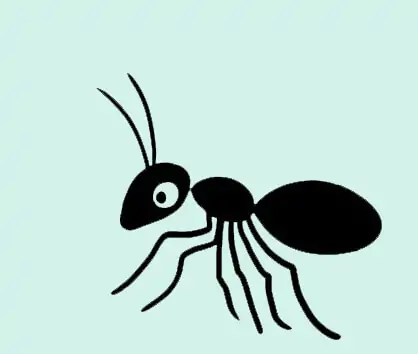 Behavior
Acrobat ants are aggressive and predatory, and will actively hunt down other insects such as caterpillars, termites, and wasps. They also feed on the honeydew produced by aphids. Like many ants, they will protect aphids from other predators to harvest the honeydew. Acrobat ants will also sometimes protect the aphids by building shelters from chewed-up tree bark that they turn into a substance like cardboard.
Acrobat ants use their venom to immobilize their prey. They will team up to carry insects back to the nest, where they feed them to their larvae. They also use venom in self-defense, and will release it when they feel threatened. This is what generates the foul-smelling odor these ants produce.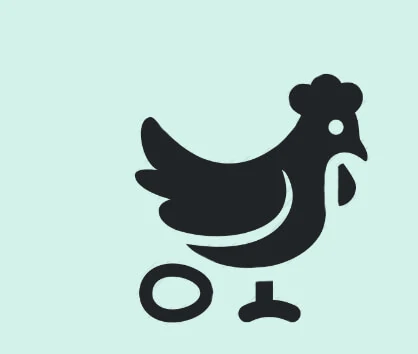 Reproduction
Acrobat ant species are monogynous, meaning a nest only has one queen. When the nest becomes mature, the queen will start producing winged ants that are capable of reproduction. These ants can be either male or female. During the summer, these ants will leave the nest and swarm, mating in mid-air. The males die shortly afterward, and the fertilized females go on to start new nests of their own.
In the wild, new queens enter trees through holes made by other insects. The queen will lay eggs to produce workers that she will feed herself from the muscles of her discarded wings. When these small workers are old enough, they will begin foraging and help the queen care for the next generation of eggs. As the nest matures, the queen and her brood will move further down the tree, seeking out abandoned termite nests or other holes she can use to get underneath the tree.
Sometimes, a new queen will instead build a nest in damp wood inside a building. Acrobat ants can only nest in wood that has already been damaged by water or fungus. However, they can also use insulation to build a colony.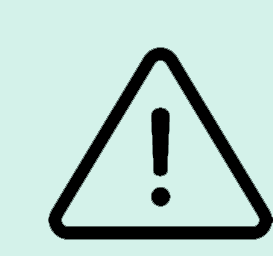 Danger?
Acrobat ants can't hurt people directly. However, they can damage insulation by building nests inside it. Sometimes, they will also strip insulation from electrical wires, which can cause short-circuits.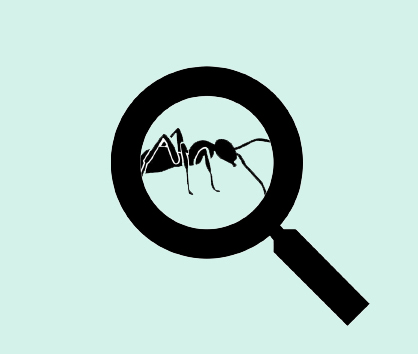 Signs of an Acrobat Ant Infestation
You may see these ants inside your home, following established trails toward a source of food or water. Often, ants that are nesting outside will make their way inside in the hunt for food. However, if you have water damaged wood in your home, the ants may also be nesting inside. If you see ants regularly going in and of a hole in the wall or a gap under the baseboard, there may be a nest inside.
Another sign that you may have a nest of Acrobat ants is the debris the ants eject from the nest. Known as frass, this material is made up of tiny particles of the substance the ants are nesting in, whether rotten wood or Styrofoam insulation. Piles of frass may be seen underneath holes where ants are nesting, and are a clear sign of an established Acrobat ant colony.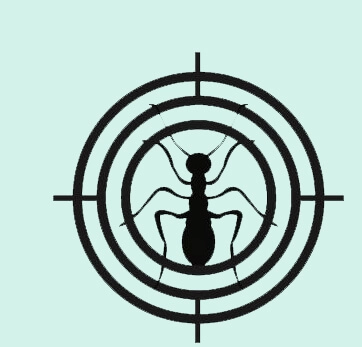 Controlling Acrobat Ants
If Acrobat ants have established a nest inside your home, the best method to get rid of them is to directly destroy the nest. Naturally, this means you'll need to find the nest. Concentrate on areas with a lot of moisture. Think of anywhere you've had a water leak in the past. You can use a moisture meter to help you identify these areas. Also inspect former termite or Carpenter ant nests.
If you find an Acrobat ant nest inside your home, you can treat it directly with a residual pesticide. Foams and aerosols are useful for this task, because they will fill the void of the nest completely. You could also use a dust, since dusts stay active in wall voids for a very long time, preventing reinfestation.
Recommended product: Termidor Foam
If the ants are nesting outside the home, a light application of non-repellent pesticide on foraging trails can help to keep the population down. However, it is unlikely to destroy the colony completely.
Poison baits can also be effective against Acrobat ants. However, bait acceptance can be poor with some species, since these ants like to prey on other insects.
Outdoor Control
Treat the nest
Check logs, stumps, firewood, and tree cavities for ant nests. Trails of foraging ants can also lead you to the colony. If a nest is discovered, treat it directly with a liquid pesticide such as Demand or a foam pesticide like Ortho Home Defense. Try to inject the pesticide directly into the wood or soil where the ants are nesting. Foams and aerosols are useful for this task.
Perimeter spray
To keep ants out of your home, perform a perimeter spray with a residual insecticide such as Suspend around the exterior of the building. Spray three feet up from the ground and three to six feet out from the wall to create a barrier that will kill any ants to try to cross it.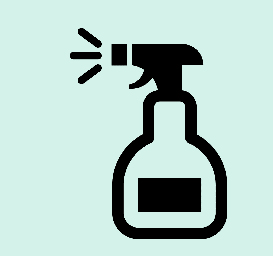 Best Products to Get Rid of Acrobat Ants
Inside the House:
Acrobat ants inside the house are often foragers who live outside. Therefore, the best strategy is often to focus on killing the ants and keeping them from coming inside.
Spraying foraging ant trails with a non-repellant pesticide allows the ants to bring the pesticide back into the colony when they return from foraging.
Recommended Bait Types:
Ant bait can also be an effective way to treat Acrobat ants when you can't treat the nest directly. Baits allow the foraging ants to take a slow-acting poison back to the nest and feed it to the queen and the brood. A successful baiting program requires patience, but it can be a great way to destroy the colony for good.
Ant Bait Stations:
Ant bait stations provide a quick and easy way to deliver bait without the mess of gels and liquids. Bait stations keep the bait contained so that it doesn't spill. This also helps to keep the bait safe from pets and young children.
For more information on ant bait stations click here to see our full Ant Traps and Bait Stations Review.
Recommended Ant Bait Station:
Best Products for Outside the House:
Outdoors, pesticides with residual killing power are the best way to keep acrobat ants outside your house. By spraying around the building, you can create a barrier that will both repel the ants and kill any that try to cross it.
The same sprays also work as contact killers. Therefore, if you find an Acrobat nest outside, you can treat it with the same spray.
Recommended Residual Ant Spray: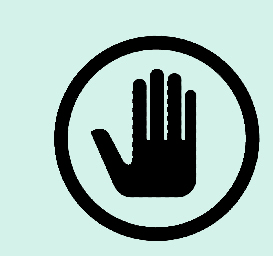 Preventing Infestations
Remove tree stumps, rotten fenceposts, firewood piles, and other sources of water-damaged wood from your property.
Use weatherproof silicone caulk to seal up cracks and crevices where ants may come inside. Pay special attention to gaps in foundations and where pipes and wires enter the house.
Look for signs of excessive moisture such as peeling paint along soffits and around window frames.
Be on the lookout for fratss from ants nesting inside the structure of the house.
Keep tree branches and shrubs trimmed back so that they don't touch the house and provide a way for ants to get to the building.
Store food in sealed containers such as Tupperware or glass.
Clean up food spills immediately.
Put pet food away at night.